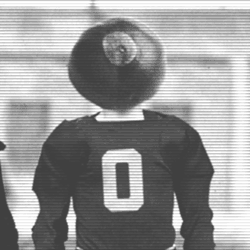 KSparkle
---
Member since 06 May 2012 | Blog
Favorites
COLLEGE FOOTBALL PLAYER: Troy Smith
COLLEGE BASKETBALL PLAYER: college basketball is boring
SOCCER TEAM: Spain National Team
Recent Activity
Signed on just to down vote you...
If I have to quantify it, I would put it at (Chance of Vanderbilt Making the Playoff Next Year) / 4.
Please let this happen. I want LSU to be out $15 mil and revert to the pre-Miles/Saban days. They're acting like they've always been great.
Drunk driving is an epidemic in our country. Buckeye or not, zero chance I let him go if I were the cop.
We can blame the SEC as they started the conference pride movement.
So they traded fat and over his head for.......a complete lunatic..
This is a better picture of her. Crazy she's Eminem's daughter
It is time for Mike Weber to come out and end this by saying it is what is it but he'll look forward to playing for the reining national champs.
I mean, does he really want to switch to Michigan and play for Harbaugh? The very guy that lied to him about wanting only 1 RB in the class? The very guy that signed a transfer quarterback AFTER signing day? You don't think a highly touted guy like Zach Gentry wants to know that he's going to be 1 of 3 new quarterbacks?
1. EZE goes crazy again.
2. Cardale has a rather pedestrian game
3. Our D line has a game for the ages.
4. *ichigan still sucks
I've always liked Fickell. And I like that he loves tOSU. But he's just not anything special....
What a retard. Left the NFL for a dumpster fire for just $5 mil?
I stand by my point that his slightly off center personality will be a negative in recruiting. According the Rivals, the following are the number of 4 star players that committed to him during his time at Stanford (no 5 stars). These stats show a coach that is mediocre in recruiting.
2007: 1 Four-Stars
2008: 2 Four-Stars
2009: 8 Four-Stars
2010: 5 Four-Stars
What's wrong with all the posters advocating a move to the SEC. To hell with the SEC. We're Ohio State, we're in the Mid-west, and in a sense we are the B1G. And in a few days, we're gonna make the B1G proud when we kick Alabama's SEC ass.
I never imagined I'd see this level of desperation from a college football blue blood. Oh wait, they're no longer a blue blood. hahahhah
Let's not get ahead of ourselves. Urban is getting us to a semifinal game. Tressel has taken us to quite a few National Championship games and won 1.
Dude is one of the hotting NFL coaching commodities, why on earth would he return to college, much less a declining program like *ichigan? He had a very real chance of winning a Super Bowl ring, the undisputed top prize in football, 3 of the 4 years he's been in the NFL. Let's see, a chance to be NCAA National Champion at *ichigan or Super Bowl Champion......
TTUN is so delusional, it's not even funny, it's sad.
The APR really isn't a very good measure of grades. It doesn't matter whether you have 4.0 GPA athletes or 2.3 GPA athletes. As long as the Athlete stays eligible (2.0 and above I assume) and graduates they contribute to the APR score total.
I'm personally sick of all these people that think we can't be disappointed when we get a 2-star recruit because "the coaches know what they're doing". These are probably the same people that get super excited when a highly regarded recruit chooses us. Why the excitement? because he has 5 stars.
Stop the double standard. It's annoying.
USC does have their share of WTF type of loses though.