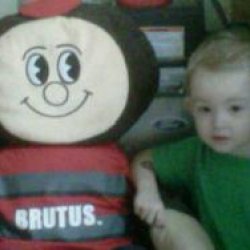 krazy12
---
Member since 16 May 2011 | Blog
Recent Activity
Enhance.. Enhance.. Enhance..
I have never seen her before this. Her face freaks me out..
The browns do not learn lessons. They just fire everyone, and start the cycle again. Geez I hate to love the browns. BTW enjoyed your post, but way too much logic though.
Haha busted. Can I get an up vote for the gentleman?
He also supposedly traded for cash to take care of his mother. From what I have read he claimed to have the receipts. Has anyone heard if that was validated? Either way alleged rape and keeping your mother's power on in the dead of winter is obviously very different.
If Tradd got you all worked up I'd be worried.
Tradd says..
Wow..... The comment section is absolutely priceless.
Haha. Yea and that's only one. Local news channels throw a story out atleast once a year. Their mad seriously mad. Saw one article that proclaimed we came down and stole all the good jobs. I have had my house and car vandalized. You would think the union army was invading again by the way they act sometimes.
Oh I completely understand. I live in South Carolina now and they actually have bumper stickers that say GBTO. (go back to Ohio) This is because Buckeyes are taking over the entire state its even made the news, so obviously I had to buy the shirt that said I may live in South Carolina, but born and raised a Buckeye. I also have a bumper sticker that transformed the SC state symbol (palmetto moon) into a block O.
The.. Somewhere Herbie and a legion of haters just twitched.
Gotcha.. I never was big on having my phone at the game. I see them everywhere but refuse to look down at my phone while at the game. I dont get to go much anymore being here in South Carolina, so when I am there I like to soak everything up.
It's a big change indeed. Thank you for not getting weird or touchy about my post. I'm trying a new thing and sharing things more publicly. Even though I dont know any of you personally I feel fairly comfortable here. Baby steps. I will get to admitting this stuff in front of friends and family soon enough.
Once again... When they make the decision they assume the responsibility..Did I say they shouldn't have a choice? Did I say they should restrict access? Did I say they were a victim? I believe not. What I believe and pretty sure I can have an opinion is that anytime there is an interest rate at 800%..well that is just insane and once again my opinion is for a lack of better words a SCAM. Anyone in the military can not get these type of loans..why? Because it is unfair an illegal to charge them that high of an interest rate. If it is unfair for us to pay it I believe it should be unfair for civiliains as well. I'm glad your all grown up and fixed your mistakes while learning from them. That as "they" say is life.
I agree that when people sign the dotted line they have made a decision and therefore must assume responsibility. However those in a severe financial hardship usually have little or no choice. I do not believe my argument calls for restrictions in fact it calls for more awareness. Business can be very cut throat and with ethics issues being uncovered almost daily I don't believe it's naive at all. The basic concept of marketing can lead to consumers becoming prey.
I believe most payday loans are scams anyway. Companies prey on the weak and vulnerable. Some charge like 800% interest. For somebody laid off and desperate to keep power on for their children this can become an ongoing cycle. Anyway, at least someone is using their hacking genius for good.
Replay video is a must. Using phones is ridiculous and takes away from the fan experience IMO. How many times have we seen fans losing their minds over a perceived bad call. Providing those fans with the proper view would allow them to move on, and get to the point..The next play! So I absolutely agree. Blocking opposing linebackers is not your teams biggest problem..location location location!! Thanks for the post M man.
This makes me sad. VA disability here. No longer able to own a weapon. I'm actually having a hard time dealing with the loss of my weapons. My friends and family are mostly hunters. Seeing all those Facebook pics and stories has given me a bad case of gun envy. I will miss hunting and playing on nice days. I would also feel more comfortable owning at least one hand gun to protect my family but what can you do? To everyone that can hunt..Bag one for me!!