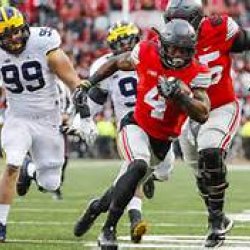 krakatoa64
MEMBER SINCE January 03, 2017
Love the bucks and enjoy keeping track of recruiting as well
Favorites
SPORTS MOMENT: Being in Cleveland during Game 7 of the '16 NBA finals
NFL TEAM: Browns
NBA TEAM: Cavs
MLB TEAM: Indians
Recent Activity
Same with Clemson, Alabama, Georgia, etc
Give me the best starter. That's fields... if your starter goes down you are fucked no matter what team you are
Burrow did what exactly last year?
Lmaooo
Pretty good. I think we start recruiting backup QBs from now on. Ohio kids that would be on a plan to get an OSU education, develop with a top flight QB guru, then graduate transfer after 4 years at OSU.
Fields was lied to about a potential qb competition that never happened. Also had the racial incident
In the spring game browning and Harrison were the two linebackers in nickel. Werner was a ghost in the game.
With urban's cronies running the defense still. Double yikes
Qb recruits should be happy. The starters job is wide open after 2020.
It was a damn spring game lol. Baldwin had the turnovers and had one REALLY bad interception. Fields flashed his athleticism but was neutered by the rules of the spring game. Timing with the receivers will come but I doubt KJ plays as badly in the fall as he did in the spring game (two drops).
He has no case to be immediately eligible
Not a designed run. He could tuck and run but day hasnt shown to be a conservative playcaller when hes in charge
Washington has not named any starters
If he were in the the lead for RT, he would be RT right now
I'm sorry, but what has tuf borland actually proved to be able to miss spring and still be a starter? He was a part of the worst linebacking unit urban meyer ever had. Returning starter doesnt mean much when the guy who picked you to start was fired for incompetence
Turnovers are much more concerning than anything I saw from fields. Fields had timing issues. Not surprising at this stage. The victor pass was slightly underthrown.
Yeah. When the bullet is in, the Mike basically becomes an OLB tho
I think NPF has RT on lock with Bowen as a 6th man
Hes a redshirt senior. He should know how to look good in practice by now
Not a fan of arnette as a player and the slamming of Saunders was bs, but dronebuck went too damn far.
There is a difference between that and being dirty. Slamming a dude to the ground because you got beat is BS. Hes a redshirt senior ffs. He should be better than that
I feel like browning should be Mike when it's the bullet and two LBs, and he should be OLB when its base 4-3. That's just me tho
I want help but think that jaiden Woodbey would have been a great viper if he stayed committed...
Not sure how borland missing tackles and being slow is because he was used poorly
No way arnette is the viper lol