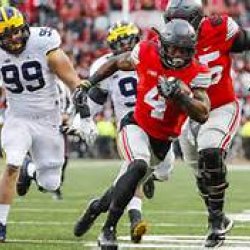 krakatoa64
MEMBER SINCE January 03, 2017
Love the bucks and enjoy keeping track of recruiting as well
Favorites
SPORTS MOMENT: Being in Cleveland during Game 7 of the '16 NBA finals
NFL TEAM: Browns
NBA TEAM: Cavs
MLB TEAM: Indians
Recent Activity
Agree. Either the scheme needs to change or the personel. Pick one coaches.
Harrison started against clemson. He shouldnt be the 5th DE on this team. He was the only DE to get a sack so there is no way they realistically see him as the 5th best DE
But if hes your best DE and the only one to register a sack, you should play him more than the others
Oh cmon. He couldnt cover or get off of tackles. Also got juked into Sunday by Martinez
I think Fleming might start on the outside. Doesnt look great for gill right now. Not gonna lie
Would be interested to see tyeke johnson get a shot at nickel. He played a lot of safety in highschool and would be good for that hybrid safety/corner role that is the slot
Regardless of what you just said, the plan was always for him to be here two years. Hes going to go pro and isnt staying to tweak little things that a NFL qb coach can fix in an off-season.
Yeah. Dawand is powerful but his pass pro technique is pretty bad. Johnson jr is massive as well and his pass pro is better already
Yep. Especially because in OSU's system, the slot corner is basically a CB/S hybrid
Still a massive talent gap. We have more top 100 talents than the rest of the BIG combined
Cant overlook what Al did with the linebackers. Biggest mess on the team before he came here
JT not being good enough to go to the nfl doesnt justify him being the pick over haskins or even fields
Probably atleast 25. Gonna be losing a lot this year. Losing atleast 5 linebackers, 4+ olineman, 2 qbs, 2+ DBs, 3+ Dlineman, maybe 3 TEs, 1+ WRs, 1 K, 1 P. Thats 22 not even counting the likely attrition at positions like receiver, dline, oline, etc
I think garrett will be a co starter this year
You bring up browning with lawrence but ive seen way more plays of tuf getting blocked into oblivion or being too slow against much worse competition.
Werner deserves to play for sure. But i really dont see tuf as a top 3 linebacker on this team next year
Sevyn Banks and cam brown will be co starters at the other outside corner
I think proctor will be an upgrade at safety next year
Banks has been good when hes played.
You are undervaluing the interior oline. Davis was a first team All American. Myers would be a mid round pick
No more tuf. Im begging
Hope they don't use this first half gameplan defensively against a playoff team. Browning and harrison as the only two linebackers worked wonders
Because they are basically stuck. He does a good job of getting players in position and his teammates like him. But in terms of individual performance he has been dreadful
Did you miss borland basically searching for somebody to block him? He allowed so many cutbacks by just crashing into a blocker and then being unable to get off of the block
Did you watch the game? A lot of those "tackles" were falling on the pile or "cleaning up." He spent atleast 50-60% of the plays getting blocked 10 yards downfield. His inability to get off of blocks is more concerning than his lack of speed