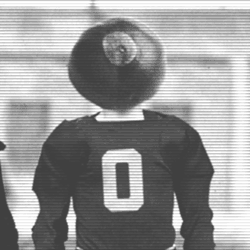 kpgobucks
---
MEMBER SINCE January 11, 2014
Recent Activity
I think wade will be back.. others are gone
Man that's not a lot of losses.. we are going to be loaded again
That's not too bad. Cooper coming back helps on dline. Hopefully some of the options in secondary will be good..
We are going to pound the ball until they can stop us.. and then over the top to OLave and Wilson.. go bucks!!!
There is only one way to show them.. just like we showed him on the field in 2002!
I didn't see anything where he said that. I think they knew Justin Fields to OSU was a done deal so they didn't put much energy into that. Tate would fit very nicely with their offense
One landing place for him that hasn't been mentioned much is Oaklahoma. Lincoln Riley has experience helping a very similar QB win the Heisman. For his sake, I'd love to see him there
It won't happen but a playoff with Oaklahoma, buckeyes, Georgia and Clemson would be ratings gold. ND should be left out for playing one less game
If offense can play like this all game Meatchicken doesn't have the offense to keep up
Olave is going to be special!
There is a difference between giving young players time to improve and learn from their mistakes vs. giving overmatched coaches too much time and they end up wasting talent. The last 3 years we have absolutely wasted loaded teams because Urban is not decisive and also not keeping up with the times. The downfall of all great coaches was they were stuck to the past and loyal to their assistants e.g. Bob Stoops (Kept Mike Stoops on staff too long), Joe Pa (Kept Jay P around), Bobby bowden etc etc The list keeps going. Unfortunately it looks like Urban Meyer is the next name on that list
If I could I would in a heartbeat. Any of those 3 are upgrades over a worn out Meyer.
Urban Meyer is closer to Bob Stoops than Nick Saban at this point. I don't think he is even top 3 right now if you look across the country. I'd take Nick Saban, Dabo Swinney and Kirby Smart over Meyer.
I have said it before. Urban Meyer must go! He has become the Bob Stoops of Ohio State Football.
Regardless of how this game ends Urban Meyer has done less with more at Ohio State than any other coach. He is not elite anymore.We shouldn't be in a slugfest with Purdue with talent like ours!!
Not sure why so many people are worried about criticizing Bosa's decision. I think they are cutting him slack because of what Joey achieved here. If this was anyone not named Bosa they would have been a lot more critical in my opinion
This is Urban's fault. This season became a JT farewell tour vs. winning a championship.
All the JT Barrett apologists can say thank you now!!! If Haskins plays yesterday we would have been in.
I hear what the talking heads are saying BUT the Big 10 is one of the best conferences in the country. I don't think the committee is going to leave out the big champion with several quality wins. Time and time again they have shown that quality wins mean more than losses( see Penn State vs us last year) and that out of conference schedule matters.
Disagree. People who are saying it's crazy to call for Meyer's job will be calling for the same if we lose tomorrow and to the team up north. At this point he is no longer the 2nd best coach in the country. Those who fail to admit it are just being ignorant. The 2nd best coach in America is Dabo Swinney at this point. Meyer is dangerously close to being good not great at this point. Good doesn't cut it at The Ohio State University..sorry but that's the fact.
Go back to all of our big losses in the last 3 years and you can find a quote like this from Urban. What is the saying Fool me once shame on you Fool me twice shame on me Fool me many times....This is getting old. Seems like history is repeating itself. At Florida Urban's success came early and struggles came when he had to replace top assistants with new guys. Every year it seems like some piece is missing and we are not maximizing our talent. Infact we are getting above average results with outstanding talent. How does Dabo reload year after year? How is Saban doing it?
Duane Haskins> JT Barrett. No question!
Haskins is better...you can already see..COME ON URBAN!!