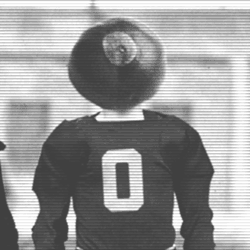 Kopav
---
Columbus
MEMBER SINCE September 15, 2018
Born and raised buckeye fan transferring over from a dying/dead message board.
Recent Activity
Cranston is technically Columbus. They just go to Dublin Schools.
Clemson got off to a rocky start of the season but have cleaned up a lot of the issues offensively. Their defense has been great all year.
While if OSU is as good as some of us believe, they should win this game. Some are just afraid of Clemson like some OSU fans used to be afraid of the SEC. If you want to be a champion, you have to beat whoever comes knocking.
Bama's record under Saban isn't the greatest outside of NY6/Playoffs. Michigan might have a shot.
Garrett Wilson has at least 1 catch a game where everyone starts to exclaim he's a Freshman! When he had to extend to pluck the ball out of the air in the 4th quarter, that could have been an interception if he didn't have those great hands.
Off topic, but Ruckert's 1 handed TD grab was amazing.
The compilation of all 8 TD's that game show how bad Metellus got abused yesterday. The guys will to live had to be breaking at the end.
Disagree. I don't think he wanted to leave OSU. OSU/Drake did him dirty.
Maybe he's arranging them in accordance with a color wheel?
There is not being a homer and being objective.
Unfortunately he is confusing the two as being the same thing. Yes, you can tell he is trying really hard to not be a homer, but unfortunately it has forced him to not be objective.
TTUN is in a weird spot with Harbaugh. By the OSU metric he should be gone. But in reality they did beat both ND and MSU. THe team showed improvement throughout the season on the offensive side of the ball.
The only way the Harbaugh experiment ends this year is if he takes a job elsewhere, but I don' really see any teams clamoring for him at the NFL level. I doubt he would leave his alma mater for another college.
Silly thread.
Just because we spanked Wisconsin once doesn't guarantee it will happen again.
Play Fields, hopefully build a big lead and then get Chug to finish the game.
It's not that they're terrible, OSU is just on another level at the moment.
I would rather play Minnesota just for a more interesting game in that it's an unknown. Although it's pretty much all sealed up for Wisconsin.
Deep throw on 2nd and 1 at mid is fine. The penalty then empty backfield were the issues.
Not sure how they don't call holding on that last TD.
Defense and Fields need to settle in. Got lucky on that Dobbins fumble.
Is the sound f'd up for anyone else on big nude kickoff?
This. Whether adds in an x-factor that adds more randomness. Anything that introduces more chance/chaos benefits the under dog.
Sounds like you need to call Cordell & Cordell.
I thought Penn State was going to beat Minnesota and was wrong there. I feel like Wisconsin should win, but I'd rather have OSU face Minnesota just for a different opponent in the B1G Championship game.
Two out of three people believe they are smarter than average.
Topic made me think something happened last night.
Not sure why it was created other than rumormongering.
Coaches and administrators that are going to message boards for decision making/guidance have already shown their incompetence.
Your argument is flawed.
This is part of the reasons Tennessee is in the mess it is in.
The idea that not being in prime time hurts recruiting flows from the idea that people are not watching the game.
According to ratings that's not the case.