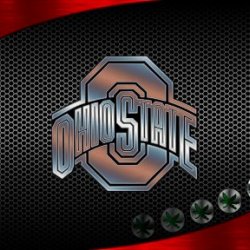 Knite
---
Ohio
MEMBER SINCE August 31, 2014
Recent Activity
That and hopefully, we don't give them automatic 1 st downs by sitting 20 yrds off the los. I hope we don't see that kind of defense either. That killed us when Winthers was in charge of defensive backfield. Those quick out passes in the flats and suck hurt.
But, with all due respect, Fields only had the playbook for a very short time, I think he did ok considering the amount of time he had to mesh with the team and coaches let alone learning the playbook. I think Fields will be just fine and help OSU win lots of games.
31 st is what he ment I think.
Grow up for what? He wasn't being hateful or saying the kid is crap. He was stating his personal opinion. How is what he said justify the "Dude Grow Up" comment? Did they change something in this country that one can not give his opinion on this site? Did I miss something in the terms of use section?
No sir, that is not what I am saying at all. I was saying when a kid commits he commits, he signs that letter and attends school of whom he commited. The portal how it is now is way to easy for a person to ignore that signed document and move to the next for what seems to be any reason at all. I understand that there are sound reasons for transferring to another school. I get that and they should be able to under those said reasons, but from what I am seeing they are doing, well basically they are pouting, they aren't getting the starting spot so they pout and move on. It is too easy. NCAA is being to lenient about it and granting it to everyone. Case in point, Tate transferred cause he said what, Meyer isn't there so I am going to another school to play, when in fact we all know he left cause he was afraid of Fields transferring and getting the starting role. He was afraid to compete so he put in for the portal and was granted to be able to play right away. Too easy, so why sign that letter if it isn't going to be enforced. It isn't teaching these kids anything. And when they get out in the real world they get ate up cause the were treated like a baby and given what they wanted. I know there will be those that do not agree, and that is fine, but it doesn't mean have to agree with what you say cause it makes you happy. So as it is now that Transfer Portal needs to be changed some.
Except the way it is going now, this portal teaches them nothing about commitment or responsibility for ones self or to the people they legally signed on that dotted line for. We can go on and on about whether its right or its wrong, this view or that view, depending on how one looks at it. When you commit aren't you supposed to be commiting to the school, education? Isn't that what they say when talking to a kid? When you are a kid do you go out side with your friends to play football, or any sports really, because you like it and its fun or are expecting to get paid to like it? Because if you go out to play cause you like it then its fun, when you start getting paid it becomes a serious job. And as a job anything goes, have a job one day, unemployed the next. Leaving one school because you do not like competition for starting job is selfish, and teaches nothing about life or the meaning of the word team. I really do believe this portal needs to be stricter if not then why have them sign that dotted line anyway? Just do away with it.
Same here, I still think he made a mistake in leaving the team as a captain, but I understand it kinda. Water under the bridge as they say, great to see him choosing a suit that shows where he was taught at. Good luck Nick !!!!!!
I wasn't slighting Mr. Hope. I was referring to the asshats that make up the BS to start with. In my day they called them cb rambos. Easy to say shit about someone when you aren't face to face with them. Now they use other ways, but it remains the same. Lowlifes with no back bone.But my bad lol, I just realized this is the wrong spot. Was meant for the Larry J. article not this one. My goof up. Sry all....
Is this BS ever going to end? Where is the proof? Why is that these ass hats can keep making crap up like this and no one punishes the accusers. What the hell is happening in this country? My God......
It is nice to think they are committing to the school, but we all know they aren't. They signed their name and they are of legal age. What are we teaching them if this portal doesn't change? So by signing this legal paper, it doesn't mean shit? Try that when someone takes you to court for breach of contract, see how that works for you. You are just plain missing the point of what I was saying. Maybe I was just born in a different time. When committing is just that, committing, if you can not understand that then w/e, I am not going to explain it to you. I was taught better values than that.
Hmmm, well I do think this portal was a good ideal but it seems kids are using it to move on if they don't get what they want. When you sign your name on that letter, you are bound to it, except for a few exceptions, and you all know what I mean by that. How is this teaching a kid to be a adult? It's like saying you can sign for a loan then later deciding that you changed your mind and you don't have to pay it back. (maybe that isn't the best way to put it, but you get what I'm saying) Now in Baldwin's case maybe wanting to be closer to home is the reason behind it, maybe it isn't, I don't know but what I do know or think is that they have to change this transfer portal or be stricter with it. Or else why have sign that letter at all.
Haskins isn't attending the event, he said he is staying home with friends and family. But Day should be there no matter what though.
Do not care about the DV, people do not use them as intended. Someone says something somebody doesn't like and t hey DV them, W/E on that.
Well they did have what 50000 seats closed off due to construction. Looked full to me considering the closed off seats.
You mean kinda like Purdue inventing the game of football against our defense last year? As for the people commenting on Fields and Baldwin and offense in general over the spring game, like another said, you have to take it with grain assault. The offense was patch worked together. Line wasn't there and wont be til fall. They held out a lot of players to lessen the chance of them getting hurt. And the speed and the amount of contact was very limited for same reasons. This was a showing for the fans basically. A lot will change by the time that first game comes around.
I was just happy to see the defensive backs looking back for the ball, that in itself is a major improvement in my eyes.
Really? WoW w/e man...……..
The past is just that, the past but, I believe his apology was forced by his head coach, not him, being truthful. And his reasoning for doing it in the first place was him saying that OSU gathered and sang the fight song when everyone that knows anything about OSU knows that after every game, win or lose, they gather and sing the alma mater. A little research on his part and it all could of been avoided.
Yeah I would be kinda cautious abut the punch throwing also. That can turn out to be more than a one time thing easily. That and Damon Arnette was the cause of a lot of 15 yrd pens last year. Cant have that this year.
I think Barrett struggled because of his previous position coach Beck and OC Warriner. Even though Day took over in 2017 and 2018 as the new QB coach, I believe the teachings of Beck still lingered in Barrett's head his last year. If you remember JT's first year as starting QB under Herman, he shined. That is what I think happened anyway.
Hit the nail right on the head there Blackmagic. I would of loved to be one of those underpaid as well. Education, healthcare, food, place to stay while getting that great education. Not to mention the ipads, shoes and anything else that gets donated to them while there. Oh let us not forget the ability to showcase their talents for possible future playing time at a pro level. Underpaid indeed. Wake up people, they are paid quite well indeed.
Well its really simple. It doesn't matter if he transferred for the N word thing or not. The NCAA ruled in his favor, to do so they must of thought it was unsafe for him at Georgia, and for you or anyone else to say it wasn't really doesn't matter. In Tate's case, well, we will leave that alone. I wish the kid luck but that is all he gets from me, good riddance to him for many reasons and none of them good. But in the end, it doesn't matter what I think of that either, the NCAA granted him the ticket so to everyone, just let it be. And if we happen to play against him in the future, then let the better team win.
Lets go Football......yeah....
Why bring that up again...opinions will very and you may not like it but it is what it is, now just let the dead horse die alrdy.