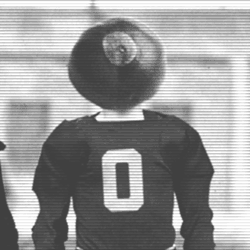 Kneelblender
---
MEMBER SINCE July 07, 2014
Recent Activity
Yes - always. He wanted to be a BUCKEYE...it just did not work out.
Great Kid!
Mr. Ohio
Always a BUCKEYE!
The arrogance that is Michigan is unwavering. I (almost) have to admire it.....imagine never even being to Indianapolis and STILL believing you are an elite team...it is amazing.
SIX B1G teams have been to INDY...Not UM!
I have UM friends who ask me if beating them has become less exciting or fulfilling and I laugh. I LOVE every victory we get - it NEVER GETS OLD!
UM fan has been blinded by Harbaugh...he has them accepting 3rd place and still puffing their chest out. Really...how do they do it?
My favorite post is the guy calling OSU a "regional college with mediocre academics." OK.....that may be even more delusional than their comments about their AVERAGE football team.
YES - I will thoroughly enjoy beating them AGAIN this year.
Play-offs! Play-offs! UM has been out of it since October...they just ignore reality.
I have spent some time on the BLACK SHOES DIARY and it is interesting. First of all, every school has their "over the top" fans - including us. The fans that think the NCAA is against them, the refs are against them and EVERY school cheats except them...although UM fans are the most egregious of this.
With that being said, PSU fans are genuinely upset that we do not consider them a rival...which we do not! We have ONE Rival and they will be receiving their annual beating in about 2 weeks....
I think PSU feels we are disrespectful for not thinking of PSU as a RIVAL, but I do not know of any fans who think of Penn State as anything but a pretty good adversary in the B1G. I (honestly) felt that OSU was one of the more respectful fan bases during the whole "JOE PA" thing....which is directly related to them NOT being a rival! Had that happened up North, we would have been relentless...
PSU is a blueblood. You have to respect their uniforms. Joe Pa was a legend....one of the last of a great legacy of coaches.
And - I want to throttle them this weekend!
Penn State beat Michigan - which I do appreciate. With that being said, their offense is not scary - no dominant players other than Hamler - who is legitimately scary.
Their Defense is ok - front 4 is solid, but secondary is uncharacteristically slow.
We should be (a minimum) of 2 TD favorites - and it is warranted.
PSU does have the same delusions as UM fans...they blame the REFS A LOT and are quick to claim OSU are cheaters. It will be fun beating up on them.
UM fans are so INSIGHTFUL!
This is a DIRECT QUOTE from MGOBLOG:
"I am not impressed with OSU basketball team - Villanova is bad. The Buckeyes were GOD AWFUL against Cincinnati..."
We will beat UM in basketball...and I will think of this genius......
Let's forget this for a minute.
How does Desmond have a job? He (OBVIOUSLY!) doe ZERO PREP work for his job at ESPN. He only speaks in cliches and adss NOTHING to the conversation.
I am BEYOND amazed that ESPN keeps him on.....
Just another GREAT REMINDER on why it is so much fun to OWN Michigan!
HEY UM FANS!!
Are you CONVENIENTLY forgetting that an agent ADMITTED paying UM Players - easy to google! Nice article in the DETROIT news a few months back!
Also - do we forget UM players accepted FREE SHOES from adidas and then SELLING them? That was last year.
So convenient that UM fans have NO RECALL of these events!
You are SEVERELY under appreciating PSU. Penn State has questionable caching, but their ELITE talent is the closest to OSU in the B1G!
It confounds me, but UM never gets athletic "fast twitch" players. They had ( a misused) Denard Robinson....and who else?
Certainly not Jabrill Peppers...
OSU has team speed that Um can only dream about. EVERY YEAR there are plays wehre we just OUTRUN the entire defense of Michigan...going back to BEANIE WELLS! Curtis Samuel, Tedd Ginn, Parris Campbell....the list goes on!
PSU actually has elite athletes...they have length and speed. Michigan is still recruiting like in in 1997....except, they USED to have an elite offensive line...now it is just offensive.
Shea coming back was the greatest gift the Buckeyes have ever had from Michigan...thank you!
Name a player on Michigan that would start at OSU.
Their BEST RB would be 4th string at OSU.
None of the Oline or Dline would start here...no way.
QB? Please......
CBs - nope
Safety - maybe....maybe
LBs - this is the only place I possibly see a UM player starting over us...and it is MLB.
WRs? Before the season, I would say yes, but not so sure. DPJ has been a bust. I do LOVE Nico - maybe he breaks top 3?
Did you see him interviewed after the win over Bama? It was actually kinda sad...
They asked him "Did you envision this?"
Joe paused..and then replied " I did....just not in this uniform."
And this is WHILE HE IS ON THE FIELD after just beating Bama....
Also - let us not forget!
Michigan Sucks!
So - where is the guy who MOCKED me last year when I said I would take Burrow over Haskins? I LOVE HASKINS and I appreciate what he did, but he showed ZERO mobility until the Maryland game. Our defense was horrible, but Purdue completely sold out on our RBs....no respect for Haskins at all....
Joe is an OHIO kid and extremely tough. He was MR. OHIO for a reason and he is VERY accurate.
I am not saying we made the wrong decisions - I am saying Joe would have been awesome for us....
I am very happy for the kid....just needed an opportunity.
He was right that he was SCOPED though...dude had like 3 carries the next game.
You are wrong on Micah....he was a done deal and we could of had him. OSU players (seniors) were LIVID at him for his tweets against Barrett. We turned him down...pretty well documented. His own father admitted we made it up to push out his son.
Great player...bad fit.
HERE we go......rationalize breaking an OBVIOUS RULE! I feel like I am on a MICHIGAN BLOG as I write this...
Dude - I am 100% with you. I keep PRAYING that he is reconsidering. Texas is a heap.....PLEASE COME HERE!
I think too many fans are not understanding how INCREDIBLE BIJAN is.....
This is VERY FRUSTRATING...and PLEASE, do NOT be like MICHIGAN fan's that make EXCUSES for every discretion they have. When UM had players take money from agents, all I heard from UM fan was "they should not be punish, it is antiquated."
RULES ARE RULES. Just do NOT break THEM!
I was a varsity athlete at OSU. BELIEVE ME - they are BEYOND EXPLICIT as to what you can and CANNOT do. They brought us into a classroom and went through EVERY SINGLE violation and what is and is NOT allowable. There is NO WAY that Chase was unaware he could not "accept a loan" from a friend. NONE.
This is NOT whether the rules are right or not...THEY ARE THE RULES. Chase made a DUMB and SELFISH decision.....and any hope of a HEISMAN is 1000% gone. I do not hate the kid, but please do not morph into Michigan fan and create a narrative that we did nothing wrong....
Also -pointing out indiscretions of other teams/players does not help the argument...DEFLECTION....another Michigan fan tool.
Cris Carter redux.....
This times 1000!
Let's GO TCU!!!!

Exactly - and Charbonnet averaged a whole 3.5 yard per carry on a POROUS defense..
I watched the entire UM - Maryland game and I will say this - I am glad I did. I have no fear of Michigan whatsoever...none. I respect them as a team, but they are VERY beatable and have alarming deficiencies - stopping run game, vertical passing and Offensive line play. Maryland is horrible....REALLY bad and they were able to run on UM.
I love that UM thinks they are "back." I want to see them play Indiana.....circle that game.
MSU is a mess - UM wins that at home.
WE ARE ARROGANT?? We ACTUALLY W I N stuff!
UM is RIDICULOUSLY arrogant with VERY LITTLE substance.
You have not SNIFFED a championship in almost 2 decades!
You have 1/2 of a National championship in 70 years!
You have a SINGLE signature win in FIVE years!
Michigan falls back on "most win." but conveniently forgets that they have A LOT of wins vs High Schools and teams that were "crated and showed the game: that SAME DAY! Michigan is a good program....FAR from elite.
UM fans act like they ARE everyone's equal...which is a joke. OSU is arrogant? Yes...because we CAN BE!
I know we are playing WISCONSIN, but I do think about Michigan in this context. What players for UM would LEGITIMATELY start at Ohio State?
It is a pretty interesting mental challenge. I can think of (maybe!) 3!
And - only one of them is on offense.....and I may be wrong. I think Nico Collins is incredible and being 100% wasted at Michigan...
The camera view from the side is better - you can see browning left arm IN FRONT of the player...