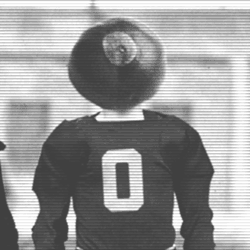 Kneelblender
---
MEMBER SINCE July 07, 2014
Recent Activity
IT IS OFFICIAL!!!!
MICHIGAN is a SOFTBALL SCHOOL NOW!!!!!!!!
He is definitely raw - he loves that between the legs move before the dribble!
I got to see Havlicek play "LIVE" a few times and I still cherish that. He was so smooth...difficult to even explain. He seemed to glide when he drove and he shot quickly...and sometime unexpectedly.
The guy was a legend!

RIP HONDO!!!
Every fanbase is always somewhat splintered, but it really bothers me when our fans slam a kid. He is transferring...and he has SAID ALL THE RIGHT things. He was appreciative of his OSU experience and he COMMUNICATED it publicly.
How can "fans" slam a kid who just wants an opportunity to start? I wish him nothing but the best and I appreciate that he was a Buckeye. It is HIS life.
If a kid slams the Buckeyes and makes noise, feel free to pile on him....but this is not the case. We want him to stay for INCREDIBLY SELFISH reasons - his life is FAR more important than us demanding to have a quality back up.
I think most UM fans are weasels, but I am not always proud of Buckeye fans either. Be bigger than this.
OK...so that is AWESOME!~ I coached Daryl when he was a young boy....I drafted him because he was the fastest kid in his class!
Great kid, great family...super proud!
People who do not appreciate what this team did this year have no concept of reality. "Glad I am done watching this team?!?" REALLY? These guys competed with MUCH LESS talent - I LOVED WATCHING THESE guys.
I have loved these guys all season - they are NOT the most talented, but they have incredible heart. We are undermanned and WE MADE the tournament....then we WON a game!
I will say this - If I was an ISU fan, i would demand the coach be fired!!!!
The blueprint on how to beat us is readily available. Double Down on Wesson and Pressure our guards! They DID NEITHER!!!!!
Also, for all the "experts " on here who dare sleight Kaleb Wesson, you are foolish. Dude is a true post player - best footwork of any Center we have had in last 30 years. Yes, he is a "Big Fella'" but he is no fin to deal with....
I have limited perspective on BLUE, but I did see him play twice in high school. I am not going to slam a kid and I have heard he is a great teammate, but I simply did not see "elite." He played against smaller competition and he did ok, but he was not dominant. I actually asked my friend why Ohio State was recruiting him.
Maybe it was his "potential," but what I saw did not look like OSU WR talent. I do agree he probably could develop into a TE, but one of the things that stood out to me was that he did not love contact...at all.
I wish him well - my guess is BASKETBALL may be his better sport...
Maybe
So...you know how frustrating it is when our PG gets a fast break and misses a contested lay up?
This is our NEW PG!
Kyle Young is a warrior. That kid plays very hard and backs down from no one. If we make the NCAA with this squad, it is a GREAT accomplishment - next year is when we RETURN!
Really? I cannot believe how many "fans" are not able to see reality. We are SEVERELY undermanned - we are starting 2-3 Freshman every game and we have NO real back up Big Man since Potter decided to transfer the day before the season opened. We have been playing without our BEST player and we have not had a TRUE PG the entire year.
You are putting this on the coach?? Sit back and gab some reality. We are fortunate to have had this success in last 2 years AND we have a TOP 10 recruiting class coming in next year.
I want to win as much as anyone, but there is this concept called reality. You expect Young (who plays his heart out) to be able to defend HAPP? Young is a power forward playing out of position to HELP the team.
Come on....this team has OVERACHIEVED....appreciate it...and WAIT for what we have coming next year.

Awesome!!
That is what makes it all worth while....a kid getting a chance at a dream and appreciating it.
Go Joey Go!
2:00
I agree with the comments about OSU letting up in the 3rd....looked like we were looking to run clock out and win...
Michigan had 2 goals from their 4th line.....
Awesome - and those guys have some FAST TWITCH in them!!!!!
GO BUCKSSSSS
I was underwhelmed by Kyle Young last year, but I am ON BOARD this year! The kid DOES NOT BACK DOWN! Watch him down low, he trades elbows with guys much bigger than him. He is tenacious and has a motor!
He is a "glue" guy that provided energy, rebounds and attitude. I want him to hit a free throw now and then, but I love that he is a BUCKEYE!
I love the Buckeyes - went to Ohio State - I even was an athlete at Ohio State. I REALLY hate when our fans put down or mock a kid when he goes elsewhere. I get it - we are frustrated, but he is a kid. it is HIS life and he needs to do what he feels comfortable with. The fact that we are making fun of the reason being "family," is a tad disconcerting.
The dude acknowledges that Ohio State is better in football - he gets it. I just wish as fans, we would be more empathetic and just wish the kid well. We will get quality kids that WANT to be Buckeyes. I wish the kid well and I thought it was classy that he COMPLIMENTED Ohio State.....look how he played off PSU!
I totally disagree with this article. OSU has dominated UM in basketball and Matta had their number until the last 2 seasons. UM fans (and I guess this author) argue points of convenience - when its football, UM fans harken to the 1930s and before. For basketball, it is basically the last 3 years...
We have WON 12 of last 17 and who cares ifs they were ranked? We have won 3 of the last 5 times....
The reality of the matter is that (right now!) UM has more talent and depth than OSU. The only way we make this a game is if they let BIG MEN play and WESSON doesn't get a dumb foul. I love the guy, but his reach in on guards is ridiculous.
Believe it or not, we own UM in basketball almost as much as we do in football - At one time, Matta was 9-1 vs them in his first10 match ups. Recent and overall, we own them!
OSU HAS WON:
3 of last 4
4 of last 6
12 of last 18
28 of last 40
75 of 126 ALL TIME~!
OSU
OSU UM
32 NCAA appearances 28
5 Conference tourney champs 3
22 Regular season champs 14
There was a Kid I saw play in high school - fastest kid I have ever seen. He got exactly NO D1 offers...until the last second when UMASS offered. Dude ran a 6.71 60 meters - a step faster than Paris!
He will play in the Senior Bowl tomorrow.
Look him up - Andy Isabella - from Mayfield. I wish Buckeyes would have given this kid a look....
Beyond fast and quick...
Stanley (from worthington!) had torched them ALL DAY. He saw Stanley break towards back of endzone and i BELIEVE that was the preferred pass. Germaine looked at him, but then saw Boston WIDE OPEN. Joe Germaine moved the defender with his eyes, but I do not think that was the plan! I met Joe years later and THANKED HIM!
NO WAY we win that if Stanley is the QB. Cooper made the right call. I was there and many fans were in tears of happiness - this was NOT the OSU of the past 20 years - this felt like a minor miracle...
I was at that game - in the winning endzone! I screamed "throw it to BOSTON as soon as he broke to the outside - he was WIDE OPEN. One of the most exciting games I ever attended - this is back when OSU NEVER came back to win at the end of a game. I think we converted at least 2 4th downs on the final drive.
They had Jake the Snake and the game still seemed in Peril up to the last snap.
Side Note - Arizona State fans were incredibly cocky, I was shocked. I kept asking "when have you EVER won anything?"
So...I was ALSO at the Michigan game that year. Flippin' Tai Streets - right in front of me. Springs allowed the only TD he gave up that year and we had no safety help. This team WAS loaded and we lost to .....
I have to passionately agree that i cringe a bit when I see how incredible Michael Thomas is for the Saints. His MAGNET hands and crisp route running is a sight to behold....
He DESTROYS zones and embarrasses man on man coverage.
And we REDSHIRTED him in a year where we had DISMAL receiving....
I watched an interview with this kid and he didn't seem too high on Ohio State. Almost like a certain linemen we lost to Clemson. He is not a dominant 7 footer in ANY sense of the word, but he is a legitimate 7 feet!
He plays more like a European player - likes to shoot mid range shots and not a lot of contact or low post (back to the basket) moves.
I am sure he could be developed, but I rarely see a kid get "more aggressive" when he is already 17 years old. He does not seem to like to mix it up...