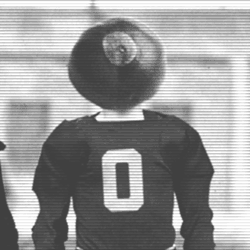 Kneelblender
---
MEMBER SINCE July 07, 2014
Recent Activity
The only difference is that Zach did it in tennis shoes....
I agree with you, but there is ONE significant difference that escapes many Michigan fans. OSU fans have warranted the right to be a bit delusional - we have had dizzying success for pretty much this entire century! We have won 2 National Championships and played in 2 others. We have OWNED our rival and FINISHED in TOP TEN 14 times in last 18 seasons.
Meanwhile, our friends up North have 1/2 of a National championship in last 70 years.
I actually quite appreciate the DELUSION that come from Michigan. For someone to watch a FLIPPIN' SPRING GAME and try to glean something off it is absurd.
Michigan barely beat an ARMY team that SQUEAKED past a horrible RICE team. RICE had an RB (ELLERBE) rush for 103 yards on 9 carries!! That is over 11 yards a carry! Their QB average over 4 yards per carry. UM is annointing Charbonet the "next Great Thing!!!" with his massive 3 yard per carry on 33 carries!
UM fans are ridiculous - it makes them fun to humiliate every year Their QB has EXACTLY ZERO wins in games where he is not favored. ZERO. But he has lost multiple games when HE IS favored! And ANOTHER on coming up in 9 days!
Worry about your pathetic selves....
There is VERY little parking near the stadium. I stayed at a Hampton Inn and was able to walk over. The Stadium seemed inferior to high school stadiums I have seen in Texas! The people were nice and it is fun, but very dated ...feels like you are thrown back to the 70's!

You are WAY off here....Teagues not the fastest?!!?! He ran a 4.31. He is THE fastest back we have....
https://www.landgrantholyland.com/2017/6/11/15777916/ohio-state-football-recruiting-master-teague-scouting-report
He absolutely has Aspergers....and there is nothing wrong with that. He doesn't understand basic situational awareness and is VERY myopic...
I think Jimmy Harbaugh cheated on his first wife and then deserted his first family. I also think he could have killed innocent people when he drove drunk.
i also believe he has never won anything and is a joke.
it is fun to say what you think!
I was at the stadium and they kept flashing the score...,nobody could believe it! I had just gotten a Sirius Stilleto player and I tuned in the game with about 5 minutes to go. The OSU game was over and the stadium was emptying out, but ai kept giving updates to anyone who would listen. I could only hear through headphones..,there was no way to broadcast, so I had to "broadcast" as I heard what was occurring!
i probably had 20-30 fans who stayed with me as they lined up for the FG. I screamed "THEY BLOCKED IT," There was a cheer and soon the best rendition of "telephone" I have ever seen occurred. You have to realize, there was no radio or tv broadcast of this outside Ann Arbor unless you had Big 10 Network...which nobody had!
I was a hero for having Sirius.
How many batteries to BEAT XIchigan.
1 Double A!
Fun team to watch and they NEVER GIVE UP!
Proud of them!
I love the kid - but he has 2 pitches. He is not making a MLB roster with 2 pitches....
It is unreal.
We all knew Zach Smith was appointed solely because of his relationship to Earle Bruce. We saw ZERO WR development and GREAT receivers put up average stats. Zach blames the OC, but the development was just not there.
Smith was (embarrassingly) snarky on social media and probably alienated as many recruits as he got. He did recruit pretty well, but he had OSU as his calling card.
NOW we get Hartline....the antithesis of Zach Smith. He is professional, he is structured and he DEVELOPS receivers. He is a beast of a recruiter because he is a good person and he has a PEDIGREE!
I hated what we went through, but I had wanted to jettison Zach Smith for years. He was an embarrassment LONG before his marriage issue came to light - his twitter feuds were juvenile and bush league. Hartline is EXCEPTIONAL and we are fortunate to have him.
My only concern (and it is very selfish) is that he will be a head coaching candidate soon!
Who has it better than us?
My personal favorite RIVAL fan is the dude who lives in Indiana.
During Football season, he is a HUGE ND fan!
During Basketball season, he becomes a HUGE IU fan!
This has changed a bit as of late because of Hoosier ineptitude, but I could never understand this...
In the Big Ten, I am (for the MOST part) OK with Nebraska fans, NU fans, Purdue fans and even MOST MSU fans.
I have no time for ARROGANT (without reason) UM fans and overly hostile PSU fans....
Dude is INCREDIBLY athletic and gained 1000 yards receiving on a HORRIBLE Browns team when he was the only viable option. He always went against best corner and he still won..
He should ALWAYS be revered for what he did at Ohio State - he was one of many who traded HIS OWN STUFF for tattoos. Why Tressel lied is still a mystery, but TP was a GREAT BUCKEYE and absolutely won games for us - he OBILTERATED Oregon!
I was at the Biakabutuka game and we were favored by double digits. UM fans were already congratulating us BEFORE the game began. We were ranked #2 in the country and this had us going for a championship. Our seats were incredible, right behind the OSU bench. We literally never crossed the 50 yardline.
We stayed the entire game.
I am still traumatized by it.
The only good memory is pulling over in Bowling Green and watching Boston College kick a field goal and beating #1 Notre Dame on last play of the game!
Through my work, I scored an amazing event - my wife and I had 5 days in upscale hotel to go to the 2007 BCS National Championship game. All of the celebrities and sports people were staying at out hotel - we were just down the hall from Howie Long and Barry Alvarez.
Everything was paid for (courtesy of Verizon!) and it was top notch. We had special passes to get into all the pre-parties and literally paid for nothing.
On game day, we had a freaking POLICE ESCORT to the game - we never went below 50 mph and they shut down a lane of traffic on highway so we could be escorted through the traffic. It is the most "celebrity thing" I have ever been a part of!
We have 50 yardline seats about 8 rows up....BUT on the Florida side.
We ran the opening kickoff back and my wife and I were ecstatic.
From there, it was ALL DOWNHILL. I have never witnessed us tossed around the way we were destroyed that day. We left BEFORE halftime and went back to our room. I sulked for days.
I did sell my used 50 yardline tickets on ebay for $150 to a FLA fan the next week......but that hardly put a dent in a very depressing outing...
If you cannot see the incredible potential of Demario McCall, you are not paying attention. The guy is LEGIT and can make most look very silly. He is lightening quick and strong.
With that being said, he makes mistakes - holding on to the ball and blocking are 2 VERY important issues he has. But, when he has the ball, he arguably has the best "FAST TWITCH" on the entire team.....
I hope he gets opportunities this year....I believe fans will be very happy.
I have a chart that I made that goes back over 100 years that shows wins/losses. You have to go BACK to 1908 to make the series EVEN. Anyone born in the last 110 years has had the distinct PLEASURE of seeing OHIO STATE winning the head to head match up. It does not matter WHAT YEAR you were born, OSU has a WINNING record vs UM. There is not a living person in the United States that can say OSU has not won the head to head...
I ask any UM fan what year they were born and I can instantly retrieve the record!
2004? 14-1
1994? 18-7
1984? 20-14-1
1974? 25-19-1
1964? 30-23-2
1954? 38-25-2
It is fun to see UM fans stammer....and harken the days before the TAFT ADMINISTRATION!
Michigan fans can spin this all they want, but this was UM not wanting to get humiliated. Their fans (delusional as usual) were touting Brad Stevens, Billy Donovan, Beard (Texas Tech), Tony Bennett etc......
It became very apparent (very quickly!) that NONE of those candidates had any interest in joining Michigan.
They hired a guy with NO head coaching experience...NONE.
This is a JOYOUS day - if you are a fan of any team that is NOT Michigan!
IT IS OFFICIAL!!!!
MICHIGAN is a SOFTBALL SCHOOL NOW!!!!!!!!
He is definitely raw - he loves that between the legs move before the dribble!
I got to see Havlicek play "LIVE" a few times and I still cherish that. He was so smooth...difficult to even explain. He seemed to glide when he drove and he shot quickly...and sometime unexpectedly.
The guy was a legend!

RIP HONDO!!!
Every fanbase is always somewhat splintered, but it really bothers me when our fans slam a kid. He is transferring...and he has SAID ALL THE RIGHT things. He was appreciative of his OSU experience and he COMMUNICATED it publicly.
How can "fans" slam a kid who just wants an opportunity to start? I wish him nothing but the best and I appreciate that he was a Buckeye. It is HIS life.
If a kid slams the Buckeyes and makes noise, feel free to pile on him....but this is not the case. We want him to stay for INCREDIBLY SELFISH reasons - his life is FAR more important than us demanding to have a quality back up.
I think most UM fans are weasels, but I am not always proud of Buckeye fans either. Be bigger than this.
OK...so that is AWESOME!~ I coached Daryl when he was a young boy....I drafted him because he was the fastest kid in his class!
Great kid, great family...super proud!
People who do not appreciate what this team did this year have no concept of reality. "Glad I am done watching this team?!?" REALLY? These guys competed with MUCH LESS talent - I LOVED WATCHING THESE guys.