Knarcisi
---
Stockholm, Sweden (via Shadyside, OH)
MEMBER SINCE June 27, 2012
Favorites
SPORTS MOMENT: 2002 National Championship Game (was fortunate enough to be there)
COLLEGE FOOTBALL PLAYER: Dwayne Haskins (current), Antoine Winfield (in my lifetime)
COLLEGE BASKETBALL PLAYER: We'll see in the fall (current), Johnny Dawkins and Jim Jackson (in my lifetime)
NFL TEAM: Browns (ugh)
NHL TEAM: Pens in June
NBA TEAM: Was Cavs for Lebron but just can't do the Lakers
MLB TEAM: Reds
SOCCER TEAM: OK, I admit, I got into the World Cup in 2014-18.
Recent Activity
Oh, it's an actual contract. I thought maybe he was getting in on that booster money.
Kid was a 3 year starter, from his true freshman year. He's still a year or 2 younger than other guys being drafted. I think he took one for the team and moved to C, as G is his more natural and better position. And he's got a bit of a nasty streak. For selfish reasons, would have loved for him to stick around, but I think he cost himself a few rounds and some cash as he could have moved back to G this year with Myers coming on at C.
It's from the movie, Stripes.
The writer is joking around with the reader. I'm not sure how that's not understood.
Lolz, Weave did it, Weave did it.
Nate Ebner and Reid Fragel (when he was a TE, before going to OT). Then again I'm a die hard, and I'm really not right in the head.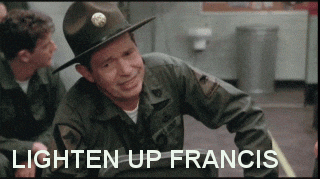 The writer is just having a little fun.
Interesting you mention the Niekros. I thought Hondo was actually from a really small town near Bridgeport called Blaine. When I googled it, that was actually the Niekros.
And a guy by the name of Nick McKay, from my hometown of Shadyside was credited for teaching Niekros dad how to throw the knuckleball. Nice man, went to our church. I believe his name was credited in an SI article about the Niekros years ago.
Actually, here is a link with Phil crediting him in paragraph 4:
https://sabr.org/bioproj/person/708121b0
and another. This may have been the SI article from 1984:
https://www.si.com/vault/1984/06/04/620122/knucksie-hasnt-lost-his-grip
" I mean, that stuff could come from anything. First there's nothing. Then there's something. It's a real undertaking around here."
Feel better? I do, since Dabo played his country bumpkin babe in the woods routine.
That's correct, 62, no I'll-intent from my end.
I think Michael Jordan will be a real value pick.
Dwayne is about as cool a customer as they come, and a class act. He had to be really pissed to make those comments and I don't blame him at all. I'm sure he invested a lot of time in meeting with the NYG and his workouts and interviews I'm sure we're lights out. Then they go and pick a joke like Daniel Jones. I'd be pissed too.
What a dickhead comment from a former player.
Haskins mouthing Jones name, that is.
Looks to me like he would come in the fall and this would be his last year of eligibility. Dobbins, Teague, and McCall should be enough. And Crowley looks to me like he could play now if needed.
You could see in the video mouthing Haskins name right before they announced it. Obviously he knew since he didn't get the call right before.
Yeah, and Hockenson at what, 8? He's a good TE, but I think taking any TE at 8 is a reach. Take an OT, CB, or another position of need.
I'm usually pretty objective toward OSU players but the NYG taking Jones at 6 is an absolute joke.
I remember watching the first Monday Night football game.
Damn, you're old.
To clarify, that's a Clemson booster?
ESPN is sending our players money?
I used to work with a girl that was friends with Arnette's mother. Their family did well. And the money was probably stipend money, as several of us have stated. Just because a kid is buying jewelry doesn't mean some booster gave them money. A lot of these kids come from good families that can afford some spending money.
Nope, but if a Bama player did this you're fooling yourself if you don't think OSU fans would be screaming about bagmen at the top of their lungs.
I said the the same thing on here when Wint, Harris, Harrison, and others tweeted that pic. This site did in fact convict Bama when some of their players did the same several years back. Many said it was our kids being kids. I don't mind going on the line here again and say I thought it was a stupid move.