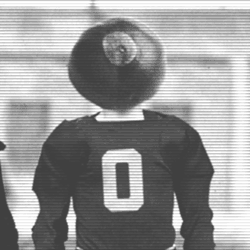 klfeck
---
Cincinnati
Member since 02 June 2011 | Blog
Native Ohioan, Football season ticket holder (6 years), father of OSU grad, oh and I don't give a damn for the whole state of M#chigan. Make me governor of the great state of Ohio and you will never have to look at a pure M#chigan billboard ever again.
Favorites
SPORTS MOMENT: Too many to list:

My first OSU/UM game
OSU beating ARK
OSU over UM
My daughters playing anything

COLLEGE FOOTBALL PLAYER: Spielman, Eddie, Archie
COLLEGE BASKETBALL PLAYER: Aaron Craft by a Mile!!!!
NFL TEAM: None, I live in Cincinnati
NHL TEAM: What is this Hockey you speak of?
NBA TEAM: Cavs and Lebron
MLB TEAM: Reds
SOCCER TEAM: Women's USA team.
Recent Activity
The ugly underbelly of the sport we all love
ummmm, better facilities, more 4 and 5 star recruits impressed by those facilities, more championships, more of you cheering on the team. Sh1t like that......
Joe Burrow's highlight real on Huddle looks damn impressive. Great arm and legs.
Here all along I thought Brax was the best athlete to wver wear scarlet and gray. Now I learn he may have the most class of anyone to ever wear those colors. I O
Bernie's ad from 1964. Wonder what Freud would say...
But these schools claiming they're broke is like a person who makes $100,000 a year that they live paycheck to paycheck. It's poverty by choice. Anyone else smell a Bernie supporter.....
As of this writing, 33% of polled readers said they weren't satisfied with this season. I assume that third is all rich people who can no longer feel joy after a life of fulfilling every carnal desire on a whim Incredibly stupid statement. Have some balls and call spoiled fans for what they are, no need to play politics.
Not much is better than visiting my favorite Buckeye site and getting to read the inside scoop from a great Buckeye!!! Great read Brian, thank you.
1. Prius drivers
2. Subaru Forrester Drivers
3. #Blacklivesmatter
4. Hillary Clinto
5. Donald Trump
6. scUM
7. ISIS
8. Congress
9. Cold Weather
10. The end of football season
11. Taxes
12. Ignorant people
13. Lazy People
14. Kids (except mine)
15. SEC
16. Not being in the playoffs
Amen brother. Maybe we should cancel games at the shoe if anyone in the stands were to do something stupid and die. You can't protect idiots, nor should you punish the many for the deeds of a few stupid people.
Why did OSU lose this game? Hubris. Either by the coaching staff, by the players, or in my opinion, both. That is why winning streaks eventually come to an end. You forget what it took to get you there and you believe you are infallable. Unfortunately, with a 4 team playoff, there isnt much room for Hubris unless you lose early. Staying Hungry is key. OSU wasnt hungry and too prideful to consider changing tactics that obviously werent working.
The look on Urbz face......wow
Tickets much cheaper on ticketmaster/ticketexchange
I know it is popular to rag on Gene Smith, but I don't agree that hebwas being any type of weenie. What he did was clarify what the minimum suspension was and leave it up to the leader of the team to make rhe final decision. Thay was the right call.
J.T. Barrett, all he does is lead!!!
Would the grammar Nazis please report to their local urinal for their daily swirlies.......
"Those who do not learn history are doomed to repeat it" George Santayana. Please see the 2006 and 2007 Buckeye squad for evidence.
My money is on Barrett. I don't think Jones natural talent can overcome JT's work ethic. As a matter of fact, I don't think Miller's could either.
After seeing what tOSU did to Bama and the Ducks, Baylor should just STFU.
IMHO, Barrett is indeed the most effective and efficient QB tOSU has had in quite a while. He may not have the strongest arm (jones) or be the most athletic (Miller) but he is the best mixture of both and manages the game better than both.
Could not agree more and have been saying it is a Napoleon complex for years.
Not an asshole. Good for you. My hero of the day.
Cincinnati has more in common with Kentucky than it does Cleveland or Columbus. Someone needs to reroute the river and make it official.
Last October my Surgeon said " I have some good news and some bad news, the good news is that you did not tear your Labrum, the bad news is that you did completely shear your rotator cuff."
That helps to put into context how serious a Labrum tear can be, especially for an athlete.