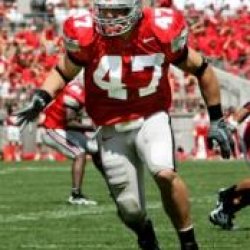 KLF Buckeye
---
Member since 24 November 2012 | Blog
Favorites
SPORTS MOMENT: Being in the stands for THE GAME: OSU vs ttun in 2006
COLLEGE FOOTBALL PLAYER: Braxton Miller
COLLEGE BASKETBALL PLAYER: Aaron Craft
NFL TEAM: Cleveland Browns
MLB TEAM: Cleveland Indians
Recent Activity
Herbie dang near went full Heisman pose on that little ghoul...just not in a good way.
And a 1000% surge in keyword searches for "cousin"
#1 in College Football Playoff Championships
I think our 4th string QB will have a breakout year.
I noticed Urban rather nonchalantly mentioned Stan Drayton as a guy on the staff who has a previous NC under his belt and can help the team respond to the pressure of defending the title....seems like as of signing day, Urbs thought Stan would be around.
I will be pleasantly surprised if Braxton comes back to play QB. If he wants to play QB at the NFL level, I think he'll need to go somewhere this fall where he knows he will start as soon as he is healthy enough to do so. Making plays on film at a lesser school does more for his draft stock than potentially getting limited playing time behind Barrett/Jones. Now, if he feels that his arm will never be good/durable enough to make a career as a QB, then I don't think there is any question he comes back to play HB. Regardless of where he goes or what he does, I'll be supporting him. As far as who will start (Barrett/Jones)... I kind of think Jones will have the edge only because he will be completely healthy from day 1 in the spring. Either way, this team is going to be electric once again.
The photo on the 11W Facebook page that links to this post has Elliott's name misspelled. Then, you read the first sentence in this article. Just saying. Might want to fix that photo on FB.
Go Bucks! Go Zeke!
I can't believe this was ever news to begin with. We're not SEC fans. We're not supposed to get all riled up over minor social media...whatever this is. This story was never worthy of attention and I hope this page and this fan base will do better next time.
Anybody else notice that simply talking made this guy suck wind and he was too weak to hold an iPhone in one hand for 6 minutes?
Barrett's accuracy was a difference maker in breaking down the vaunted MSU secondary. The kid has a very, VERY high ceiling.
A little after the 30 second mark in the second video you can hear Michael Thomas asking the question all of East Lansing was asking, "Where the no fly zone at?"
Love it.
There are some mistakes even a white out can't fix.
Ha ha, yeah. Doesn't get too much worse than inventing a disrespect issue and then lose by almost 40.
Possibly a top ten team after this week and definitely playing like it. I expect to hear more about Barrett in the national coverage starting this week, too.
Barrett doesn't wear a helmet. He wears a distributor cap.
When you're Rutgers, people don't know much about you.
When you're Ohio State, people know a lot of things about you that aren't true.
With the exception of the 2011 Sugar Bowl, this was my first Ohio State road game...but it definitely had a home game feel. The DC subway was full of Buckeyes and most of the folks in our section were, too. Great afternoon for a Buckeye blowout in College Park! Kinda neat that you can see the Washington Monument and Capitol dome on the western horizon from the upper deck.
I'm glad Braxton isn't trying to put a Heisman campaign together behind this line. The guy wouldn't have a chance.
Not trying to be a wet blanket, but I cringed when Lee got up and stared down at Reynolds. Frazier grabbing him might have been half celebration, half helping avoid a taunting penalty. Notice how he pulled Lee's head up? Subtle Sr. leadership.
The Shookster is right-on with the contradiction of dropping in the poll given our performance sans Miller versus the prediction with Miller, but I think pollsters were looking to drop us in the polls regardless. Losing Braxton provided the cover.
That being said, It's only week 1 and we have a damn good team. If we look good beating VT and get past MSU, I think we can be right were we want to be in the polls at the end of the season. Right now, winning is the only thing that matters.
Saturday can't get here soon enough. I really want to see what our LBs can do against the Navy rushing attack. That is, of course, if Navy can get past the D-line.
Interesting that this Twitter account is set on French. (See "follow" button and date).