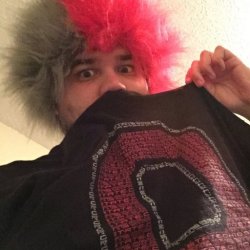 KlayDog
Knoxville, TN
MEMBER SINCE March 24, 2016
Favorites
SPORTS MOMENT: 2015 College Football Championship
COLLEGE FOOTBALL PLAYER: Troy Smith
NHL TEAM: Penguins
SOCCER TEAM: FC Barcelona
Recent Activity
Y'all really down playing how much talent Oregon returned on defense, and Morehead as an OC for a pretty solid group of RBs/WRs.
If Miyan Williams is our starting RB next year, something has gone horribly wrong.
I would cry tears of literal joy.
In terms of something I could watch once a month and not get sick of it, either:
Ocean's 11 or The Princess Bride.
Shipley is my first huge 2021 recruiting crush. Would love to see him at OSU, but I figured it was going to be an uphill battle.
Saying Dobbins was their top target that cycle is some extremely imaginative storytelling. Cam Akers was unquestionably their top target that year.
Hopefully I am wrong, but man that secondary is extremely uninspiring. Hopefully Harrison takes the *leap* that'll be helpful to help some of those concerns.
Have to think the offense will be good enough to get the defense out of any problems in most, if not all regular season games however.
Huh, wow. Moving after the early signing period, who could have possibly guessed that.
I guess when you get a chance to join the 50th ranked recruiting class, you have to do it.
Having a head coach that calls plays is super helpful when it comes to coaching staff attrition as well. Luckily, he's also good at it. So win-win. Not having to replace a play-caller for the foreseeable future is a soothing thought.
It's because he knows Fleming is about to flip to PSU /s
Interesting none the less though. Although, Wade from PSU entered the portal last season and ended up not leaving, so who knows. Will be very interested to see where he ends up because I think he can still be a beast.
Is UK going to offer his father a job?
Might wanna temper that expectation. Only one player in 2018 avg 160+ a game rushing.
I'm piggy backing off this because I am bored at work, and none of this really means much, but. I just looked up the top 15 NFL rushers from last season, and the recruiting profiles of them. And just a few tidbits.
David Johnson, unranked and went to UNI. Jordan Howard wasn't a top 2000 recruit and went to Indiana. Chris Carson wasn't a top 1000 recruit, closer to 1300. Peyton Barber made it just inside the top 500, going to Auburn. James Conner wasn't inside the top 1000. Marlon Mack was around 750. Again, this doesn't really mean much but I think it can show that you can develop elite RB talent, even if they don't come out of high school as a 4 or 5 star.
Do you want to give me law school advice? I start in about 3 weeks, haha.
Literally what is happening
4-2-5, my favorite defense formation in NCAA 14.
Hell yeah. 8 star Saturday in the works.
BG has said more than once that Martinez won't go against Hartline's or Hafley's numbers, but I don't know what it'll do to Mookie personally, but i know it won't make him not a take because Hartline has used all his commits or anything.
Ah yes. I trust a guy who played 4.5 games in college vs the guy who set the highest PER in the modern era of college basketball and comes in as one of the best defensive prospects in the last 15-20 years.