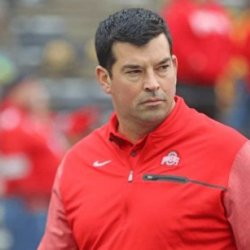 kjonesATX
---
Austin (via Columbus)
MEMBER SINCE May 29, 2014
Born in Columbus, raised in Austin. Once a Buckeye, always a Buckeye.
Favorites
SPORTS MOMENT: Attending both the Sugar Bowl over Alabama in New Orleans and the NC over Oregon in Arlington in the span of less than two weeks.
Recent Activity
Nice! I'll be in town for that game. Looking forward to it!
Media days and camp starting will increase the chatter.
I do agree, that with so few teams that seemingly have a shot at the title, it probably lessens the excitement for a lot of programs. With the playoff, there are technically more spots available at the table vs the BCS (4 vs 2), but we are in a rather unprecedented time (at least in the past 30ish years that I recall) where the powers at the top are in fully operational death star status and the talent collected is consolidated to a handful of programs.
The Pac 12 is already eliminated, essentially. I don't think any team is elite, and I see a few good teams and a bunch of mediocre teams and no way that one team comes out as a zero or one-loss champ. Likely a 2 or 3-loss champ is eliminated.
In the Big 10, I don't see another team capable of being a zero or one-loss champ outside of the Buckeyes. Michigan is the trendy offseason pick (surprise!), but their schedule is brutal (@ Wisconsin; @ Penn St; ND, Sparty, Bucks, Iowa all at home). Losing none of those is a virtual lock to not happen, and only losing one seems unlikely.
Big 12 is basically Texas and OU. They will likely have to play each other twice to win the conference, which means that whoever loses the regular season matchup can't lose another regular season game, and the loser of the champ game would also be likely eliminated. Basically, it wouldn't be a stretch to see them knock each other out thanks to the schedule, but I think one of them makes it.
That leaves the SEC and ACC. We know that 2 of the 3 are likely already in (Clemson, Georgia, Bama), and possibly all three, depending on how it all shakes out. They also happen to be 3 of the most talented teams in the country, so they will be given the benefit of the doubt.
All that being said, College Football hasn't lost it's mojo IMO. These are still 18-22 year old kids, and a lot of crazy shit happens every year. There will be some massive upsets, as there almost always are, let's just hope it's not the Bucks on the road at a West division opponents stadium. Is that too much to ask?!?
I feel like this best case scenario is like 10 times more likely than this worst case scenario. Basically like a 10% chance of this best case scenario, and a 1% chance of this worst case scenario.
I feel like even a 4 loss regular season (one described was 5 losses) is like a 5% possibility. I think we are twice as likely to go unbeaten than we are to have a 4 loss season. I think 11-1 (30%) or 10-2 (35%) is the way it most likely plays out. As long as we're in the mix for Indy and we beat Michigan, I'll be alright.
Great. I acknowledged the point he was making in my first sentence, in that taking those things into account it's not like those 2 schools are that much "closer." But then going on to say that the cost and hassle is "far greater" is basically making the same mistake he is trying to call out the author of the story for.
I quickly searched on Kayak, and found non-stops from LAX to those three. AA non-stop to OKC for $265 for a fall weekend. AA non-stop to Houston for $239 for a fall weekend. AA non-stop to Columbus for $253 for a fall weekend. Ranging from 2 hours and 45 minutes to almost 4 and half hours.
It's all negligible, overall. I get that.
Now if they were to get into a car and try to drive to one of those 3 places? OKC and College Station are definitely "closer." I'm sure that's all Taylor was trying to say. Mileage and distance. It's a fact.
I get what you are trying to say, that it's not that much further to fly and it's negligible difference all things considered. But then you go and say "far greater" for cost and hassle and do the exact same thing you were trying to call out with your "closer" comment.
Norman is basically in OKC, and College Station is a short drive from both Austin and Houston. Did you know that there are non-stop flights from LAX to all three of those places?
I guess I'll be checking out more ESPN these days
So yeah. Im working for ESPN now. The Yankees called, as Dan Jenkins once said. First piece will be Friday, I believe.

(I always wanted to have my own Notes app announcement!) pic.twitter.com/WUuvqSGpW8

— Bill Connelly (@ESPN_BillC) June 25, 2019
Yep.. in the 8-8:30 range this morning.
Recruiting guy (Mike Craven) for hookem.com was on radio here this morning, and when he was talking about this weekend he did mention Bijan. He didn't go into great detail on him (other than how Texas really needed him and would love to have him), but he said something like "I think at this time Ohio State leads for him, but it's really anyone's guess."
Definitely some of the most important players in 2014 were part of the 2013 class (Zeke, Bosa, Apple, Lee, Bell, Marshall, JT, Price), but more than half of the starters were either a) already on campus when Meyer got there, or b) committed to Tressel or Fickell before he became the coach.
Those include: Balwin, Curtis Grant, Bennett, Doran Grant, Steve Miller, Spencer, Smith, Heuerman, Cardale, Thomas, Perry, Powell, Elflein, and Boren.
I think TE 'usage' is a bit overblown, especially when it comes to our TEs (this annual "will we use them more"). Look at the NFL. If you play fantasy football, you know that there are hardly any TEs worth a damn, at least statistically speaking. There were only 4 TEs with over 750 receiving yards and only 6 with more than 5 TDs - 3 of those 6 had exactly 6 TDs (in a 16 game regular season).
Compare that to a college football season (we'll say 13 games to include at least one extra game from 12 game regular season since postseason stats count in college). That's roughly 80% of an NFL season. So if you want to be basically a top 5 TE in the NFL, statistically, the equivalent college season would be about 500-600 yards, and 4-5 TDs.
To be a top 12 TE in the NFL in receptions, you need about 3 receptions per game. So in a college season, 35-40 catches.
Add in that we have had TEs without much statistical success get drafted in the past 10 years, I don't know why we clamor so much for the TE to "have better numbers." The game of football, both at the college and NFL, just isn't designed around a good TE these days (again, at least when you consider receiving stats).
Kyle Rudolph just signed a 4-year, $36M contract. He had 64 catches, 634 yards, and 4 TDs last year. That translates to about 52 catches, 510 yards, and 3 TDs in college. Not what I would consider a huge part of the passing game (last year in our offense that would have been 13% of receptions, 10% of yards, and 6% of TDs).
What suburb were you hanging out in? Domain has become nice for the folks in their 30s that don't want to do the downtown thing anymore. We just had a condo 5 min from the Domain we sold and moved out to the suburbs ourselves. Did you get a chance to hang out by or in a body of water? Summertime here, that's basically a requirement. Any breweries?
Eat some good Texas BBQ and Texmex. Can't go wrong.
Would love an SEC team or Clemson. Bama, LSU, Georgia, A&M, Florida, Auburn, or Ole Miss would probably be the SEC teams, in no particular order. Maybe A&M at the top, since it's the closest for me to go to from Austin. LSU second.
Pac 12 teams just don't do much for me, and we just had OU and already have Texas (and ND) scheduled.
Offseason topic for sure. In a good way, though.
I don't necessarily have my own list or add to the list, but I will comment on a few you mentioned:
- Outkast: Since the song you mention was not the band (both of them) but the album where they both kind of did their own thing, I don't know if it qualifies as the "band" losing their way. Andre was always a bit more eclectic than Big Boi, so I think that's all that was. Overall, I'm not sure the band lost it's way as much as it hasn't put out much of anything new since Stankonia (damn, that was my high school senior year).
-Jay Z: Agreed.
- Shakey Graves: Surprised you mentioned him! I saw him in Austin at a place called "Hole in the wall" about 8 years ago. He was awesome! Kept seeing him playing bigger and bigger events, but haven't really followed him since. Super talented. Guess I need to see what he's been up to.
My parents lived in Columbus for 10 years, and that's where my brother and I were born. My mom couldn't stand the winters anymore, so we moved. My dad had the business and got the final say. Decided on Austin, back before it was cool to move here.
In many ways, Austin and Columbus are very similar. Major university, state capital, similar size and demographics, cost of living, no professional sports (not big 3 anyway - NFL, NBA, MLB), etc. The primary difference is the weather. So if you get to choose between two places that are virtually identical in many ways, but one has a much colder winter and a much milder summer, or one that has a much warmer summer and a much milder winter.. I'm probably going to take the latter - all else being equal.
I've seen some mention family, and that's a great reason. My parents moved away from their family to Columbus in the 70s, and now almost all of my family (and my wife's) are in Texas.
The one thing that Columbus has over Austin, is THE Ohio State University. I would like to say that I would have season tickets and/or go to at minimum one game a year if I lived there, but even in the past few years here we haven't made a Texas game every year (my wife is a Longhorn). We try to make a game here in Austin at least once every year, and we have been able to travel to Ohio State games as well - 7 since start of 2014 season.
It will be in the 70s here all weekend. I'll take that.
Everyone loves to trash Borland for his play last year. I thought he played well in the second half of 2017, and I don't think that he was every fully healthy last year. I think those two facts clearly get forgotten. I think if he continues to play, it will be because he has earned it.
OL and LB seem to have the most intrigue heading into the offseason, but OL at least has some clarity (Munford at LT, Myers at C, and Davis at RG) and the same position coach. I think Bowen is a good/likely candidate, so it really comes down to Alabi or NPF for me.
LB, though, could have a larger shake up with the new position coach and a different scheme from the new defensive coaching staff overall. I do think Harrison is the only lock, and I agree with the projection (Borland and Browning at the other two spots). The LB room might be the deepest position group on the team, so Washington will have no shortage of competition and options to choose from.
The majority of the defensive starters (9 or 10) will be juniors and seniors. I'm guessing just over half (6) of the offensive starters will be juniors and seniors, while 2 of the other 5 will be 3rd year sophomores (RS). So at least 80% of the starters on both sides will all be in at least their 3rd year of the program. This is huge for 2019.
Given that about 18 of 22 starters should be 3rd or 4th year guys (and all have starting experience to some degree), and add in the fact that I think there will be a new energy to start the Day era, I like our chances to do some great things. We also have no road OOC games, and I think our road conference games are all manageable up until the grand finale in The Game. I'm also assuming Justin Fields will be the starter.
But at the start of every season, it's beat TTUN, win the East, go to Indy and win, and then see what happens.
The other big part of this is this adds to the likelihood of Jalen Hurts coming with him to the Canes. Bama staff has been effusive of Enos work developing Hurts as a passer/seeing the field as season wore on, as evidenced by SEC title game performance vs UGA. https://t.co/ax2Fi5J2bm

— Bruce Feldman (@BruceFeldmanCFB) January 11, 2019
Guessing it's Miami
Interesting that only coaches have access, yet some random person on twitter posted a picture of that and tagged several reporters. Wonder what coach sent that to the twitter user who posted it?
I thought I heard Wilson was already involved with the OL already (and the run game), but maybe they don't want him to be full-time on the OL since in the past 20+ years he has only done that for 4 of them. Go out and get a full-time OL coach who has been coaching OL full-time already.
How is Tate set to graduate when he'll be entering his third year?
I've also wondered this, but someone pointed out if he took summer classes both last year and this year, he would be on his 7th semester of classes this spring. If he had credits coming in, he could be close. Then I read somewhere yesterday (maybe Landis over at the Athletic) saying he heard that he was not on pace to graduate. He very well could graduate next December, though. He would still have 2 years of eligibility after that.
With the 10 seniors exhausting eligibility, and 3 already declared, I think we'll see at least 3 or 4 more declare (Haskins and Hill are both almost certainty and at least 1 or 2 of: Jordan, Harrison, Arnette, Sheffield, Fuller). So that gets 17 or 18 spots open.
In a typical year, I think we see 2-3 transfers, but those are usually 3rd or 4th year players who haven't sniffed the field yet and might already be getting passed by younger guys. I don't see many on the roster this year that fit that bill. I won't name any names, but likely only 1 or 2 at the most. Possibly none.
So after all that, you really only have 18 or 19 spots max. If Nester sticks, then you only have 2 more spots. Add a CB and an OT between now and the February signing period. Possibly a transfer QB.. if only there was a good one out there.