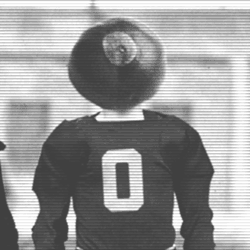 Kjetland
---
Member since 21 July 2013 | Blog
Recent Activity
Sickening how OSU's staff used him his last season.
I worry that the OSU offense will decline greatly when they stop running the QB.
There is no such thing as "preseason" in college football.
I would bar any team from being independent. Everyone joins a conference...looking at you ND.
Get rid of conference title games. They are silly.
Play every team in your conference.
Win your conference, you get in the playoffs. 1st round for the higher rated seed is a home game. That will put a HUGE emphasis on the regular season.
I'd like Pitt only because it would force PSU to play them.
No idea why they continue to claim Temple is a "rival."
Remember how bad the OSU offense looked vs. Virginia Tech last year?
Turned out ok...
Cardale Jones.
He makes far too many mistakes.
Both INT's were terrible throws and Elliot's fumble was Jones fault. Even in his amazing playoff run, he was a turnover machine.
LOL
Boren had 3 DT's in his face the entire night.
OSU ran for 360 yards and averaged 9.7 yards per carry...which was good for 2nd best YPC all time at OSU.
Scored 42 points and didn't give up a sack the entire night.
But Boren and the OSU line wasn't good enough for you? ORLY?
OSU's defense got 4 sacks and knocked the hell out of a cocky QB who had killed OSU for 1.5 games.
OSU limited VT to 2.9 yards per carry...and limited VT to under 200 yards passing.
Campbell....is a RS freshmen who if it weren't for injuries and suspensions would be 3rd-4th string. He had a rough night...but he will get better.
Good lord...
When Mike Weber is ready....it'll be his position...
Bad game....one bad throw....one pick....one fumble....one misread option. The clamoroing with start.
Watched a butt-load of Narcos with the GF....amazing show.
If we do....that means tonight was pretty bad...
Don't care who starts.
JT was a record setting QB who only got better as the season went on.
Cardale won 3 trophies and 3 rings.
#goodluckhokies
Honest question...who are their 3 studs?
Virginia Tech...and every other team on OSU's schedule is in deep shit.
Yeah, I know it's a longshot...
2 together are starting at 200 a pop...and those aren't the best of seats. There is always Gallo's!
This was first reported by "nevadabuck" on scout.com
He hasn't mentioned who...
Braxton Miller is the starting quarterback at Ohio State.
JT Barrett is his backup.
That is why Miller is going.
I feel like all three players will play.
Barrett and Jones will split time in the starting role until one outplays the other. Miller will play each and every game as well, but in more of a QB hybrid role. I can see Miller in the slot, coming in motion...basically being a "Harvin" that can throw the football. He is Harvin on steroids. I can also see all three on the field at the same time in goal line situations. Remember when Miller and Guiton were on the field at the same time?
...but then again...
I could also see Miller winning the starting position outright. Remember...he was a Heisman frontrunner and the clear starter since his freshman year.
Won the title, even though OSU's weak schedule killed them in the new playoff system.