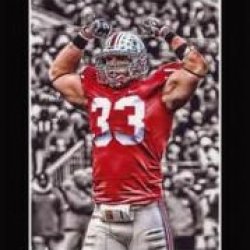 Kindell
---
Member since 31 July 2013 | Blog
Favorites
COLLEGE FOOTBALL PLAYER: James Laurinaitis
COLLEGE BASKETBALL PLAYER: Scoonie Penn
NFL TEAM: Cleveland Browns
NHL TEAM: Columbus Blue Jackets
NBA TEAM: Cleveland Cavaliers
MLB TEAM: Cincinnati Reds
Recent Activity
I really really miss those Evan Spencer blocks.
The best thing is that no matter what he is doing he is always having more fun than everyone else. That is always refreshing to see in the age of social media where so much is negative.
I am not sure any of Goodwin's jumpshots in that highlight touched any iron.
Correct. Peppers also plays more of an LB role and they blitz him a lot. I honestly believe that Hooker will get drafted ahead of Peppers once these NFL teams start to focus on the draft.
As a Browns fan, I would love to see our draft go Garrett first and Hooker with the Eagles pick.
First of all, I still really believe in this coaching staff to turn things around. Michigan State and Michigan are prime examples of how rare it is to continue reload and win every year. MSU is on a 5 game losing streat this year after going to the Playoff and starting out ranked high this year. Meyer has lost 5 games in 4.5 years here!
I think two things stand out to me that need to be changed and they really both tie into the same issue. This coaching stuff seems to be calling plays for the OSU offense of the past two years and not this years offense. That being said, I am still going to offer him my couch wisdom.
1. The O-Line is being asked to block for long slow developing plays. They run the read option where JT and Weber come to almost a complete stop in the backfield before making a decision on where to go. This is not the same O-Line and run blocking against blitzes for slow developing read option plays are going to be difficult against opponents with a good front 7. (Oklahoma's front 7 is not good)
2. Curtis Samuel. He goes way too long without getting any touches. Meyer became famous for getting Harvin the ball in space a million different ways. I would like to see some quick routes letting him run after the catches. We need to get back to making the defense cover sideline to sideline.
I love being able to add a PG that can shoot from the outside.
With all the love Reuben Foster gets:
Foster - 6.17 Tackles per game
McMillan - 6.60 Tackles Per game
Just another example of it being a product of a more dominant defense this year.
Lamar Jackson the only thing to watch Friday night and Petrino will try to get him 50 TD's for his Heisman run. He is really fun to watch though.
To me tackles can be one of the most overrated stats in football. More tackles means the defense is giving up longer drives and is on the field longer. Also, someone can make 15 tackles but the stat sheet won't tell you if a lot of those are 8-10 yards down the field.
I love to see that Raekwon just gets it.
Haha. I had to read this twice.
I agree with everyone that he has done enough for us and I will have no hard feelings for him. He has a young daughter and has to put her before anyone. I seriously hope he shows up at the combine throws it 80 yards in front of scouts, runs a 4.5, and flies up the boards and makes a ton of money.
I would be extremely excited if he stayed too.
I hope Urban goes for the onside kick after every score.
I watched the game with friends at my house and my body feels this morning like I played middle LB for Oregon last night. I taste beer every time I breathe. My stomach is just a mess from booze, junk food, and no sleep. I swear I have already nodded out 2-3 times at my desk this morning and I have been at work for 25 minutes.
And I am the happiest person in the world right now. It's hard to imagine any future Championships feeling as sweet as that one did. Considering everything this team has gone through and the fact that we steam rolled the best of the SEC to get there. Wow.
Alabama didn't have an LB under 250. I like Eze's chances against anyone right now.
Awesome. I am adding taking a selfie from the bathroom, after a dump, in a Jim Tressel sweater Vest to the bucket list.
I truly believe Cardale could think about turning pro if he plays great the next two games and would lead us to an NC. I would say he has the best NFL tools of the 3, and he also has his age working against him if he plays two more years.
I am not saying that it would be the right or wrong choice on his part. I just think 2 more victories would make that a real possibility because he has the potential to be a great project pick. Maybe he ends up being Jamarcus Russell without the Purple Drank.
FSU my god. I would f'n puke if I saw Braxton Miller wearing a #5 Florida State jersey next year.
Did you specify on what hat he would be wearing Friday?
I don't care if they rise Vince Lombardi from the dead to be their coach. They are not winning any games with SugarShane Morris as their QB.
How funny would it be if Hoke gets hired as a Head Coach in the next couple of years and goes on to win games like RichRod?
Good thing that big ass patch will be on Cardale's left shoulder.
I can't stop thinking about the fact that Nick Marshall threw for 456 yards on Saban's secondary. Marshall picked up 20% of his passing yards on the season @ Alabama.
Let it flyCardale.
I love how committed she was here. She is also the smartest person in Alabama. If you look closely its actually a really well-executed play. She gets the defense to relax by faking the return back to her seat, but does a hesitation move and blows by the guy who was holding her back.
How many 5-star recruits would have bounced back after the first two years Grant had? This team has an amazing group of seniors in The Grants, Spencer, Heuerman, Bennett, and Smith. We have so much talent coming back next year, but there is a ton of leadership roles leaving.