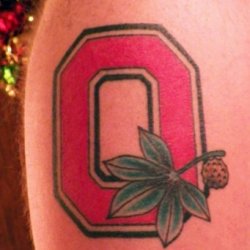 KillrNut
---
Cleveland, Ohio
MEMBER SINCE September 14, 2013
Lifelong buckeye fan. That is my actual tattoo in the avatar pic.
Xbox Live: Killrnut
Favorites
SPORTS MOMENT: Ezekiel Elliot, 85 yards. 2014 and 2002 National Titles. And finally, John Brooks' Goal vs Ghana 2014 Brazil.

SOCCER TEAM: US National Team, and SAVE THE CREW
Recent Activity
RIP "The big ten is slow".
January 8, 2007 - January 1, 2015.
Columbus Crew fans are impacted as well. Three days before the new season starts no less.
I feel horrible for all the victims if this is true. Not one case of sexual abuse is ever tolerable.
but with that said....... WHY does this only seem to be happening in the Big Ten?! It just makes no sense.
Last year I was in a not-at-fault accident and had to leave my car at a body shop for a few days. After dropping the car off I learned an important lesson: Never eat taco bell when you don't have a car and have a 25 minute walk home. It doesn't end well.
Just got my Stones tickets. Cleveland was sold out of the "cheaper" seats, so I'll be seeing them in Louisville, KY. Gives me the perfect excuse to go back to one of my favorite amusement parks, Holiday World, just an hour west of there.
I haven't been to a concert in years. And a chance to go see some rock n roll legends... hell yes.
Tomorrow tickets go on sale for the Rolling Stones in Cleveland this June. Think I might snag a pair if it doesn't cost me half the blood in my body.
Now on an entirely different note: I really want to go see Steve Earle. He was in Kent last May and I couldn't make it.
SEVYN BANKS!!!
In terms of being a competitive game, that 2011 game was one of the best. There were 5 or 6 lead changes and it kept going back and forth. Sucks to lose, but still a good game. And then all these wins year after year. We have been so lucky as fans the last twenty years or so. 2016 probably took a good three years off of my life. At the end of that game I was probably more relieved than I was happy. Still happy though. 2018: the 2nd half was ORGASMS. no better word to describe it.
Soccer. As far as I know the closest they have gotten is 2007 when they lost in the National Title game to Wake Forest.
Not sure about the Women's program, but either one a national title would be cool.
time for bed, president trump.
"What seems like the world to the eyes of a child, kinda closes in on you after a while." -Steve Earle
Edit: nvm
I think 2014 made ohio state fans a bunch of spoiled asshats who arent happy unless they win every game 70-0. Hence all the hate for 2015. That MSU game sucked. But "Coach harbaugh, welcome home" with the score being 42-13 and all the UM fans leaving the stadium with 8:30 left in the game will always be a fond memory. Oh, and a rare chance to beat notre dame and make them cry into the arms of their fake girlfriends. Its SUPER FUCKING HARD to repeat. So honestly once I got over the loss to MSU 2015 was alright.
Sorry for your loss. Glad he got much happiness from 11W.
#2 should have been #1. Talk shit all year about revenge tour: lose 62-39.
Tell your grandkids about Minnesota finishing in the top ten in 2019.
My dad ran up to me and gave me a huge hug when boston scored the game winning td. I was 13. One of those moments ill never forget
if Liverpool doesn't win the Premier league if will be the biggest epic fail in the history of fails.
Up the Reds!!! YNWA
Just now tuned in. Lets see how the refs can fuck another big ten team.
Good way to look at it. and I agree.
Woody wasn't mad at Charlie Baumann. He was mad at Art Schlichter. The old man just lost it.
I wonder if dabo blames his god when they lose?
I have to admit, I got sick of seeing Damon talking so much trash on the field. seems like every other time the ball was thrown near him after the play he's immediately in the opponent's face jawing at them. and I was afraid he would draw a stupid penalty that would cost us a game. But he didn't.
Looking past that, Arnette had a fine season and I wish him well. That pick six vs Indiana was awesome.
I feel like that's the one thing no one is talking about but should be. That was way too fucking easy for clemson.