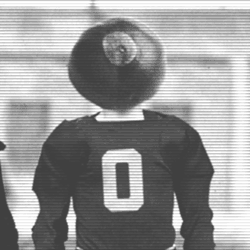 kiddbuckeye
---
MEMBER SINCE September 04, 2013
Recent Activity
Exactly why we win and they lose. Enough said
Coke is RED/scarlet and Pepsi is Blue. My guess....GO BUCKS
Wow, its RAINING BOOMS !!!!
Who ? What ? NBA is lost when a few super teams dominate and no parity. Agree, GO BUCKS !!!
This is all good to hear but also reinforces my frustration with past teams which were successful in terms of wins and record. It appears many behind the scenes issues cost many of the those teams chances or opportunities to play for a championship. It was not a lack of talent but a lack of structure and cohesiveness from the coaching staff. In my opinion that's the job of the HC and as great as UFM was I feel in this regard he let many people down.
And up North JimBO is having sleep overs with adolescents.....
Mattison in red is still a struggle
Yaaawwwwwnnnnnn, no surprises.
I am surprised that he has uad such a limited role so far. Was excited about it commitment. Hope he shines this year.
As long as the marquee games on our schedule don't have the opponent being on a bye week the week before our match up I am good with anything. Being in AZ I like that afternoon games because they come on at 500 pm.
Does anyone else tape the games to watch later ?
SO we are a Football school, err a Basketball school err Rowing ?!?!?!...... HA HA HA HA
Excited to see how this O line develops. What is the projected line looking like this year.
UFM would look to Ohio kids after the National kids committed elsewhere and try to lure them to OSU very late in the process, while RD appears to be going after them much earlier. There also seemed to be several kids who wanted to commit but were told to wait. A few examples are kids UFM would have told to wait while RD is taking them regardless of the outcome nationally. Just my perception
Not sure, how you came to that disastrous conclusion
Disappointing about Sherman but am excited the others on board.
Add Harrison and M. Mohammed III [sp?]....> = BALLGAME
Agree, I am thinking he will exceed it.
Getting a sense that Ryan Days message/style resonates well with recruits. Not a knock on UFM just that his approach is different. Anyone else get that vibe ?
SUCK FOREVER is My Vote.
Love the increase in focus on Ohio kids...GO BUCKS
Lovee seeing these Ohio kids get offered. Build The Wall
Any key points worth sharing ?
I listened. Very baffling, The one thing with UFM that frustrated me was how he did not take control of that situation and some others.