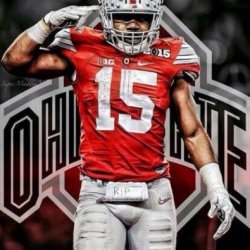 Keze
---
MEMBER SINCE March 22, 2017
Recent Activity
But look who we are bringing in for the O-Line. Hard to get to the passer with top linemen.
Only if the Pac 12 turns into another ACC and the way tyhe Pac 12 is going I can see the Ducks taking a step up with no competition and auto into the CFP
Give me 3 stars recruits all day long , just look at some of the 3 stars that became stars for us.
There is no leadership on the floor with this team. Good to see A. Wesson taking charge on the floor last game and even getting on his lazy ass brother.
They just need someone to show the way
Time to become a blip on the radar.
They just had a circle jerk about the SEC West, so move on nothing to see here.
A good list but let's face it , 3 stars recruits like these are rare. I would still take the 4 and 5 stars recruits over a 3 star recruit.
If those two players are gone for awhile or even next year then why didn't Gaffney get more playing time in this blowout? Hell I thought he was playing his best game all year and then all of a sudden he gets pulled off the floor and sat the rest of the game. Hell I didn't think he was even going to get some PT until finally he got in late in the first half.
Not sold that we have turned it around.
I didn't think that a D1 school could have that poor of a team but Nebraska proved me wrong.
Has t be more to this than not in the right mind and bad playing
No way Joe was starting over Urban's favorite. Joe saw this and left for a chance to play for a top level team
Or is it our LBers are so damn slow.
Unless these 3 steps up you can put Hilliard in as starter right now.
Way to chime in Haskins or down deep you really knew was the better QB
Take that Urban for playing your favorites.
We need the whole team to return to form but I will say A. Wesson has played good ball lately.
First we did plays on offense , all we do is the high pick and roll play and then most of the time time the picker doesn't even set a pick.
Pick and roll offense and then look for a 3 point shot is not much of an offense. A couple players do not even set a pick before they go rolling. Players have to at least set a pick if this is your offense.
Back to reality after playing over our heads at the start. This team is just bad.
We better open the purse strings to get either one of the two. Super Bowl or CFP Champ.
We just aren't a good team, sure we played over our heads at the start of the year but reality has caught up.
Latham has a big mouth , could be a diva waiting to happen.
Carton needs to drive the ball more if not he is just almost useless in the offense.