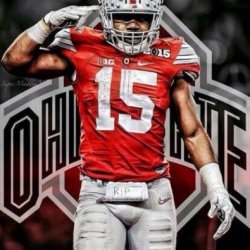 Keze
---
MEMBER SINCE March 22, 2017
Recent Activity
Please get this weekend over , tire of reading about it.
Trayanum seems to be looking at the least competition to play so I do not look for him to be a Buckeye. But he sure would fix the bill as a second RB in the class.
When you lose that 1 game make sure you do not look like a clown show.
He brings toughness to the game for the Buckeyes. Hope the young player learns from it and shows the same kind of toughness.
Start to earn your pay and get some top recruits on defense.
Give me speed any day ,
Like the saying you can not coach speed.
Speed and being able to be coached is the key IMO.
He has the info that he was looking for. Now is the time to work his ass off and improve his game.
It is a wait and see for me if this happens cause I think he has a bit of laziness he has to correct first before doing the rest.
Really do not care how they rank coaches. The proof is in the pudding and Day's pudding is just cooling.
If they put a limit on the total of transfers a school could take, it will be get in now or go to another school. Come on coach you know you want unlimited transfers so you can take as many as you want, just say it.
Waiting to see how Oden improves Diallo. Oden could mean a big difference for the Buckeyes this year if he can get Diallo going.
Not worried about defense recruiting picking up , more worried about having some star power in the defense recruits.
I will have to wait and see about the most talented team , on paper probably yes , but he had a couple of really good college players on the team couple years back.
We need to see improvement from the returning players for sure.
The freshmen and red shirts may be getting more playing time than we think if the returners do not take a step forwards.
A great recruiting point for the coach to lay out there. Come and play against the best both IC and OOC.
I also do not see much of a change here in the amount and percentage of 3 pointers.
New hires aren't looking that good on the recruiting trails.
Read in here that recruiting is a BIG part of being a college coach.
Be interesting to see if we have figured out how to have our LBs cover a fast RB out of the backfield. Well one way is play new LBs.
William Buford and Jared Sullinger
They need to add both these players. A lot of scoring goes off the board without them.
What QB wouldn't want to sign with the Buckeyes with the WRS haul the last couple years and day as a QB/head coach.
Did we jump too early for a QB?
Good that recruiting is up thanks to these two coaches.
Got to wait and see if these recruits signs before jumping overboard.
I played at MC and hard to take that the baseball program has sunk so low. MC finished runner up in Div. II before Div III came out , that was the start of MC being the benchmark.
Just waiting on the lawsuit that coaches yelled at players and hurt their feelings.
That would be amount of TOSU players jumping in the transfer portal/
I know we abused one of their CBs last year.