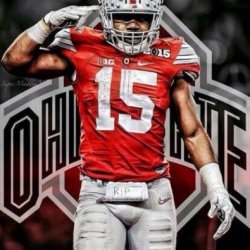 Keze
---
MEMBER SINCE March 22, 2017
Recent Activity
Another article that has Stroud in and no mention of Jack.
Damn Joe all over again.
sounds good but same story difference year on TEs
Here to Master to heal up and either start or have PT to keep the RBs healthy all year.
Get in or be left behind.
Better start holding a spot or two for the pool.
May be the way in the future
He will come here and ball out knowing this is his last chance to go to the show.
Well that what he should be doing or he is wasting everyone's time
I want to thank everyone on their expert opinions on what is going to happen.
Finally a back with some size
Guess this is one way to make a team. Problem is most of these players are in the pool for a reason so we have to pick wisely.
Saw this coming when he left the team, backed up by him not going to the Iowa game.
I was accused by an expert in here of being a dictor adter I posted it would be good for him to go to the Iowa game and see his teammates.
Come on brightass and post your little remarks again. You know who you are or I can look it up and remind you.
When you lose 56-27 at home ...you sure as hell didn't beat yourself.
Dobbins wasn't really a good pass blocker so not really worried about that
Carton must be coming back then ,something I will need to see.
He really needs to return and work on his drive to the basket. Seeing him do it more lately but he just needs to work on it.
That's why the lost to Clemson hurts more than just losing on the field
Guess Liddell hasn't hit that freshman wall this year or is the freshman wall just a good excuse to throw out there when a freshman falls off his game.
WHOA 2 freshmen with problems.
Grab your towel
We are missing that go to guy who can get a basket when needed badly. Would like to see the coach call a play for K. Wesson when we need a basket especially going inside for the basket or foul.
They all wanted Haskins so not buying this.
Either kick this coach out or Maryland out. Either one is fine
Clemson is the dirtiest team to play against. Always doing shit to hurt a player.
Maybe the Buckeyes will play more zone and try to keep the fouls down using the 7 man rotation. Or play Gaffney more but he has a ways to go.
Wesson does use the elbow a lot inside but not as much as he did earlier in the year.
Closer than I thought it would be.
Buckeyes are gaining some respect back.