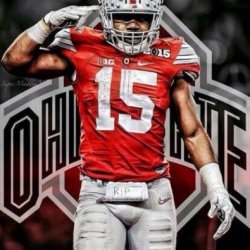 Keze
---
MEMBER SINCE March 22, 2017
Recent Activity
Someone shut that damn transfer pool , it is sucking the Buckeyes dry.
Over
Over
Under
Miller at 4 games to keep redshirt.
I would like to know how the affected coaches really think abouy this, but that will never happen or should it be made known
Congrats and welcome.
Good job coach in recruiting this BIG man.
And who would think if we didn't bring in Fields that both the QBs would stay around. In that case we are at one QB on the team and I will take Fields over Martel and Baldwin as the only QB on the team.
DDDDDDDDDDDDDDDDDDDDDDDDDDDDDDDDDDDDDDDDDDDDDDDDDDDDDDDDDDD
Not sure if I would have handled it that way coach, telling a kid you do not believe him could backfire.
And now we go after 3 stars recruits from up there???????????????????????????????????????????
Fields has the talent , IMO playing his first time in front of the Buckeye fans he didn't handle it well. Hope the butterflies goes away after a couple of games for Fields, if not could be a run happy offense this year.
Baldwin could go 20 for 20 , 300 yards, 4 TDs but Fields is the season starter., dam the writing is on the wall.
Is this for the European league
X: possession receiver, usually a bigger body, not necessarily a burner.
Michael Thomas is your prototype.
Current: Austin Mack OR Ben Victor, Jaylen Harris
Sounds like a tight end , hell no wonder our TEs rarely sees a pass.
Gots to change what X does or tweak it.
Isn't the Engle boy who played baseball , also coaching at Elon?
Good genes on Lachey but he needs to put on some muscles. If he has dad's frame then that should not be a problem for him.
Hugley` already looks better than Wesson.
Any of the 3 BIG men we are after is fine with me. It is something we need to fill for next season.
Here I thought they ate at a trainers table and not out on their own.?????????
All I know is Duke is the darling of ESuckPN while the Buckeyes are the ugly stepkid. of ESuckPN. So no comparison from me.
That's nice but they prefer to get paid and not have these nice things
About time.
He is a 4 star after all.
Good idea Coach Day , the tall WRs are the future in CFB.
Good move Jaedon, I read the same thing on the wall.
Good to hear we have a chance of getting at least one BIG man