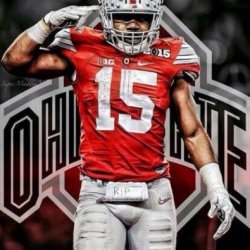 Keze
---
MEMBER SINCE March 22, 2017
Recent Activity
JOE is the BIG man on campus and GIRLS<GIRLS<GIRLS will be at his calling.
Shot out to Fields , he made our TEs and WRS look really good with those catches.
To be the best you have to beat the best.
Bring on both of those Tigers.
Fear no one.
They all mention the AP poll. LMAO
Or as we know it the SEC poll.
Playing in Atlanta helps Georgia but I think not enough for them to win.
Great year for sure but
as they say records are made to be broken.
Just ESPN doing it to TOSU only with different talking heads this year. Glad this wasn't another click bait for ESPN
WTF, if they were double or even triple teaming Young where in the heck were the other players???????????
OU brings the fans, Utah wouldn't fill their section but it would be more seats for Buckeye fans.
About time someone but me have said JG is full of shit
Wait until some team smash Clemson in the mouth then we will see if no one wants to play them
Clemson in with a lost. not so sure. Especially if Utah and Oklahoma wins big.
Oklahoma, Baylor or Utah is my question. Oklahoma if the committee wants to fill the seats and Utah if they want to finally put a Pac 12 team back in. Personally any team but Oklahoma or a SEC team for #4 is fine.
If I was him I would have played in a CFP game. Been here ...done that.
WHAT no shutouts for Victor?
Never mind I know why
Use to really like this but now it is more of the same people talking the same shit after each game. Find other fans to interview or is that hard to do.
Urban still running the show in BIG games, so much for Day opening things up in the BIG games.
1 at best, maybe a 3 if the sun is out and the temp is above 60 but that is not likely. hell he was cold and really showed no MO in the Rutgers game.
Don't leave it up to the committee, stranger things have happened
If they have their hoodie over their head then cut them now ...no pansies wanted.
Yep a lay down on the play calling but what I thought is why didn't we stop the QB runs that PSU kept running at us , thankfully dumbass Franklin decided to let the kid throw and we picked him.