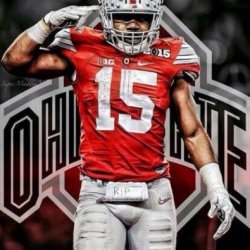 Keze
---
MEMBER SINCE March 22, 2017
Recent Activity
Not sure it is a schedule disadvantage but beating a good team a second time is the disadvantage more IMO.
Providing this is how it plays out.
Good job coach but bet Cane threw in also
I am just waiting for the saggy pants.
This generation still goes on laying the blame on someone else.
Sad but at least Baron finally gets it that you need to put the work in
Good to see that Baron has finally caught on that you need to put in the work to see playing time at TOSU. Maybe this is why and he is still blaming someone else for his slow uptake on it.
Bring them in , chances are someone will jump in the pool.
Muhammad: 16.6 percent
Washington: 10.4 percent
I will take Washington any day. Muhammad must have really improved his 3 ball to get more votes than Washington.
WTG BV, I started to think that you had relapsed after dropping that easy pass early.
Fields has been off to s slow start against the better teams. Do you think we should have Fields throw some short routes to get him started early?
White needs to improve on pass coverage IMO is the reason.
On the Big Ten's decision to suspend Nebraska defensive lineman Khalil Davis for one game after an apparent altercation with Josh Myers in the first quarter of Saturday's game,
What was this about?
Just BULLSHIT
If they want to pay players then start a conference of schools who wants to pay players. Really that simple.
IMO , White needs work on his pass coverage is why we are not seeing him at Bullet
People talk about Herbie but Galloway is just as bad and hell this year hGalloway is worst than Herbie.
Every team has that one player who likes to take cheap shots.
DON'T FORGET
one bad game and it's over
Total bullshit piece.
Comparing coaches , lets give Day some years before we claim he is a better coach than Meyer. Lets see how this team does this year with mainly Meyer's recruits. I haven't seen this team under Day beat any team with a heartbeat yet.
These WRs are looking good but lets see how they use Ruckert this year. Could be right up there especially in the red zone.and maybe the 7th first round receiver for the Buckeyes.
Think the defense needs to take some of the blame game here.
There are 2 scenarios for Urban.to return to CFB coaching.
1. He returns to coach TOSU after Day leaves for the NFL.
2. Urban runs out of money. and takes a top job. ( I do not see Urban running out of money or his great grandkids.
IMO Fields has to get better in deciding whether to run or pass once he is outside of the pocket.
A 3 stars big man commit that can use both hands and catch the ball.
Not a bad find.
Tuf and Arnette hasn't been burned but the season gets real now.