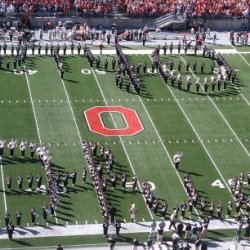 kevgobucks
Galloway, Ohio (via Columbus)
MEMBER SINCE November 28, 2011
Built on to my house just so I could put in a buckeye bar. Its the best hands down and I have seen a lot of them. My wife and I are alumni and I have missed 2 games in 23 years. I get physically sick when they lose and don't put up a buckeye themed Christmas tree if we lose to Fichigan (I wouldn't do xmas either, but wife overruled me on that one). Turned down high profile big money jobs out of town because we won't miss OSU games. Big supporter of the wrestling program (well before it was cool to) and my wife's uncle was all big ten for bucks in 1959 for baseball team.
Favorites
SPORTS MOMENT: 45 yard line for national championship in 2003
COLLEGE FOOTBALL PLAYER: cant pick just one buckeye, starts with Archie, Eddie, Spielman, Orlando, Zeke
COLLEGE BASKETBALL PLAYER: Jim Jackson
NFL TEAM: Cleveland Browns
NHL TEAM: Blue Jackets
NBA TEAM: Cavs
MLB TEAM: Reds
SOCCER TEAM: none
Recent Activity
Please go....worst DB since marlen kerner....look up definition of toast in wiki and there is a picture of Kendall Sheffield....
Not as we are. I'm a proud OSU diehard. However, I am a realist. The outright inability to diagnose a play and read keys for our linebackers is on Bill Davis...period. You wont get an answer, but I would ask what specific drills are you utilizing during the week. Then realize they are not working! You must change something in a formula to get different results. You simply cannot say "we need to clean that up," or "we just need to make a play or make a tackle." If you are baking a pie and it keeps falling flat, you don't say, "I need to clean that up, just need to bake harder." You add more flour, you change the temperature in the oven. You cannot keep doing the same thing and think you are going to get different results. Now, If you will excuse me, I have to go to the hospital for an ulcer!
I didn't quite know how to start my comment. Are the linebackers delusional? Is Bill Davis delusional? Schiano? Grinch? Or is it the "average" Buckeye fan who has never played saying the linebacker play has been ok? If you do not see the linebackers are flat footed, over pursuing, misreading their keys and overall out of position the majority of time, then YOU are delusional. The bottom line is when you have 4-5 star kids up and down 3 deep and it doesn't matter if it's the Mike, Will, or Middle that isn't producing...its coaching.
This is ridiculous to even ask. But, for the record, if Fichigan was playing Satan's Warriors for our souls, I'd go out and buy a Satan's Warrior's hat and shirt for the game...period.
Excellent analysis. This is the type of stuff as a football junkie I do when I DVR the game. It's good to see 11 Warriors doing this type of analysis to hopefully make a casual Buckeye fan understand better. Again, hats off to the staff
I have been railing against clowns like him and every other Kardashian like Ohio State fan that dresses up for the sheer narcissistic value of saying look at me (Big nut etc..). I think it's a shame that the university even gives guys like this space to represent their university because this is what happens when you're not really a university employee. You start to think you're really as important as a football player or you're really part of the football program, you're not!
It's a privilege and you should be passionate about supporting the University. Again, they are famous for being famous..the buckeye Kardashian's..
Dumbass question. Keep the focus on the here and now. These questions are ridiculous to ponder. No one really knows and why should we right now?
3 words: wrestling, wrestling, wrestling!
For the first time in 12 years I really question how coach Ryan is coaching some of these kids. I've never seen elite wrestlers, which they are, so pathetic at the top position and not able to control and ride opponents when it's needed . They also look extremely gassed and out of shape. I don't want to hear any comments from anyone else saying the schedule is brutal. It's the same for every team and yet I feel like even when we have outclassed the other wrestlers we are not as good a shape as I am at seeing from Michigan, Iowa and Penn State.
This truly is a tough pill to swallow seeing that ass face James Franklin smirking at Mat side
I am so depressed over this news. Overcame a lot of adversity in his early life and was responsible for one of the greatest plays in Ohio Stadium history. Rest In Peace Terry....
It was New Year's Day 1990. My best friend and I went to Tampa to stay with his grandparents and go to my first bowl game, the Hall of Fame bowl. As sophomores we were stoked about NCAA with this new coach, john cooper. We both played in HS and a little in college. He loudest hit I ever heard EVER. Two words:Zack Dumas
drop the mike....
No such thing as "plenty" of gold pants. No such level will ever be enough. Change headline!
Yes, was walking to car later after game and ran into him and his family. great kid, absolutely needs more than a rotation here and there. Others need a chance to see what they can do..