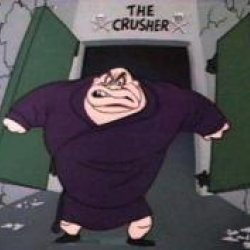 Kevdaddy8
---
Columbus
MEMBER SINCE October 20, 2012
Columbus boy. Buckeye Fan.
Favorites
SPORTS MOMENT: Winning my 3rd straight Ohio Martial Arts Championship
COLLEGE FOOTBALL PLAYER: Troy Smith
NBA TEAM: Cavs
Recent Activity
Logged in just to up vote this. Also, I love lamp.
Sweet heaven. I nearly tackled myself watching this.
I work with his dad. Said Larry hand picked Kenny.
The comment made in this context is clearly racist. Whether the commenter is or not may be up for debate. But what we know is that one way to tell if a person is racist is if they say racist things. Another way is when a person defends or dismisses racist comments. Not the only ways to tell but certainly good evidence.
Gut feeling? You mean like an implicit feeling that....say gives you this sense of bias toward one player and against another not based on anything objective or performance whatsoever that you're expressing? That kind of gut feeling?
Demystifying this particular character to this degree reduces him rather than elevates him.
Dude. There is literally no objective football basis for Baldwin over Fields at this point. Baldwin has 0 college game experience and no serious analysis equivocates high school playoffs with even mop up D1 game reps. If you intend to stand on high school acumen then Justin blows Baldwin out of the freaking water there too seeing that not one recruiting service or individual expert would be willing to put the two in the same category and just the difference in their rankings tells the tale by itself. For all the time he's had learning the system Baldwin's above the neck knowledge is not moving him significantly (if at all) ahead of the kid that just walked in the door. As a dual threat, Fields is easily the more dangerous of the two. Coach Day has clearly indicated that Fields has proven himself capable of leading the team in the short time he's been in the program. Baldwin's injury at the very least tacitly suggests that he could be dealing with durability issues that to this point Justin hasn't had. I could go on. Just get over your Baldwin Boy Bias, this is a done deal.
Oops. Double post. My bad.
Hmmm...don't see it that way. How about the fact that after over a year in this specific system Baldwin can't separate himself from a guy that has fewer than 20 practices under his belt while learning a brand new system. When framed this way looks like Fields has already closed any gap and given more time will easily surpass Baldwin. Now, this may be because Baldwin is recovering from an injury but from the neck up Fields seems to be EASILY catching and equaling Baldwin. Bigger upside therefore looks like it goes to Fields.
Mark my words, this little prick is gonna trash us and this program. He will say anything he deems necessary to aid him in making a case to get immediate eligibility and make it appear that he's fleeing some kind of hardship. To Justin's credit, he's said nothing negative about the school he's departing and nothing controversial about the players or the program he's landed in.
Good young man that worked hard, played hard but had some extremely challenging injuries. I'm hoping that he has managed to get his body right and is making a push to fulfill his dreams. Behind Malik 100%! Good luck young man!
The apple doesn't fall far from the tree, apparently.
That's a tacit way of shifting the blame for his behavior. It's very possible that he's just acting like a spoiled douchebrat. Just maybe this is his way of stamping his little feet as he makes his way to the door because he didn't get his way? Seems just as likely, if not more so.
It wasn't his job. He never won it. He never started at Ohio State, not once. Was he the favorite? Ask Matthew Baldwin.
In every team locker room I've ever been in and every gym I've ever trained in and with every opponent I ever competed against the interpretation of what Tate did would be very simple. His mouth wrote a bunch of checks that in the end his ass couldn't cash. And even before the bill came due, he made it perfectly clear that he's only a fighter when his plan is working. But everybody has a plan until they get punched in the face. Please don't ever compare this little turd to Joe Burrow. Though I was a Haskins guy all along, Joe showed nerve and moxie and character when the fight got hottest. Joe wasn't scared to compete and he wasn't diva enough do his fighting on social media while shrinking from a real battle.
Don't judge you? You mean the way ur judging Gloria? Whom u also don't know? STFU u prissy little vagina.
Cry me a river and try living through all of that while in fear for ur life every time u see a cop. Try living through all of that while being maligned in every sector of this society because of ur color. There are systemic life threatening issues as a result of the racist climate in this country piled on top of the poverty experience that no white person will EVER have to face or even consider that every person of color labors under in this country every single day. I don't expect u and ur privilege to get that. Just Please don't call the police on me because this post makes u feel uncomfortable and u think I shouldn't be in this forum.
EVERY single mother of a black, inner city male child that escapes with his life, much less ends up being productive and even successful deserves credit for her contributions that few of u can even imagine. I've lived that reality and it's not as simple as a bunch of sports fans repeating the old "it takes a village" trope. So please, just stop acting like you get it.
She was master minded enough to raise the guy we are now praising by herself and not screw it up. Sitting pretty nice now I'd think. Certainly nicer than anybody commenting here on her deficiencies.
High school? I'm calling BS. Look, I know the guy isn't perfect but he's almost 4 years removed from both his final high school game and any extra pre college games he may have played in ( with only a day or two of practice) so I think it's safe to say that we are looking at a different era in his game and development. Granted, I'd concede somewhat if we saw any glaring traits carry over but that's not the case here. You're simply trying to justify a bad initial take that u got called on with, well....BS. Give up and you won't sound any stupider.
Sorry TraptnMi, That statement isn't accurate. DH has two turnovers a last year. One was a pick six where he stared down his receiver on an out route. The other was a fumble after a good hit in the driving rain. These two hardly match your description of a trend "throughout his career." What's ur basis for this criticism?
And u saw exactly how many practices that gives u the idea that JB outplayed DH in the spring? Seems like u saw more from ur couch than the coaching staff did actually being there reviewing every rep these guys had. Get outta here with that crap.
That's good home training right there, Linga.