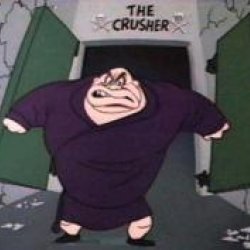 Kevdaddy8
---
Columbus
Member since 20 October 2012 | Blog
Columbus boy. Buckeye Fan.
Favorites
SPORTS MOMENT: Winning my 3rd straight Ohio Martial Arts Championship
COLLEGE FOOTBALL PLAYER: Troy Smith
NBA TEAM: Cavs
Recent Activity
Maybe, maybe not. You stick with that false dilemma reasoning though since that's all you got.
And neither of those things made any difference in overtime when he threw the strike that won the game.
He looked good enough to me when he was winning THE game, on the road, hostile crowd, coming from behind and cool as a cucumber. No one left in the qb room has that kind of battle tested experience. So....yeah. I'm sure.
He switched to the guy with the better arm. The same arm that threw the touchdown that won the title.
Come on man, Haskins never really had a chance to unseat JT. Urban made that clear the entire pre-season in every single interview he did when he fielded questions about JT. Remember the oh so popular "he's got the keys" comment Urban kept making? JT was his guy and nothing other than a total meltdown or an injury was going to open the door for ANYONE to start.
Agree. Alabama fans would be up in arms.
Maybe he just doesn't care whether we do or not. Not everyone does and if he were my son I'd hope he'd have that attitude wherever he ends up.
Interestingly, never see the same term applied to non black players when they do the same kinds of things. Heard no one call the repeat offender from Duke with a penchant for kicking, stomping and tripping opponents a thug. Typical.
Definitely don't like this guy, but I'd be interested in what makes him a "thug?" Code word much?
Funny thing is...our downfield and to be honest even our medium passing game with top WR prospects can't seem to beat the coverage of teams with far less talented and well coached secondaries; however, other team's less talented WRs are having less and less trouble getting open against our stellar secondary. Seems to be contributing to our offensive woes and since it's not a talent issue or an effort issue, it's more likely a scheme issue i.e. coaching.
Mike stayed to start the chase for a championship...Cardale? Mission accomplished.
Even behind last year's line, which by any measure was excellent, Brax didn't get through his progressions as quickly as J.T. does which minimizes the time in the pocket he gives himself before he moves on and uses his athleticism (sp) and takes off. We watched how J.T. would scan the field and we watched Cardale stand tall in the pocket, two traits that Brax just hasn't shown a propensity to do on a regular basis, hence his under utilization of the same wide receivers corps that Kenny G. got more production out of when he was passing them the ball.
Reading defenses was not one of Braxton's strengths. Period.
Cardale IS a tool....a tool of destruction. And i would argue that Cardale's second game as a starter is by far the best and most polished performance of any of our qb's in recent memory.
Is it too soon to be asking this question? Yes.
The real question is "Would you have more touchdowns than Joey Bosa in the next game?"
How bout when he has a bad season? He get to check out them?
That would be consummate buckeye of a CO-defensive coordinator.
Whatever lets you sleep at night Melvin.
You mean the same false premises that supposed and are now confirmed by the prosecuting atty that at least one witness LIED in their testimony in support of the innocence of the man who shot and killed another human being UTD? I appreciate Nick's gesture just as I appreciate Kobe's, Lebron's and all the players that spoke out on the platform they have.
Woke up today with the power to upvote....finally! you my friend are the very first recipient of an upvote from the Daddy. History baby...history.
Bama will not run on us. The inside is closed.
Time to call a code red on that fool. Let's see....extra large pillow case full of soap bars? Check.
I got a fever and the only prescription... is more Vonn Bell...baby!