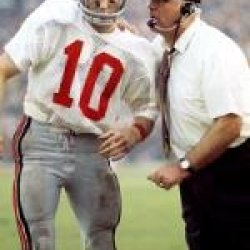 Kernfan
---
Germantown, Maryland (via Cleveland, Ohio)
MEMBER SINCE September 11, 2013
Favorites
NFL TEAM: Redskins
NHL TEAM: Would rather watch olympics or boxing
NBA TEAM: Wizards, unfortunately
MLB TEAM: Orioles
SOCCER TEAM: whichever teams my kids are playing on
Recent Activity
I would be interested in a list out of all the 2nd string. Particularly QB.
I record 3 or 4 games every Saturday, and speed watch by skipping the huddles and commercials. Any game but OSU gets out of hand, I switch to the next one. I hate watching commercials and listening to announcers.
He started the last two, and played a lot against Texas the game before when Grier got hurt. I think the worst thing is his rating kept going down Texas 127, OK 107, Utah 68. But he does have more practice experience and would not be the first guy to improve a lot. Link to Chug statistics. https://www.espn.com/college-football/player/_/id/3870490/chris-chugunov
Sofas, not benches. Here in Maryland and in West Virginia sofas are burned after big wins. Last year, when I was at MD-OSU and the game came down to the wire, I was worried since I thought OSU would win in a route I did not have my asbestos underwear on. It was very frightening.
That would be truly amazing, particularly since Chugs has only one year of eligibility left. But lets go all the way and say Chugs also wins two Heisman's. Also, Chugs has two more starts in college than the rest of the QB's combined. So with his OSU experience edge and starting game edge, he is the logical choice.
Oh well, wonder if he should try the JC route for a year? I thought he looked like he had potential last year when he played at becoming a good P5 QB. I can't get into hating the kid for some obnoxious tweet, its not like he robbed someone or beat the shit out of a girl. Too much focus on stuff that was annoying but basically harmless. I would have been nice to see another ex OSU QB succeed.
Thanks, this article is a twofer. It makes me happy both as a MD and OSU fan.
Although there were arrest issues at Florida, I don't agree that he didn't leave that program in great shape. The last year was tough, but 3 of his last 5 years FL was 13-1, twice NC and once finished 3. 2010, his last year he finished recruiting they had 247 composite #1 class, 2009 7th class, 2008 5th, 2007 1st.
Honestly, if it is a competition with Hoak, I am surprised the only guy with 2 college starts and more experience in the program does not get a mention.
I think people sometimes forget that every program has some 3 stars, even among the elite schools. Looking at the 247 team talent rankings https://247sports.com/Season/2018-Football/CollegeTeamTalentComposite/, Clemson had 24, Bama had 18, ND had 38, and Oklahoma had 36. OSU had the fewest at 17.
If Day wins 2 championships in his first 10 years at OSU, fans will probably love him, at New England they would probably want to roast him. Urban has 3 championships, but only one was at OSU so Day has a chance to win the fan base for OSU. It will be damn near impossible to keep the fans happy in New England, or Bama for that matter, after these runs. That's why I would guess he stays, but he may love pros that much, may hate recruiting, or any other reason he would up and leave. Or just have another fake scandal that pisses him off and he is happy to go elsewhere.
Restaurants and car dealerships are often noted as two of the biggest money losers for pro stars. But if well run, they can survive/thrive. Joe Theismann's has been open since 1975 https://www.theismanns.com/. Its real far from me but I age there about 15 years ago and it was a nice place.
Best of luck to this kid and his family. Leaves a playoff contender for a conference cellar dweller and the NCAA chooses him as one of the few to get denied.
As a Washington fan, I got to see them both a lot. I thought they were pretty comparable, Aikman played on better teams. I think the ring argument is pretty bogus, since its so dependent on other players. I never was that impressed with Terry Bradshaw and he has 4. Eli has the same number of rings as Peyton. If you consider them equal, you need therapy.
Amazing watching that film that he didn't have any offers. Considering has 3 other QB's that were in the 40's and 50's per 247, I was surprised since this guy seemed fairly comparable. Well good luck to him, more depth and he can look at transferring for a scholarship at some point if he isn't going to get one at OSU with his accuracy and excellent coaching he is going to get here.
Good luck Blue. Quick question, if he only played in 3 games isn't that a redshirt year and he would have 4 years left? Would it matter whether he was granted an exemption to play immediately instead of sitting a year, so he would still have 5 years to play 4?
The Tate story just seems that OSU confirmed what a lot of us suspected. On Haskins, I'll agree with EB that the car purchase wasn't the best move. Hopefully he will spend/invest the rest of his rookie contract, which could be his only contract, more wisely. RGIII bought a Rolls right off the bat, so that may be giving EB flashbacks.
Well, it doesn't cover the last 20 years, but this makes a good cheat sheet for looking up great OSU players and coaches https://en.wikipedia.org/wiki/Ohio_State_Football_All-Century_Team
As a skins fan I am happy and hoping they don't rush Haskins. As an OSU fan, I am still scared for Haskins. If their training hasn't improved and they end up leading the NFL in injuries for a third straight year, including getting the line decimated, I hope Haskins sits all year. 7-9 for 2 years running with their injury problems, and still no info on how they are trying to address it. Haskins and Harmon are friends, so him getting two WRs that he is on the same page with could turn out great.
Expand to 8. Easy choice since I have wanted 8 team playoff since early 1970's with same teams that would have made the then 4 major New Year Day bowls. Champs from P5 conferences (could exclude someone if they don't meet some minimum criteria like Wisconsin the year OSU and PSU were both on probation). Maybe top G5 if they meet some minimum criteria (e.g., undefeated, top 10 ranking). No more than one at large team from any conference (no call for 3 or 4 SEC teams).
ND is in IN. But I did forget the others (should have remembered MSU at least since I end up watching them a few times a year, can't say the same for Vandy or any Tx teams.).
I can't believe you got a down vote. Maybe a bankruptcy lawyer? Referencing Warren Buffet's advice, the GOAT for investing, great choice. I tell my kids the same thing (low cost index funds), and give them every article on famous stars who are broke shortly after retiring or sometimes while still playing.
Interesting articles. Trying to compare Big 10 vs SEC states, and numbers of P5 programs just for the heck of it. Probably got the P5 wrong since I can't remember teams in the other conferences I don't bother to watch.
The Big 10 states. Ohio 14, NJ 9, IL 9 (2 P5 schools), PA 5 (2 P5), MD 4, MN 4, IA 4 (2 P5), MI 3, IN 3 (2 P5), NE 2, WI 1
SEC states. FL 34 (3 P5 schools), GA 13 (2 P5), LA 10, MS (2 P5), AL 6 (2 P5), MO 6, SC 5 (2 P5), TN 5, AR 1, KY 1 (2 P5)