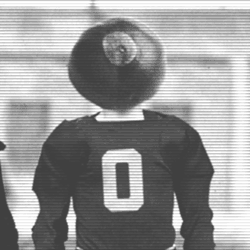 KernersvilleBuckeye
---
Kernersville North carolina (via Dayton, Oh.)
MEMBER SINCE December 30, 2019
Favorites
SPORTS MOMENT: OSU victory in title game over Oregon
COLLEGE FOOTBALL PLAYER: Justin Fields
Recent Activity
If it's just him, no problem....
Ransom will be the next great safety at OSU... He is so good I expect him to get a lot of playing time this year.
Boy, I always knw that it was basically all Joe last year and Jamar Chase and the other 2 receivers. I got so tired of hearing about Joe Brady and his "magical potion) and LSU fans bragging about how Orgeron is one of the greatest coaches ever.... I'd like to remind them that he was't to hot at Ole Miss. They look putrid so far in this game and I don't see them much better than 6-4. That's about what Orgerons record normally is.
@ Philly nut.... Yes, just off north main across from the DMV.
I like it because it will make it a legit season with everyone playing (MAC also)..... There will be postponments along the way, of course, but noone can deny us a natty when we win it all.
Simply overjoyed we are playing...... but not Nebraska. Lived in Omaha for many years and love the people. Most genuine nice people you will ever meet, and it extends to their football team.
As incompetent and uncaring as Warren was, I am ready to forgive, although I will never forget, his devious behaviour. Hate gets us nowhere, and doggone it, we got football in this most glorious time of the year.... I LIVE FOR THIS. Got a feeling this might be one of the best OSU teams ever.
I love husker nation..... even before this decision I liked Nebraska alot. I lived in Omaha for many years and husker fans, and especially the state of Nebraska, were the most wholesome fans I ever came across. I wish you well and I admire you....Good people.
MLB is nearing the finish line, so is the NHL, and I won't even include the NBA because their in a bubble. HS football is on their 3rd game in Ohio (and elsewhere), and will in my mind undoubtedly, finish. So will the college football. Every time I hear the mantra of "TILL ITS SAFE TO PLAY" I want to puke. It is as "safe" now as it will be in Nov. or Jan..
Fields
Haskins
Smith
Germaine
If they don't play this fall, so be it. I love football and will watch whoever is playing. Personally, I hope the other leagues play, AND FINISH. I absolutely have been devastated by this BIGX disaster but I hope the other leagues kick butt. I detest living with fear. Living with hope and a positive attitude is the only way to go. Hey, if worse comes to worse, it's really simple, then just cancel, thats all. All i really have wanted is to GIVE IT A CHANCE, GIVE IT A CHANCE.
This creep is about as lowdown as they get. His son can play but others can't because of " safety and health issues". Yeah sure, what a fraud, and ultimate hypocrite.
I just signed it..... and I'd do it a million times if they let me. All I've ever said is to give it a try, that's all. If worse comes to worse, then cancel. 5 or so games would be better than no football at all. You can live off fear or have positive energy which is called hope.
When i saw Clay Travis's face i immediately dissed on it. I can't stand that hypocritical, narcissistic braggart who thinks he is gods gift to the sporting world. His shows are downrivht boring but still not as bad as Dan Patrick.
I don't know...all of you seem to be against a spring season but I think it is very doable with an 8 game season... Play will be in jan. and Feb. That's ok, the Nfl draft will be almost 2 months from then. These are young kids and they can handle it. Weatherwise, why not play in domed stadiums both in the BIG and in other stadiums in the MW. I'm sure the league has probably discussed that.
Knarcisi, very clear, concise, and the most rational and truthful post yet, Yes, yes, the BIG X only looked at "Liabilities, unknowns, and problems" without ever trying to find solutions. It is so obvious that Gene Smith is a yes man who totally toes the company line.. No guts, no spirit, only BS doublespeak, making it sounds like he truly has a spine. Although I never liked Sith ( who to me is a big blowhard), the ultimate bottom line killers here are Kevin Warren and The BIG presidents. My big gripe is why didn't they at least give the season a CHANCE!!!!!!!!!!! Just give it a chance, that's all. The NBA is doing fine so far, so is the NHL, and MLB also, although the Marlins had an outbreak, by now ok..... Heaven forbid, but I really think the other 3 conferences, and the others that play, will have a full season of play, but even if they don't, and lets say, only play 5 games or so, but dangit, that better than no CFB at all and puts all conferences in the same boat.... At my advanced age I sure look forward to this most "precious" time of the year when I can really feel good every day about my favorite team.
Gene Smith has always impressed me as a Yes man... a "Lapdog" for the BIG10.
I hate to say it, and as big an OSU fan as I am, I hope the BIG10 is embarrassed by their decision...These presidents and administrators won't be as they will come up with lame excuses for their decisions...
I know it's been a short period of time but does anyone know of any Myocarditis diagnosis in MLB, NHL, or NBA.?
They won't...It is almost a done deal that they will proceed with a season...Good for them. Their medical personnel seem to think it is worth taking a chance on, and why not.... MLB is, (2) contact sports, the NHL and NBA are. and seem to be doing fine thus far. What makes CFB and the protocols and testing done any different?
The 3 other power 5 conferences WILL PLAY.. BOOK IT.
Master is a beautifully hearted young man....he is a gem as a human being,