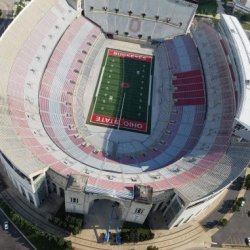 kentukeye
---
from Ironton Ohio
MEMBER SINCE June 30, 2016
Favorites
SPORTS MOMENT: Zeke running through Alabama defense.
COLLEGE BASKETBALL PLAYER: Grant Hill
NFL TEAM: Bengals
NHL TEAM: Blue jackets
NBA TEAM: Boston Celtics
MLB TEAM: Cincinnati reds
SOCCER TEAM: Columbus crew
Recent Activity
Had high hopes for K.Babb but injury bug has taken effect on him .
Wish haf the best. BTW thanks for a very good year defensively. This is THE OHIO STATE UNIVERSITY we will be ok!!
I can see 2 WRs,2,0L,1TE,1DL,1LB and 1 possibly 2 DBs hit the portal.
Wade makes a lot of difference out there? Believe he will have the best pro career out of all our DBs.
Both are good leaders on and off the field.
Sure was looking forward to seeing Vincent this year.
Liked the signing of Dozer Jones aka "bull"!! Also think Leroux will suprise people? Come in with that chip on your shoulder will lead to good results.
Nice article. My daughter had same problem. Got to the point where she couldn't jump inch off the ground!! Still has trouble with it today after 13 years!! Both of hers had to be cut and reattached.
Hate it for C00p and C.J. especially being seniors. Chance for young guys to step up!! We need Smith and BB? at Braska, MSU,at Northwestern,Wisky in like a 5 week period with a bye in the mix. We will need plenty of help on the defensive line!!
Hoping not a pec.tear!! This would really stink..
2nd qtr.
Saw some where he be out a couple weeks?
Good to see T.Johnson out there. Has anyone seen C00P out there at all?(anywhere)
Great job Z ,continue your efforts.
Didn't think he would stay another year but after hearing this I might be wrong!!( Be my first time being wrong)
Do not wish injuries on anyone,even the enemy..
Thanks so much for sharing.
Max Wray needs to add a bunch of strength.
He is a wrestler?
Bowen Hill Fuller Landers Borland
Schiano can recruit. Grinch is DC in waiting? Does anyone know if Marcus Williamson is still a buckeye? Havnt herd a peep about him!!
Speaking of transfers,JM0 I know nothing about nothing but I'm thinking if Hask stays Martell gone?
Having a shoulder sprain myself Luther I feel your pain. Get well soon and get back on the court. Like your hustle and def.
Happy for the youngsters.
Wish list= Butler,Greene,Tommy boy,J.Jacobs and. Duplain!!