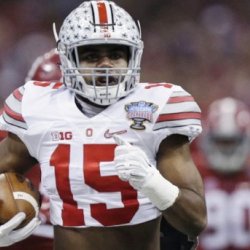 Kentuckeye51
Louisville, Kentucky (via Elyria, Ohio)
MEMBER SINCE June 21, 2018
Air Force veteran. Accountant. Weird transition, I know. Just like the move from Cleveland to Louisville was. Still a Buckeye for life!
Favorites
SPORTS MOMENT: 85 yards through the heart of the south! I was on leave for a slightly extended Christmas to watch that game!
COLLEGE FOOTBALL PLAYER: Ezekiel Elliot
COLLEGE BASKETBALL PLAYER: Kevin Ware, University of Louisville
NFL TEAM: Browns
NHL TEAM: Blue Jackets
NBA TEAM: Cavs
MLB TEAM: Indians
SOCCER TEAM: Louisville City FC
Recent Activity
My ratings have had Georgia as a top 15 team pretty well all year. They haven't been particularly dominant but their offensive and defensive stats are pretty solid.
I know they lost a fluke game, but my ratings over the past couple years had Ohio State pretty high even after their fluke losses so I'm not too concerned with it.
I do think we'd wipe the field with em though
Here's the issue though.. LSU was the only good game on Alabama's schedule for the entire season. Auburn is not even as quality a game as our win over Cincy. So they had one shot and they lost it at home.
I agree with you that Alabama would probably win against several of these teams, but on the field results say they just aren't playing as well as the others right now.
Ok... I am confused....
Here's the deal.. I ran these stats through my formula. It's not as many stats as what I include, but it should be roughly similar right... well... I get CC at #2. A two loss team at #2. Here's the full results..
1. B
2. CC
3. F
4. G
5. C
6. I
7. Q
8. S
9. Z
10. W
11. U
12. X
13. V
14. A
15. T
16. H
17. R
18. HH
19. D
20. EE
21. N
22. Y
23. K
24. J
25. AA
26. O
27. DD
28. E
29. M
30. FF
31. L
32. P
33. BB
34. GG
Stats sure are finicky. That's why you have to make sure you're looking at the right ones. Idk which stats are the right ones, but any result where I get a 2 loss team at #2 probably means I messed up my inputs.
Navy you know that I know who these teams are.. I won't say it but you also know that I had CC at #2 or #3 for a while until their first loss. But after both losses? no way.
Thank you very much!
Now for a better name...
Well, they are 7-2, but they've been steady at slightly above average offense and defense in all their games. They are 31st in total offense, 18th in defense but when you look at red zone offense and defense they're in the bottom half of the nation. This translates to a scoring differential that has them 32nd, about where they are here.
I can't weigh win% any more than I already am... that's what caused Appalachian State to be so high even when they haven't played anybody. And speaking of not playing anybody, my Strength of Schedule calculation has Indiana's schedule as the 104th toughest - and they lost two of those games. That's two spots above Bama, but way below pretty much anybody else in the top 25.
They're awfully close, but not quite there yet.
I'll go in order here...
First, thanks!!
Second, no I don't add for penalties, sorry if that was unclear. I take your penalties per game and divide that by ten. Then I'll deduct that total from your formula result. So Rice only gets 0.33 deducted while Tulsa loses a whole 1.03! Ohio State is doing pretty good here compared to the past couple years, only getting docked 0.49 points for penalties.
For the strength of schedule, I do have a rating for every team but I think it would be more beneficial just to look at the undefeated teams for your specific question:
1. Penn State (62.22 on a scale of 0-100)
2. Ohio State (59.01)
3. LSU (57.95)
4. SMU (53.47)
5. Baylor (51.91)
6. Clemson (51.34)
7. Minnesota (48.91)
8. Alabama (48.32)
9. Appalachian State (45.74)
Take that Alabama! And based on today's Skull Session, it seems Joel Klatt agrees with me.
Unfortunately I don't have a great way to isolate the out of conference strength of schedule in this particular rating. BUT I can do something similar to the "Conference Rankings" above.... Here is the average of every team's strength of schedule by conference:
1. Big 12 (60.00 on a Strength of Schedule rating of 0-100)
2. American (59.97)
3. SEC (58.85)
4. ACC (58.70)
5. PAC 12 (58.15)
6. B1G (57.62)
7. Mountain West (54.67
8. Sun Belt (53.12)
9. CUSA (49.97)
10. MAC (48.76)
Idk how useful that is for what you were wanting to see, but it's certainly interesting. ¯\_(ツ)_/¯
They're getting some points in my strength of schedule for North and South Carolina. Outside of those two, you are correct
You're right, and I'm not going to argue that you aren't. I know this is just for fun, but it really does demonstrate the stats.
Minnesota probably would be a slightly-above-.500 team if they played a harder schedule but they didn't and they aren't.
SMU might not be able to hang with Bama but what if they actually played? At least that'd be a good game.
And I can't stand the NFL so no thank you haha
You are 100% correct... The other popular computer rating systems call themselves polls though too so I thought I could get away with it. It sounds more integral to college football if you call it a poll I guess.
Let's decide on a name for this thing and call it like it is!
I made a "Conference Ranking" that's really just the average rating of all the teams in the conference (I go 1 to 130 so pretty easy to set up)... .Really not the best way to do that, I was just curious how that would turn out and it seemed like a quick way to get a rough idea... here are the results:
1. B1G (average team rating on that 100 to -35 scale of 46.01)
2. American (45.97)
3. Big 12 (45.57)
4. SEC (44.33)
5. PAC 12 (43.75)
6. ACC (42.99)
7. Mountain West (41.26)
8. Sun Belt (36.93)
9. CUSA (32.90)
10. MAC (31.83)
Kind of a big drop off after the Mountain West actually.. Power 7?
So I actually took a year off from it... settling in to a new job and this kind of got lost in the shuffle for a bit. My 2017 rankings had a playoff of Ohio State v UCF and Alabama v Clemson but it was a pretty rough formula so I really didn't share it with anybody. Glad I didn't... that would've been embarrassing.
You're right; not sure if I could find the pre-bowl stats. But, I could run through it with post-bowl stats and see how this lines up with other polls for an interesting experiment... That would certainly take me a ton of time that I don't have right now, but I'll keep that in mind for the future!
No I haven't. Any suggestions? Could always go the lame route and just use my last name but this is all for fun right now anyway so might as well have a fun name!
So you've all made some good points, and based on your suggestions I'm going to work on three main changes:

1. Changing this from YPG to YPP for both offense and defense
2. Altering the win % multiplier to make the results more reasonable (probably start by dropping it from *500 to *250)
3. Adding a Scoring Differential component
I will also post the results of next weeks rankings hopefully this coming Monday.
Thank you all! Keep the suggestions coming if you have anything else to add/remove too... I would love for this to become something sincerely useful!
Edit - Grammar
Good question!
TLDR upfront for once: it does fluctuate as teams are getting their first or second losses but there hasn't been anything outrageous since about week 4.
So I tend to think of this as totally unreliable until about week 6 or so when there are enough games and enough data points to see actual trends rather than unbelievable fluke performances skewing everything. So after week 1, #1 was Maryland, #2 Penn State, #3 Temple, #4 Kansas State, #5 Texas Tech, etc, etc.. total garbage right?
Ohio State took the #1 spot after week 4 and has stayed there ever since.
For a couple weeks there it was a B1G trio at the top, with Penn State and Wisconsin flipping back and forth for #2 and #3. Then Illinois happened and Wisconsin dropped to #10.
Georgia got up to #5 before losing to South Carolina and they dropped to #12.
Will say, I called Notre Dame being overrated (I know, who didn't call that?) and I had them in the 18-22 range for four weeks now.
#130 has been back and forth between New Mexico State, Akron, and UMass all year, but it looks like Akron is going to hang on for good now since at least the other two are losing to teams with winning records.
Thanks! Will do, along with any adjustments I've made based on the community recommendations!
Actually, since B1G teams aren't supposed to play FCS teams, it already rewards B1G teams over SEC teams who still employ Punching Bag State, but hopefully not too harshly... LSU still is a great team and so is Alabama right.
Actually, Florida plays two FCS teams this year due to a scheduling conflict with a previously scheduled FBS team, so they got docked twice and I still have them ranked fairly highly. I'm hoping that indicates my FCS penalty is appropriately weighted.
True, in theory, but I haven't been seeing it in practice so far. The best offenses are usually up there in ToP too. There are exceptions... like Air Force, who holds the ball for over 40 minutes but is a middle of the road offense.
One important note is that this is such a small portion of the formula that changing how it factors in really doesn't do too much. Taking it out entirely would be a difference of ~1.3 points for the best teams.
It's really used here as more of a negative for the teams who can't get off the field when they're on defense. Take Utah State. They have the worst ToP in the country but they're also 4-3 and have a decent offense. They get 0 points for ToP, so they're below teams with about the same record but they're not unduly hurt by it.
Still a good point, and I'll do some digging to find if anybody else actually uses it. Thanks!
Wouldn't be an eleven-warriors-worthy thread without it!
And that right there is the exact perception I'm fighting. All because people don't think that, say, App State is as good as Auburn, how do we really know? The stats right now say otherwise.