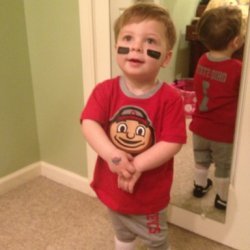 Kentuckeye
---
Paducah, KY (via Springfield, OH)
MEMBER SINCE April 04, 2014
Born and raised in Springfield and taught o love all things OSU. Ended up in KY after college. Though I'm not home anymore, you never forget your first love.
Favorites
SPORTS MOMENT: Rose Bowl victory over ASU
COLLEGE FOOTBALL PLAYER: Joe Germaine
COLLEGE BASKETBALL PLAYER: Aaron Craft
NFL TEAM: Bengals
MLB TEAM: Reds
Recent Activity
That is definitely bringing some high heat! Walt not goofing around this week.
That's too good. Already shared with my PSU fan brother-in-law. Even he got a chuckle out of it. Actually (and appropriately) it was more nervous laughter than chuckle.
As long as we win out, LSU wins out and Clemson wins out, it should be those 3 plus a 1 loss conference champion which would have to be OK or Oregon. No reason to put in Bama with or without Tua but for sure not without him. They'd be the only other 1 loss team that isn't a conference champ.
Where we are going to get screwed and stuck with 2 SEC teams is if Georgia beats LSU in the SEC championship and they will both get in.
He explained that he needed the money to fly himself anywhere but Columbus in two weeks.
I can't imagine LSU not being 1 tonight since our respective SOS was pretty close heading into last week and theirs had to get a bump from playing Alabama and ours wouldn't from playing Maryland, but if you thought we were the best team in the country last week, I don't know what you saw that would make you think otherwise on Saturday.
Side note, without diminishing the act of going into Tuscaloosa and winning, after watching the LSU defense give up all those points and yards, to the extent that any team worries me, its more Clemson than LSU. Beyond us and those two, there isn't any team that's close.
I agree it's early and we have played overmatched opponents, but early last year when we were playing overmatched opponents it didn't feel like this. Not crowning anyone, but the vibe off this team is radically different than last year. Keep it up and go Bucks!
I swear. Every time I think these can't possibly get better another one drops and it's off the hook. Great work as always.
Young's response to the cartwheel pretty much encapsulates all of our feelings about that play.
Even accounting for the #teen factor, that feels like a pretty wild swing for Bijan. I wouldn't think it's a concern about a pass oriented offense as that isn't exactly new news. Is this something where we changed our mind on him? I don't have any reason to believe that except for the seemingly huge swing from write in ink to pretty much no chance of him at OSU. Maybe just the vagaries of dealing with high school kids.
Boom! Let's get the commitment party started. Great to have him aboard.
You would think, but that isn't how it worked out with Brendan White at safety. And by all means, I hope it goes well for him at Maryland.
With my second favorite Buckeye block ever. Can't beat Evan Spencer springing Zeke, but it's close. McLaurin was a blocking legend.
Doesn't look like we have to worry about Ryan Day not getting the rivalry. That dude is not screwing around.
It's been an amazing run. Thank you for everything. 7-0 against Michigan. Unparalleled recruiting of high caliber players. And as a guy stuck in SEC country, thank you most of all for 85 Yards Through the Heart of the South. You and your family have our thanks.
Excellent and well deserved. Feel free to win it and come back and win it again Archie style.
How can this be the same team that carpet bombed Michigan? I just don't get it.
Well deserved. Don't poke the lion.
I don't know that its impossible. We are enjoying a period of completely bananas, unprecedented success, but that doesn't mean it automatically goes on forever. Alabama was garbage between Stallings and Saban. USC has been bad post Pete Carroll and those Miami teams before we wrecked them in the Natty looked unstoppable with no reason to think it wouldn't go on forever. FSU was a national championship team 5 years ago and isn't going to a bowl this year. You could do this forever, but the point is that no program is ever more than one bad coaching hire away from falling off the map. It should never happen here with our history, resources and recruiting base. Maybe I'm just permanently scarred by the Cooper years, but this is unusual so let's do everything we can to make it last and enjoy it while its here rather than just assume it will go on forever.
Our pain in the 80s and 90s had a great deal more to do with ruined seasons than simply getting beat by Michigan.
This is why it was worse for us in the Cooper years. If we just had bad teams as has often been the case during Michigan's stretch that would be one thing. But to have had all that talent and all those otherwise successful seasons just made it hurt because you knew we were good enough to win some if not most of those games.
I was raised (properly) by my parents to hate Michigan, but it was those years that took it beyond normal rivalry to a hatred that cannot be diminshued or tamped down. Forever and always under every circumstance in every sport, competition or endeavor: Let's go Bucks! Beat Michigan!
Holy hell refs. Pick a side to help out why don't you
Hot diggity shit. That's a banger. Let's go Bucks! Beat Michigan!
Sorry for the double question Navy. It looks like Kangarooman thinks and types more quickly than me.
So is the takeaway from that that Grinch is making the game week and 1st half plans and then Schiano has to come in and clean it up at halftime? It has with certainty been a tale of two halves and I get it with the prospect that Schiano leaves for something after this year (or any other year he's on staff) that maybe the plan was to let Grinch get some experience in game planning, but that Schiano has had to come in a fix it at half. But if that is correct, and I have no idea if it is, that's not very promising, especially in combination with the weak safety play. Could be reading more into your post than is really there, but either way, Beat Michigan!
I did a double take when I read that too. They couldn't move the ball at all on the ground and that was a bigger problem insofar as it made them a one dimensional passing team even when leading for most of the game. O'Korn still passed for almost 200 yards and a touchdown. After the two quick TD's to start the game they basically didn't do anything offensively and the problem wasn't the passing game for the most part. I think there is a bit of retrospectively applying this year's defensive performances on last year's game and that isn't accurate at all.
Let's not forget amongst all the perfectly justified handwringing that it's now officially Michigan week. So sayonara turtles and Beat Michigan!