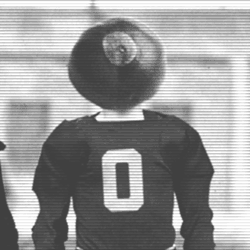 KeithMC33
---
Member since 07 August 2012 | Blog
Favorites
SPORTS MOMENT: Krenzel to Jenkins......Holy Buckeye!!
COLLEGE FOOTBALL PLAYER: Malcolm jenkins
NFL TEAM: Cleveland Browns
NHL TEAM: Columbus Bluejackets
NBA TEAM: Cleveland Cavs
MLB TEAM: Cleveland Indians
SOCCER TEAM: Columbus Crew/Arsenal
Recent Activity
That's a bummer, but the good news is that we have tons of depth and there's 7 weeks or so before that MSU game. Give him plenty of time to recover and rest up for the stretch run of the season.
Haha I was only off by 6 yards! Maybe I should try not being right more often!
I've always been waaaay wrong on these, so 505. This means they won't do shit. You're welcome everyone
I've been so messed up with the holiday that i almost forgot today was friday, haha. They play SMU, right? Should be a fairly easy game for them to win, but i'll probably tune in for a little bit to see how they look. In the few plays i saw last weekend their offense did pretty well!
thank you for that update, I must have missed that part!
I hope he can find a home in this offense, he always seems to do well when he does play
I haven't seen anything written about him, but did Demario McCall play on Saturday? Thought for sure he would have been at PR/KR and would have seen some 2nd half snaps at RB.
Great win for Maryland on what was an extremely emotional day for them. Starting the game off with 10 guys on the field to pay homage to Jordan McNair was awesome. Kudos to Texas for declining the penalty too.
Not a good start for Texas Tom. They'll win next win, but then you have USC, TCU and Oklahoma in a 4 week stretch. That could be brutal.
How does everyone see the top 7 shaking out this season? i know it's early, but it;s always fun to see how people look at the league. Personally i have it as
1. City. Can't move them, even with KDB missing a few months. that team is stacked
2. Liverpool: i think they will make it a close race, but in the end City's depth will prevail. I actually think that the point total Liverpool gets would win the league in any other season (aside from last year).
3. Tottenham: They may not have added anyone, but that squad has been together for a few years and that helps. Getting Moura acclimated is almost like a new signing.
4. Chelsea: Sarri-ball is much more entertaining than Conte-ball. They just need to avoid a Hazard injury, but that dude gets teh shit kicked out of him every game. They also need consistency from the striker position
5. United: I think the 4th/5th spot comes down to the late April match versus Chelsea. Another factor is how each team is doing in their respective UCL/UEL campaign in Feb-April. Focusing on those cups could result in a few points dropped in the EPL and that could be huge.
6. Arsenal: I love the Emery hire, but i think they are one season away from top 4 contention. There will be a few hiccups and some growing pains in the new formation and playing style that will result in dropped points. I have them closer to 7th than 5th
7. Everton: they added some new pieces and hopefully the Keane injury isnt as bad as it looked. Striker will be their issue, but they have some pieces that can carry them for some matches.
The 3 relegation squads are
1. Cardiff
2. Huddersfield
3. Newcastle...They struggled scoring goals in crucial games and while Rondon is a decent striker, i don't see him netting more than 10-12 goals.
I think Jose will get a full season. The only way he doesn't is if he turns into a complete D-bag and forces the board to fire him. Ever since SAF retired, they've struggled and spent a CRAP LOAD of money on players. I think i read it was somewhere near $720M or something crazy with not much to show for it. They desperately need for things to work out and that's why i think Jose will get a little more slack than we all think. You do have to laugh at some of the shit he says though, and it's crazy how the 3rd season syndrome is a real thing with him.
As of now, it's almost a lock that City and L'pool are taking the top 2 spots and Spurs are the early favorites for 3rd. Chelsea/United should battle for that last spot and my Arsenal boys are still about a year out from really contending for top 4.
Trying to think back on the last 2-3 seasons, but have we played many teams with a base defense that lines up as a 3-4? I know some teams revert to that in certain defensive packages, but i am drawing a complete blank on anyone who utilized that as the primary formation. You'd think with a up-tempo offense that DT is going to be gassed real quick.
Joe B is the only reason i, and i assume many other Buckeye fans, will be tuning into the LSU game Sunday night. That's not a sentence i ever thought i'd be typing.
Yea i can definitely see that happening. I don't know if the CBA allows it, but i wouldn;t even be the least bit surprised if he offered to swap the Cavs for the Pistons with whoever owns that team.
I actually thought Jimmy Haslam was going to do something similar with the Titans were put up for sale back in 2017. i'm sure his current legal situation would have prevented that from happening, but it definitely would have been interesting to see.
That's surprising. I'm glad they are going this route and trying to stay competitive, i was nervous that we'd throw in the towel and rebuild. It'll be interesting to see what they are going to do next, but i would imagine we will be very active at the trade deadline in trying to get rid of a few contracts (JR, TT, Korver). I really hope Hood has a decent season and we can sign him to a 3-4 year deal, i liked his game in Utah before the trade.
The skeptical side of me wonders if Gilbert signed him to have a bigger name player still in town for a while to help with the sale of the team. No doubt he took a boot to the nuts when Lebron left, but maybe he is trying to build up the perceived value of the club with an all-star player committing to the future of the club?
Sucks giving up Mejia, but the Indians really needed to solidify that bullpen. I believe Hand is under contract for 2 more years too. This trade really helps both teams a lot.
This sort of stuff is going to kill the NBA. Realistically you have 1 team who is the overwhelming favorite to win it all and then 3-4 teams with a chance, while everyone else is just hoping to make the playoffs. For teams in smaller markets like Milwaukee, Minnesota, Memphis, Sacramento, New Orleans, Charlotte, etc, they are all hoping to get lucky as hell in the draft and build a team who might make the 2nd round of the playoffs if they are lucky.
I just hope the Cavs can move Love, Jeff Green, korver and some of the vets to a squad who might have a chance at making the playoffs. Get the rebuild started now and who knows, maybe Lebron will end his career back in Cleveland for a year or two.
Absolutely! If there wasn't a cap in the NBA and it was a free for all like MLB or European Football (soccer), he may have been offered a 10 year $1B contract a couple of years ago.
Wow, this has been a hell of a week for the future of Ohio State football. Still have Jack Miller announcing on Sunday too!
2 huge commitments this week and we still have Jack Miller on Sunday. Could make for an epic week!
Nice! I completely forgot i had an older email address registered for the tickets, so thank you for the heads up!
With Wisky's dominance of the B1G West, looks like we could be seeing quite a bit of Mr. Mertz over the next 4-5 years. If he is everything they are saying he is, he'll be a great addition to a team that always has a very good rushing attack and always seems to get a lot out of the players they recruit. Don't sleep on the Badgers!