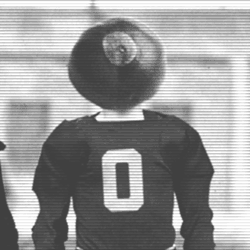 KeithMC33
---
MEMBER SINCE August 07, 2012
Favorites
SPORTS MOMENT: Krenzel to Jenkins......Holy Buckeye!!
COLLEGE FOOTBALL PLAYER: Malcolm jenkins
NFL TEAM: Cleveland Browns
NHL TEAM: Columbus Bluejackets
NBA TEAM: Cleveland Cavs
MLB TEAM: Cleveland Indians
SOCCER TEAM: Columbus Crew/Arsenal
Recent Activity
I'm not so sure this is the end for Ben in Pittsburgh. He has 2 years and something like $40M left on his contract and i can't see the Steelers just cutting him if he decided to stick around. Jake Delhomme said that when he had a similar injury that led to Tommy John surgery, his arm strength actually improved post-surgery.
289. i think we will see a limited playbook from the offense unless the game is much closer than we think
BOOOOOOOMMMMMMM!!!!!!!!!!!!!!!!!!!!!!!!!!!!!!!
Maybe someone in here knows the answer to this, but I thought FIFA threatened to ban Mexico from a future World Cup if the fans continued to chant a certain word as the opponents gk takes a goal kick. Is that no longer the case?
wow that came out of nowhere! As much as i enjoy anything that causes tears up in AA, i do feel bad for any recent commits OR anyone who may have decided to stay in school one more year in hopes of getting to the final four.
This is definitely a huge loss for them, now we just have to make sure that Holtmann stays for a long, long time!
Brian Kelly.
Growing up i never really watched football much, but my dad would occasionally turn on Notre Dame so that was the only team i was familiar with until i was about 16-17 years old. In 2010 i decided to surprise my dad with tickets to see them play in South Bend and took a tour of the campus. We happened to be walking around with 4 other random people and all of a sudden this guy barrels around a corner and screams at us to move out of his way. At first i didn't even realize it was Brian Kelly, but a few minutes later he came back towards us in a golf cart and i was able to see who it was.
Aside from that, it was a very pleasant trip and one that my dad still talks about every football season. But screw Brian Kelly and his purple face.
Did we have interest in him 4 years ago? The name sounds familiar, but admittedly i struggle keeping up with so many recruits.
you know, i didn't even think about that. great point!
While we will probably never find out the total sum that Kaep received, i just hope that the league and Kaep both put this money to good use. They can help kids in traditionally poor areas by donating time, money and other resources into athletic programs, fields, etc. Both parties can take an ugly situation and turn it into something positive for the youth of this country. at least i hope that happens, i guess we will have to wait and see.
Damn I am getting old. I remember Marvin Harrison and Jeremiah Trotter both playing in the NFL not too long ago, so to see them both with kids playing in college soon will be crazy.
While i assume both will declare, it's smart for them to wait and see who else declares and what the coaching situation on the defensive side of the ball looks like. Right now they are both looking like 2nd or 3rd day picks unless they either blow up at the combine and/or pro day, so there's definitely a benefit to staying and building up their respective draft stock. I think with the coaching staff changes you'll see a MUCH better secondary than what we had last year. I do agree with others that Okudah and Wade are going to be studs, but i wouldn't overlook Sheff and Arnette if they return next year.
Once new coaches are hired at all those destinations, i'm sure plenty more Off and Def coordinator positions will open up. I could be wrong, but it seems like there are more head coaching vacancies than usual.
This is why i do not like the early signing period for recruiting. These kids have an out of the head coach leaves, but i'm not sure how it goes if a coordinator or position coach leaves. you have to hope (for their sake) that the school does the right things and releases them from their LOI.
It'll sure be an interesting few weeks until NSD part 2!
if i'm a grad transfer QB, i'm probably looking towards the Big 12 conference.After seeing the lack of defense in that league, that's where i'd want to go to boost my stock.
hahaha when the lights went out i almost yelled at work. haha
if we sat through all of this only for him to pick UNC, i might have to start drinking early today
ok, looks like i am watching this one now. haha
i'm assuming we are in his final 3?
Ahh Lingard, I forgot about him. He could be a nice guy off the bench or a spot starter.
Sounds like Ole Gunnar Solskjaer is going to be the caretaker manager for the remainder of the season. I didn't realize ManU was still paying Moyes until July 2019.
Tough timing to do this right now with the condensed fixture list, but this move is long overdue. I don't care for ManU, but they should be doing MUCH better than they are with the roster they have.
For now, it'll take a caretaker manager who is already familiar with the club. I don;t believe Carrick has his senior badge yet and probably isn't ready to be thrown into the fire like that. Zidane, Pochettino, maybe even Wenger will be the favorites once the summer rolls around, but whoever takes over has a decent roster to work with.
As for the roster, there's talent there for sure, they just need to play for a coach who will have some creativity. parking the bus and blasting the ball long for Lukaku can work at times, but whenever they play a top team they seem to try for an ugly draw under Jose. That's OK at times, but for a club with the history of United that's unacceptable after a few years.
GK: DDG might be having a "down" year so far, but as long as he is there they are fine between the posts
Def: CB is a mess right now, but if they can sell Jones, Rojo and Lindeloff and use that money towards a young, stud CB they will be OK. Smalling is serviceable and I think Bailly can be very good with the right coaching and CB partner. Shaw and Dalot could be a good pair of outside backs with Young and either Darmian/Valencia there for depth.
Mid: it'll be interesting to see what happens with Pogba now that Jose is gone. I've never understood Jose's infatuation with Fellaini, so i would imagine the new coach will sell him, Pereira, Matic and maybe Mata? It'll be hard to move Alexis with that massive contract. that's a sad story, he was so good with Arsenal but i think he just played so much over the last 3-4 years that he ran himself into the dirt. Maritial is a must-keep, i like Herrera, and Fred and McTominay are solid cover at CDM.
F: I don't care for Lukaku, but he isn't going anywhere. Rashford is a quality young player who will certainly be kept by whoever takes over.
If united can sell the guys i mentioned above this summer and make about $60-70M, they can use that towards a very good CB and get themselves right back into the top 4 race next year
Can't fault him for doing his due diligence after the coaching change. At the end of the day he has to make the best decision for HIM. Im sure this will be a fairly common occurrence for our current commits and most will stay, but some will choose to go elsewhere. That's the nature of the beast with recruiting.
Wow i had no idea Hoke was even coaching anywhere.