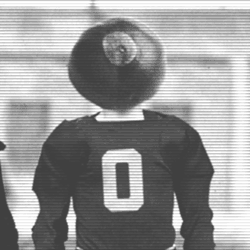 KeithMC33
---
MEMBER SINCE August 07, 2012
Favorites
SPORTS MOMENT: Krenzel to Jenkins......Holy Buckeye!!
COLLEGE FOOTBALL PLAYER: Malcolm jenkins
NFL TEAM: Cleveland Browns
NHL TEAM: Columbus Bluejackets
NBA TEAM: Cleveland Cavs
MLB TEAM: Cleveland Indians
SOCCER TEAM: Columbus Crew/Arsenal
Recent Activity
Ahh damn you are right. My bad. Not sure what the heck I was thinking
Crennel is now 73 and it's widely expected he will be announcing his retirement in the next few weeks. I don't know if Vrabel would give the DC job to Coombs, but you never know. Personally i am trying not to get too excited for Coombs to come back until it's a done deal, but man that will be awesome if he does!!!
At first i thought he was the LB who played for Boston College maybe 10 years ago? guess i am getting old and confused! haha
I wonder if we could get Kenny Guiton to come back in a similar type role? I have no idea how he is with recruiting, but I would bet he stays here for a long time.
At the end of the day, we shot ourselves in the foot too many times and never should have let the referee's incompetence play a part. The video referee, Gerald Hodges (who incidentally lives and works near Knoxville TN) certainly didn't do us any favors, but we certainly had plenty of opportunities for touchdowns and walked away with field goals. When you are playing the top tier teams you have to take advantage of every opportunity you get. Things didn't go our way today, but it was still one hell of a season!
this team is so damn good! As an Arsenal supporter i think this will be the first team to join the invincibles club, but i think Pool will also take home the champions league title as well.
If you are a Liverpool supporter, enjoy the hell out of this season. the good thing is that this train doesn't look to be slowing down anytime soon. the young kid they just signed will be a hell of a player and the funds you will have access to once Lallana and Shaq are gone will be wisely spent on youth. you set the blueprint on building a hell of a club while staying away from spending gobs of money like other teams. and if you guys were to somehow get Mbappe? yikes!!!
Assuming Stroud commits, next year we would have Fields, Hoak, Miller, Stroud and then the walk on Vanatsky, right? it will be interesting to see who gets the 2nd team snaps in some of the blowouts considering we will be losing Fields and Hoak after the season.
It's a real shame he cannot seem to overcome those demons. When things failed to work for him in NE, i really felt it was only a matter of time before he spun out again, but i was rooting for Josh to make it this time. At this point, i hope for his sake (and his children if he does have kids) that he can keep trying to right the ship and find that peaceful place before it's too late. His NFL career is probably over, but right now that needs to be the last thing he is worried about.
It's early, we are just getting the ugly plays out of the way. Everyone just needs to step back from the ledge, there's still 3 1/2 quarters left!
Taylor by 29. Reason being is i think Wisky will load the box and force Fields into passing since he may be hobbled by the knee issue. JK has also carried quite a bit the last 2 weeks so Master Teague will probably get a few more carries.
Amen! The Cooper era really did some damage to us with this rivalry.
I'm sure if the shoe was on the other foot you'd have some of our fans doing the same thing and over-analyzing stuff like this. it happens. At the end of the day a vast majority of all fan bases are normal, sane people who just want to see their team do well. We all have those groups of people who are either over the top (see Buck-i-guy) or those few people who root for the other team to get hurt, or even worse. Unfortunately its the latter that seem to make the headlines.
As much as i dislike Michigan, Penn State, Bama, etc. I could never see myself rooting for one of those young men to get hurt. the game of football is awesome, but at the end of the day it's a game and everyone's health is so much more important.
Go Bucks!
i absolutely suck at betting and my gut says to take Michigan and the points, so hopefully that bodes well for us! I do think the first half will be an absolute dogfight and we could even be behind at the half, but overall we just have so much talent on both sides of the ball and it will start to show in the 2nd half. We have a brutal 3 game stretch to end this season between PSU, Mich and the Big Ten championship game, but there isn't another team on this planet that i'd want to have on my side.
Go Bucks!
Amen. I am still nervous as shit for this game while so many others think it's in the bag already. i never have a good feeling about this game.
I have been debating doing that same thing since our promotional prices for DTV run out in January. Was debating between YouTube TV and Sling, but I hear more and more people rave about YouTube.
As a lifelong Clevelander and Tribe fan, it saddens me that the winter meeting are approaching because we all know how this one ends. LA, NY and possibly a few other teams are going to make offers for Lindor and we are going to move him. Love Frankie as a player, but recent history with the Dolan's show that he is going to be moved if we get a really good offer. There's not a chance in hell we sign Frankie to an extension, so they'll move him this season while the team has two seasons' worth of contract to dangle out there.
Overall this team is good enough to hang in there for a playoff push without Frankie, but they really need everything to go well with the pitching staff and injuries. Assuming the Tribe gets 3-4 top prospects (that's our MO, right?) we then have to hope they invest the $16M salary that Frankie leaves. My guess is they will sign a platoon OF for $8-10M and then add a bullpen guy for $2-3M and maybe take a shot on a few guys who they hope have a little gas in the tank. Not sure that;s enough, but i guess we'll see! If they move him and the team struggles near the trade deadline, you could see guys like Kluber, Hand, Oliver Perez and maybe even Santana getting moved.
Either way, i am not looking forward to these winter meetings and it will be sad to see Frankie go.
I'm not so sure this is the end for Ben in Pittsburgh. He has 2 years and something like $40M left on his contract and i can't see the Steelers just cutting him if he decided to stick around. Jake Delhomme said that when he had a similar injury that led to Tommy John surgery, his arm strength actually improved post-surgery.
289. i think we will see a limited playbook from the offense unless the game is much closer than we think
BOOOOOOOMMMMMMM!!!!!!!!!!!!!!!!!!!!!!!!!!!!!!!
Maybe someone in here knows the answer to this, but I thought FIFA threatened to ban Mexico from a future World Cup if the fans continued to chant a certain word as the opponents gk takes a goal kick. Is that no longer the case?
wow that came out of nowhere! As much as i enjoy anything that causes tears up in AA, i do feel bad for any recent commits OR anyone who may have decided to stay in school one more year in hopes of getting to the final four.
This is definitely a huge loss for them, now we just have to make sure that Holtmann stays for a long, long time!