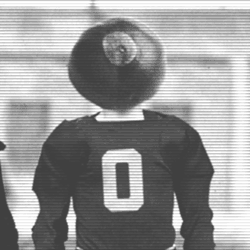 keith7456
---
MEMBER SINCE February 01, 2012
Recent Activity
I sure wish we hired someone that could recruit.
Probably the same people that thought Harbaugh would be a challenge Urban.
Willie Taggart is in so far over his head he doesn't know what universe he is in right now. Dude just isn't good.
A more athletic Kaleb Wesson will be big for the team next year. He still needs to figure out how to not get so many stupid fouls.
I think the time of taking 2 QBs in a class are mostly over. Unless they change something else in the transfer rules I think it will be get the one guy you REALLY like and then fill the other spots with transfers and high priority walk ons.
This looks to me like just a list of kids that will be committed by the end of the week/weekend.
Urban won't let that happen.
If you want to look specifically at the TE position Alabama has Caden Clark committed who is currently just one spot higher than Royer. So do you think that because Alabama took him he is suddenly that much better than Royer
https://247sports.com/Season/2020-Football/CompositeRecruitRankings/?InstitutionGroup=Highschool&Position=TE
The coaching staff personally watched him and decided that they like him and want him on the team. It isn't always about what you do in High School. They like the way he projects and think that he has the tools they can build into a very good player. He isn't going to be expected to come in next year and play meaningful or any snaps so the staff has plenty of time to develop him into the player they believe that he can be.
Stars aren't everything.
Ugh, more defense......that's 3 in a row with probably another one coming in a couple hours....how are we going to score points...
First problem....going to ESPN for anything at all besides seeing the score of a game.
Second Problem....caring what ESPN says about anything at all ever
but he "PLAYS TO WIN THE GAME!"
Shhh, we all know it is a proven fact that Day can't recruit and THE Ohio State football program is being burnt to the ground.
Give me cold over hot everyday. You can do a lot of different things to stay warm or get warm...not so much to stay cool.
Go to twitter on your phones browser(not the twitter app) I use Chrome, then in the options of the browser choose the option Desktop site and you will have all the options as you would on PC.
I'm cool with getting Smith. Get the hall of famers son to Ohio State thing started a year early.
Come on AJ Kirk and Ben Christman..pull the trigger you know you want in on this class.
What's the over/under set at for number of places he commits to between now and signing day? 3.5?
Could Diebler be the Basketball version of Brian Hartline? I know he didn't directly play for Ohio State but a brother of a former player is close enough right?
Didn't you hear Bert Bielema just called Day to tell him that Phillips is cancelling his visit?!?
Any list that puts James Franklin at the or anywhere near the top of it as the BEST is irrelevant...that is all.
The real question is if that will be enough defense for bob?!
Because of the Ty Hamilton? or hearing other potential good news?
Seems awful big for our offensive skill position only class.
BOoOoM!
The last set of defensive line brothers were pretty good. Hopefully he comes in and turns out like his very underrated brother.
While that is correct for that one kid... Those other schools have the advantage of being in the warm weather of the south. It's a hard pull to get kids from warm weather regions up/over to the Midwest...some of these kids have never physically seen snow.
And yes I know we recruit Texas and Florida very well...but it still doesn't mean it is easy.