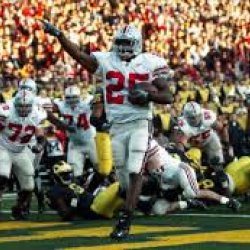 keeponbraxtonmebabe
---
MEMBER SINCE July 24, 2014
Favorites
COLLEGE FOOTBALL PLAYER: Ted Ginn, Marcus Hall
COLLEGE BASKETBALL PLAYER: Jim Jackson
NFL TEAM: Cleveland Browns
NHL TEAM: Columbus Blue Jackets
NBA TEAM: Cleveland Cavaliers
MLB TEAM: Cleveland Indians
Recent Activity
Glad they are taking their time on this and not rushing to any conclusions. SMH
*sarcasm*
Good call, 2morrow. Kevin Warren has sever leadership deficiencies. I am wondering what the thinking was among the B1G when he went through the interview process.
https://omaha.com/sports/huskers/football/mckewon-kevin-warren-is-still-learning-but-a-better-approach-may-have-helped-big-ten/article_8e77a49f-c012-5693-8e18-7b5c1bd1f1ac.amp.html?utm_medium=social&utm_source=twitter_OWHbigred&__twitter_impression=true
Why does the B1G want to cancel the football season? That would be the first question i would ask if I were allowed to attend a meeting of B1G presidents and AD's. And don't give me the answer "COVID". Explain why and show the numbers/ data that shows 18-23 year olds at a greater risk under the watchful eyes of a world class medical staff with the students health in their best interests, as opposed to throwing them into the general campus with very little structure outside of classes. Older coaches/ assistants and other support staff who think they are at risk should be told they can stay home for a year, paid their full salary and be guaranteed their job when it is deemed safe to return.
At the very least, when (not if) they cancel the season I hope they send out some data and numbers backing up why they made this decision, instead of "we are canceling the season due to COVID." I am not holding my breath, though.
At the point where we are now and looks like we will be in Nov. I would certainly watch a 4 team SEC CFP.
Testing positive for this rarely equates to getting sick, especially for 18-23 year olds. These guys have a better chance of getting this virus if there is no football season than they would be under the watchful eyes of an OSU staff who have a major vested interest in keeping every player healthy.
I barely remember watching this game on TV, I don't remember any details from the game outside of the fact is seems like it lasted 5 hours.
In 2001 me and a few buddies started a tradition of going to at least one OSU road game a year with the goal of seeing a game in every B1G stadium. That tradition has held every year since with this season's trip looking bleak. 2001 @ Indiana, 2002 was @ Purdue. We had 5 guys total, 3 had tickets in the OSU section in the end zone where the pass was caught. Me and another guy scalped tickets and ended up being in the opposite end zone- the Purdue student section- I was 29 at the time, not college- aged anymore, but not the "old man sitting with the kids" age yet. We were catching hell and getting razzed all game by the Purdue fans around us and had to listen to that damn train whistle go off it seemed every minute or so. When Krenzel threw the pass I held my breath, saw the pass go up and come down but due to our vantage point couldn't see Jenkins catch it......we knew he did though when we saw the entire scarlet and gray section in the opposite end zone lose their collective sh!t. The final drive Orton threw a deep pass that from my angle I thought was going to be caught until Chris Gamble seemingly came out of nowhere to tip away. That Purdue section was silent when the clock hit 0:00 and me and my buddy felt the strange sense of relief and ecstasy at the same time. Good times
Wow!.........Parris Campbell.........just wow! Our WR's victimized ttun secondary all day, especially #28. Great piece of writing, Ramzy. thanks
Anyone who voted against Urban Meyer in this should give up his media credentials immediately.
No other B1G coach has numbers that are remotely close to Urban Meyer's. This vote better have been unanimous.
I would switch out Dudley for Heurman and add Boston to this roster in place of Michael Thomas. Thomas is a better pro, but Boston was a monster and put up better numbers than Thomas as a Buckeye.
Yes and a Ray Small gif tucked into the 2007 highlights without accreditation to "Big play Ray". I was at the 2007 game, great tailgate, fun and games early on but became much scarier as it got dark and we approached kickoff. Nittany Lion fans had some very unseemly comments toward Anthony Morelli after the game. Great piece, Ramzy.
In episode 8 of "My favorite things" Ramzy discussed how he turned off the 1989 OSU- Minnesota game early. I did the same with this game.....suffering from a very bad hangover (I was 22 at the time), middle of the 2nd quarter I walked out of the room where me and some buddies were watching the game and found a bedroom to take a nap. One of about 3 times I have ever done this during an Ohio St. game. The game wasn't nearly as close as the score.
I was fortunate enough to attend the game at Sparty in 2004 where Ted Ginn pretty much single handedly won the game scoring 3 different ways: An end around, a punt return and a catch. Also was at the 2005 game at Minnesota in the Metrodome......Watch Ramzy's video and real time and the amount of separation Ted Ginn gets from the 20 yard line to the 50 yard line is amazing, he was truly playing the game at a different speed. Ted Ginn is one of my favorite Buckeyes of all time and the OSU jersey I own today is a #7 (only wear it twice a year when I go to an Ohio State game). #7 has been a great number for buckeye football players over the past 30+ years ( my career closely following the buckeyes). Cornelius Greene, Sonny Gordon, Vinnie Clark, Joey Galloway, Joe Germaine, Chris Gamble, Ted Ginn, Dwayne Haskins.
The IRS portal is not working. Color me surprised that something put on by the U.S. government is functionally incompetent.
Gaffney has been all over the place dating back to high school. I can see him bouncing around overseas for the next few years.....I hope the best for the kid, but he just seemed unable to stay in one place for long for whatever reason.
The quote that concerns me is:
"But in terms of DJ and Luther, I don't really want to get into specifics, but I wish them well."
Sounds like there was a major falling out here, Carton seemed to have an extremely bright future and Muhammed played as many minutes as almost anyone on the roster the past 2 years.
I think what Johnny was getting to is the fact that WTH are Dabo and Mike Gundy doing giving medical advice in the wake of a global pandemic? Come fall ( or whenever college football resumes) are Dabo and Gundy going to let the likes of Dr. Fauci and Amy Acton run their football programs, conduct practices or call plays? Heck no, so allow the medical experts do epidemiology and let football coaches coach FOOTBAW!
Too many commenters on this want to make it into an argument or, worse yet, political.
Good article, a lot of interesting names from the past......hopefully we see more of this throughout the summer.
I think 20-25 years from now Malik Harrison will be on this list. Malik had excellent numbers and was a true baller, but tough for him to get front page headlines being on the same defense as Chase Young, Jeff Okudah, etc.
The schools on the bottom of the list are barely doing their programs their due diligence, on the other hand, the schools offering 300-500 are basically saying "we are going to throw a bunch of shit on the wall and see what sticks".
Mixed feelings about Coach Knight. Ohoian who played for Ohio St. Was a great coach at IU.......could never coach today in the climate that is NCAA basketball 2020. Was good for his time period but mis-treated a lot of his players
I would rather he give no explanation at all than try and sell us this load of " ball was 'becoming' loose" horseshit. "Becoming"? WTF, it was either loose or it wasn't. Allow me to explain Mr. Williamson, it wasn't loose.
JK Dobbins 180- Jonathan Taylor 82= 98
Yeah, went there back in 2008, and Evanston. for a school that claims Chicago, is a kind of an out in the middle of nowhere suburb with not much action. Also, the average Northwestern fan seemed to be about 70 years old.
Agree with #1, But #9 should be up to #2 or 3, Ben Roethlisberger is one of the most reprehensible human beings to walk this Earth. I live close to Findlay and the stories about him around here are cringe-worthy. Guy is a total creep, the stuff that has been publicized about him are just the tip of the iceberg. Total dirtbag
Kalen Etzler is from Crestview, his dunking display is taking place at a building on the campus of cross county rival Lincolnview HS. The height of the baskets in that facility are adjustable........he's probably doing those dunks on an 8.5 foot rim. Still impressive, though.