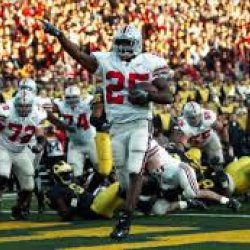 keeponbraxtonmebabe
---
Member since 24 July 2014 | Blog
Favorites
COLLEGE FOOTBALL PLAYER: Ted Ginn
COLLEGE BASKETBALL PLAYER: Jim Jackson
NFL TEAM: Cleveland Browns
NHL TEAM: Columbus Blue Jackets
NBA TEAM: Cleveland Cavaliers
MLB TEAM: Cleveland Indians
Recent Activity
JT Barrett pulling off the "sorority squat" pose in Matt Burrell's twitter post.
I would prefer not to play a high profile game overseas if it would cost OSU a home game. But if forced to, I agree with Johnny on Germany. Have it in Munich, Germany in September as part of their Oktoberfest celebration. I was in Munich last summer for 9 days and it is a great city with tons of history and things to see and do. FC Bayern Munchen soccer stadium Allianz holds 70,000+ as does the Munich Olympic Stadium which hosted the 1972 Olympic games. Oktoberfest would make for a great 2-week tailgate.
I think Neptune, OH is in the same area.
Yep! TSUN is right behind noted football powerhouse, Rice.
Yeah, Vernon Gholston deserves honorable mention status...........just ask Chad Henne or Mike Hart
I think we can exclude any chance of Isheem Young coming to Ohio St., 24/7sports still has him being recruited by Ed Warriner.
don't buy tickets online, and certainly don't buy them this far in advance. heck, there are always tickets around and drunkards tailgating will sometimes give them to you cheap on the day of the game. The most I ever paid for a ticket was $100 @ Penn St. in 2007 and $100 at Va. Tech a couple years ago.
go to Indiana, Illinois, Sparty, Minn. and you are looking at $35, tops. Even Michigan, tickets go for less than $100. Patience
I think all away games should start at noon. For some reason, home teams' and crowds are lackadaisical for 12:00 starts. Night games on the road (see Wiscy 2010, Nebraska 2011, Penn St. 2016) should be done away with, the 3 previously mentioned games- you wait all day for a game and go to bed pissed off and Sunday is ruined because of said loss and lack of sleep.
I, too, like non-traditional 5:30, 6:30 or 7:00 starts. Early season night games are the best, but come November, 3:30 starts work better as that is normally the warmest time of the day, temperature-wise and after the clocks turn back 3:30 games feel like night games after halftime anyway. Games at the Horseshoe should all be 3:30 or after.
Or the two buckeyes could have gone to Italy in a self- serving, promotional tour like a team that shall remain nameless did
I am starting to think the Schott was a bit of a boondoggle, Too big and no atmosphere for hockey or hoops. and the OHSAA high school basketball state games are less than half full.
If because he played for Clemson were the only reason the 'Bama folks kicked him out........
Michigan
Kentucky
Michigan St.
North Carolina
Rhode Island
Baylor
Duke
Cincinnati
I went to BGSU, but for two summers (1994-95) my buddy moved home and I sublet his apartment with 3 other dudes I knew well. I didn't need a car. Lived at 88 E. Frambes, delivered pizzas for Donato's on the corner of Frambes and High during the day and walked out every day/ early evening with tips (cash) and spent it that night at the Out-R-Inn. PJ's was a subway then, so that was an avoid. Also the girl I was dating lived on Frambes and the Indians were one of the best teams in MLB. Probably the 2 best summers of my life.
No red helmets, ever.
Cocaine whites should be worn for all big road games. Actually, would like to see them worn once at the horseshoe. I know it has been a long time......but when the Cleveland browns were great they wore all white.
Love the Archie Griffin throwbacks and the big helmet stickers.
I am guessing all grey (hopefully charcoal grey) are coming next. it will be a good look.
overall, it is hard to mess up scarlet and grey
Meatballs are not meatballs unless they are made with ground beef, not turkey. I am a Cholula fan, also.....thanks for the recipe Jalin and Devin, always looking for some new gameday grub.
Troy Smith or Beanie Wells
I wish Ohio St. would wear the cocaine white uniforms at every big road game. Those are a beautiful, clean look.
Lloyd Carr (can't spell his name without a couple of L's)....at least he won 1/2 of a national championship. Bo and Harbaugh are currently tied at zero in the NC category.
Ditto, Pat Elflein has been a true leader and class individual.
Why do I have a sick feeling that Jabrill Peppers is going to get drafted by the Browns?
To blame the entire outcome of a game on one spot when it seemed like there were literally 100 different twists and turns throughout this game for both teams is bush league. What about the missed FG's, Speight turnovers, missed blocking assignments (looking at you Isaiah Prince and many of ttun O-lineman)? etc. etc. One play does not make a game