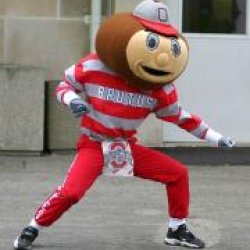 keep_it_down
---
Member since 20 August 2013 | Blog
Favorites
SPORTS MOMENT: David Bostons catch in the 97 Rose Bowl
COLLEGE FOOTBALL PLAYER: Joey Bosa
Recent Activity
That was so bad I fired my agent.
Barret does have a pretty long delivery which can lead to passes getting knocked down. QB size is always and issue but Russel Wilson does ok even in the pros without prototypical size.
Way to many things can happen to say that he will never take a snap for tOSU. Like another "undersized" but talented player once said "it's not the size of the dog in the fight it's the size of the fight in the dog". It will be fun to watch it all play out though that is for sure.
I would think the recent change of position for EGW and moving White to WR might have more to do with some other players not coming back than anything else. I wish the young man well, maybe it was him, maybe it was the staff, maybe it was something else either way he is gone. I don't believe that it was ever a package deal that Martell was only coming if Lindsey was coming and the same could be said for Garret, but again you never know until they are here. If I had to guess I would think Wilson would want Bowden in this class and maybe liked him a little more that Lindsey but that is complete and utter speculation and I have no way of knowing if it's true and we have already made room for Harris (along with a few others should they decide). As far as being to small, yeah I don't get that, slot receiver with his speed and ability would not be a concern for me (again not a coach).
He certainly has payed his dues. Hopefully he will start grabbing some of those recruits that Kentucky keeps getting from Ohio and keep the talent in state.
Savage
Living on the boarder I can attest that watching The Game with Michigan fans is not a good time. But this game has broken a great deal of their fan base. In an ironic twist I can't tell you how many meme I have received telling Harbaugh was going to send Urban to the hospital, as it turns out the same folks are still in meltdown mode.
Brilliant article! I truly think this loss has broken the vast majority of their fan base.
He has a nice looking basement.
IMO ttun not being able to run the ball to salt away the game was a BIG factor. Their o line and backs were exposed and that more than anything was why we owned the 4th qtr.
I'm going to go ahead and think about both teams, I might even start thinking about Bama. I feel safe that it won't effect the team in any way.
Living on the boarder I can assure you that the smugness has never gone away from that fan base. Every year is the year, until it isn't.
The only thing to draw from this is Wisconsin is a really good team. I remember awhile ago when the home team lost to Purdue and USC in the regular season. We played Oregon in the rose bowl that year, a team that beat Purdue and USC. And we know how that turned out. Take the win and run, let the talking heads talk.
We are a running team, we have been a running team and we will be a running team. Like others have said the blowouts have had an impact on throwing the ball, defense and our punter have really giving us short fields to work from also impacts the deep ball and passing. JT has still had 4 or more passing tds on 3 of the 4 games so the yards aren't there but the production is. We did get a taste of the deep ball against Oklahoma so they do exist, but why do low % throws when the high % throws are there? One missed tackle on a short high % route and it's a TD, if it's a 5 yard gain because the guy gets tackled then it's still a positive.
Great insight into the process.
This so much! We have so much talent coming in but it seems like folks are only excited about the next player. Truthfully we won't know how good any of these classes from any school are for another 3 years or so. I truly enjoyed watching some of these players for the first time (although at times it was hard to tell who is who).
Understand what you are saying but ... the offense is based off the run game and operates best when the run game operating at a high level. It sets up the passing game and keeps the chains moving. Zeke isn't a stopping the offense from excelling he is setting everyone else up. We are a run first team so we need a really good rb. I understand that folks want to see wr with 100 yards a game and the TE catch 3 tds a game. .that is not necessarily what the game plan is. If it happens then it happens but it all begins with a quality RB to very things started.
Ask him how many conference championships he won at Stanford then ask how many Stanford has won since he left. And right now Urban has the same number of super bowl championships as Harbaugh but had three more college football championships.
97 Rose Bowl is tough to beat for me but I would put the 2010 Rose and last year's Sugar bowl as equal close second. All very good wins that came at the right time for me.
The secret life of Walter Mitty
There is more to being a QB than having a cannon for an arm, leadership (OVI aside) is one thing and to ignore his 2014 season would be a mistake. JT is more than capable of leading this team to the promise land again and his team mates seem to love him, what more need said?
I will just say this, the 2014 season will just get sweeter for me as time goes on. Under Urban Meyer I have experienced some of the most satisfying wins I can remember. Beating bama, this years ttun game came at just the right time, I have enjoyed this run because I can remember the Copper years, always had talented teams but was always shy of greatness. We have greatness and I will always respect what it takes to make greatness, appreciate it when it happens because it can all be gone in a blink of an eye.
I also live in Northwest Ohio. And there are many, many ttun fans here, some I know well. As such I can say that we do not want and or need them amongst our ranks..most became *ichigan fans because every one else was a Buckeye fan. Yep, they just had that burning desire to be that guy. .there is also a sub set that can tell you the exact number of wins they have and why winning the "right" way is making it hard for them to compete. We do not need them nor do we want them...trust me.
He really seems to be getting better as the season goes on as well, Even if he isn't making he play himself he is always around the ball. Absolute beast this year!