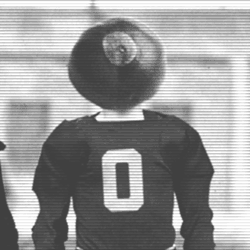 kdogg72
---
Member since 19 December 2011 | Blog
Recent Activity
Every other school develops wide receivers with less talented players. Why can't we do the same?
This is the result of playing soft entitled football. Michigan beat this team 58-10.
What a dumb comment, better than us? If they were better that day they would have won the game. Don't live in a delusional world, where wins and losses mean nothing. All OSU has to do is beat the team lined up across from them. This isn't Madden, good teams struggle. I would rather be 5-0, than 3-2 and say we looked really good in those wins. C'mon?
I feel like coaches have purposely hidden our bread and butter, the inside zone read. Beware this offense will change during big ten play. We have absolutely nothing to worry about.
Not really a concern, there is talent there. We have won 42-24 and 38-0 and we complain. We don't have to beat perfection, just the team lined up next to us. The rest will take care of itself.
So proud of the coaches and the players. What a great night to be a buckeye!
Great win, now it's Michigan State!
Great response, that is my fear. How do you combat that? My fear is Michigan State will load the box, blitz and make us throw to beat them. Are we good enough to do that?
I am happy with the win but very disappointed with the offensive performance both from the players and the coaches. Read option will not beat Michigan State. We will have to extend the field horizontally and vertically. But I am not overly confident the coaches will open the kitchen sink. It seems like anytime we get punched in the mouth we shut down offensively. But I don't want to be too negative with a win, and I think our defense played great. Even on their touchdown pass, Apple was in great position, he just did not make the play. The other positive would be Jt Barret. He did not play his best game, but showed the heart of a champion when the team needed him most. And lastly Joey Bosa, it will be a sad day when he enters the nfl draft. He is simply outstanding.
I am looking forward to Michigan State. It will be a true measuring stick, and the first game that I can remember since Urban Meyer took over that we will be a true underdog. How do you out coach a more polished team?
Michigan St. is outstanding. We will have to throw the ball and throw it well to beat them. Especially on early downs.
We have never not played for a national championship because of style points. A 28 point win is dominant.
Usually I would complain but we just had a 22 point win. At some point you have to celebrate the small victories. The offense is getting better, Joey Bosa is an absolute stud, and our o-line played good.
We win 66-0 and drop in the AP poll. I will never understand it. I get we lost to VT and they lost, but man that is tough. The bright side is that is just more motivation. So as an armchair coach everything I complained about looked better. I get the level of competition but I do trust in these coaches.
The reality is we have a lot of talent, and we most definitely have a superb head coach. Urban has accomplished more than most coaches ever dream of. Urban Meyer national titles equals 2, more than most, including our beloved Jim Tressel. This team is not good enough to win a national title. No coach could win it with our current roster. What I do expect is our players in position to make plays, both offensively and defensively. I know there is a learning curve but it sucks going through it when we have ample talent.
No flak from me, I agree I hate this loss, but I do think a lot of good will come from it. Urban is 24-3 at Ohio State which is pretty darn good. I trust he will get things straightened out and we will definitely look better next week because we play a lesser opponent.
Great analysis, it did look like we could have used jailbreak screens and some misdirection throws to slow down their defense. We also should have been able to take advantage of throwing to our running backs. The NFL throws to their backs a lot but it seems like it is non existent at Ohio State. It just seems like there could have been more done to lesson the load on Jt. It is a tall task to stand in a collapsing pocket and deliver a great ball on a vertical route over and over. Our offensive line struggles are alarming but I think kind of expected. This offense needs some identity, it needs a leader, and it needs to start making defenses reactive vs proactive.
Good luck to Chad in whatever he does
Underprepared equals out coached. I do trust in Urban Meyer, but you can't have a fine collection of athletes that do nothing well. We still have zero identity on offense, at least Navy can run the ball. Do they have more talent than us? I love his effort but Curtis Grant hampers our defense. He is a run a stopper but gets exposed over and over in the passing game. We are the 2011 team with a much higher ceiling. We do have great players, but with the exception of the d-line there is not one thing we do well right now.
That defense gave us fits. We will see it a lot this year until we can prove we can beat it. A big tip of the hat to the Virginia Tech coaches for dialing up an aggressive scheme and preparing their players to do it. Maybe one day we can prepare to give an offense or defense fits.
I agree, but there were enough defensive plays to win this game. At least they are breaking in a new scheme. If there is a train wreck, it's offensively. Anyone who watches the game can tell our linebackers can't cover and our secondary gives up easy throws unless they choose to hold. So I gave them a pass because they came up with enough plays, turnovers, to win this game. We are undisciplined and it's across the board.
I am actually giving the defense a break this week, I thought they made enough plays to win this game. So if there is a silver lining that is it. I am so tired of hearing about all of our offensive playmakers. Where are they? Who is our leader offensively? What do we really do to put playmakers in space to succeed? Who breaks a tackle? This team has a lot of holes. So please don't brag about talent until it produces. Our offense and our play calling sucks. It sucked against Navy, and it sucked against Virginia Tech. I get it we can't block. Why can Mac teams block with less talent? Our running backs don't produce, but we supposedly have too much talent. And we supposedly have a ton of depth at wide receiver but not one game changer? We have a distributor at quarterback that only throws a deep ball? What the hell are we doing? There is all this talent but no results.......make me a believer in something.......
Personally I still think our offense will look pretty vanilla. What Urban Meyer wants is an A gap presence. Effectively running the ball sets up everything else. If we have to out scheme teams because we cannot do that, we won't be very good. It's why he says the game is always won in the trenches. Virginia Tech will be a great challenge, I cannot wait until Saturday.
Totally agree I just watched the game again. Vonn Bell must start. He has a nose for the football and tackles well. I don't know the game plan so I don't want to bee too negative, but I am not expecting big things from Curtis Grant. He seemed slow to react again. I really hope I eat my words and he has a phenomenal season.