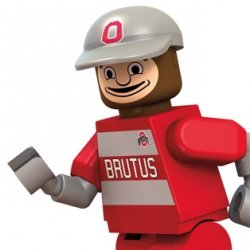 kcbrez
---
Virginia (via Cleveland, Ohio)
Member since 18 November 2011 | Blog
Favorites
SPORTS MOMENT: Krenzel to Jenkins. Holy Buckeye.
COLLEGE FOOTBALL PLAYER: Craig Krenzel
COLLEGE BASKETBALL PLAYER: Wally Szczerbiak
NFL TEAM: Fire Roger Goodell.
NHL TEAM: Pittsburgh Penguins
NBA TEAM: Cleveland Cavaliers
MLB TEAM: Cleveland Indians
SOCCER TEAM: N/A
Recent Activity
$1, BOB!
314 yards, though.
They left behind the maize for amarillo last year.
http://paddynotpatty.com/
That guy sounds like he was a pretty terrible guy. Prayers and comfort to the family, who probably don't miss him nearly as much as they miss what could have and should have been. Prayers for the soul of the deceased as well. He sounds like a terrible human being who doesn't deserve it, but we're all terrible human beings who don't deserve it at some point. I may get downvoted like crazy, but prayers for him nonetheless.
Best of luck at Colorado!
I really don't like most football fans of any stripe, including Ohio State's. Almost no one, including me, has any clue what they're talking about beyond the very basics of football. Arm chair coaches are always, always, always idiots. I generally hate talking football with everyone.
Socks and sandals are appropriate together after a workout, a la Braxton, after a shower when your feet are still sweating and the moisture needs to be absorbed. The sandals allow your feet to cool and the socks allow the moisture to be absorbed. Wearing socks and sandals to the store is NO.
"Early Entree Information Session"? Is that when the waiter tells you the specials? Oooh, I'm on FIYAH.
"Early Entree"? Isn't that just an appetizer? I slay me!
The Stadium sucked. It was a dump, and it is my all-time favorite place. Why? The atmosphere was incredible.
Michigan and her fans never shut up about the notion that the program has the most college football wins of all time, but that idea is buoyed by a fanciful definition of the phrase 'college football win,' which apparently includes any athletic exhibition they engaged in with an oblong ball while one team was affiliated with a college and the opponent was breathing. By this definition, the University of Michigan has 924 college football wins, but it has not beaten 924 college football teams. Included in that number are wins against high school teams, boys' prep schools, municipal rec league teams, and university clubs, among others.
Ohio State has a few of these wins in its ledger as well, but you don't hear us bragging about our 42-4 win over "Dayton YMCA" back in 1892. (Two safeties, guys? Come on...)
Just my humble opinion:
First of all, I'm sorry to hear about the death of the student. It's obviously a bad thing. It's sad that sometimes bad things happen at otherwise innocuous moments. Everyone knows this, and they weigh their options, analyze the associated risk, and make a behavior decision. People die while driving to class. People die while taking a walk. People die as a result of head trauma suffered over years of playing football. It's always bad when these things happen, but we can't stop doing everything that might end in a tragedy.
The university is going to ban the Mirror Lake jump and someone will drown in the moving waters of the Olentangy River as a result, and that will be a story about the university's lack of liability because they cancelled the tradition rather than its liability due to an overreaction to one very sad story.
Prayers for this young man and his family. God bless.
I watched the last ten minutes of the Youngstown State - North Dakota State game (last 1:20 right here: https://youtu.be/o7N71odGDH0). That game meant a lot to YSU. NDSU has won the last four FCS championships, and the Penguins, who were ranked and on the cusp of a playoff berth, had them on the ropes. They would've won if not for the pass interference call against YSU that immediately preceded Pelini's tirade. It was one of the worst calls I've ever seen. I fully understand Pelini's anger. It was a season-changing call. YSU dropped out of the rankings as a result of the loss, and probably lost any chance at the postseason.
But here's the thing: Pelini's outburst resulted in TWO unsportsmanlike conduct penalties - one a 15-yarder and one of about 7 yards (half the distance to the goal). Having those twenty-two yards back would have put the Penguins in field goal range for a kick at the end of the game. There's a time to register your complaint with the officials, and there's a time to coach the football game. I would've fully supported his fit after the final gun (a la Bill Cowher jamming the paper in the ref's pocket as he ran off the field), but not while he could still cost his team.
Thank you, Braxton. A true Buckeye. A true champion.
You must be a member of the media. Even when Alabama loses, Alabama wins.
Now, I have to admit that when [Krenzel] heaved that pass, my first reaction was, 'What? We just need two yards. Oh no, no..." The percentage chance of hitting the deep ball is not great. We didn't need a touchdown at that point; we just needed a first down. But when the ball was caught in the end zone for a touchdown, my "Oh no," turned into, "Yes!"

Coach Tressel, The Winners Manual
With respect, Coach Tressel didn't gamble against Purdue. Craig Krenzel did. As I recall Krenzel telling the story, he saw something at the line of scrimmage and he changed the route Michael Jenkins would run, having some sort of unspoken conversation with Jenkins, his favorite target/roommate.

I'd like to know more about how Sam Webb treats the people he referred to as "hobos."
I'll bet you're fun at parties.
ORRRRRR... you could just not buy one if you don't want to.
This is not a blatant money grab. If you don't want to spend $25 on a t-shirt, God bless you. Spend $10 at Wal-Mart. If you don't want to spend $10 at Wal-Mart, God bless you. Go put on a black t-shirt you already own. I have had at least two different black Ohio State t-shirts in my closet since long before the talk about a blackout began. I'd venture a guess that most of the rest of us do as well. Everyone's got a black t-shirt of SOME kind. If you don't want to wear a black t-shirt, God bless you. Wear whatever shirt you want to wear. The people who disagree with you (the people who have brains who disagree with you, anyway) don't care what color your t-shirt is, and they're probably too busy having fun during four of the best hours of the week to notice anyway.
Mr. Tolstoy, your assertion is that our acceptance of changes to school football clothes is endemic of society's lack of belief in absolute, capital 'T' Truth.
I respect your intelligence. You're clearly an intelligent guy, a conclusion I've drawn based solely on your grasp of the English language. That's why this post is so comical to me. Honestly, this is one of the funniest things I've ever read. I laughed throughout it as I kept waiting for the part where you made it clear you were being sarcastic. When you didn't, I stopped laughing and re-read it, thinking I'd missed your humorous reveal somewhere. When I didn't find it again, I laughed - quite literally, I laughed out loud - for about two solid minutes. These are football clothes we're talking about, not complicated social and moral issues. You seem to have missed that.
Take care, and enjoy the game this weekend.
Wow! It seems like he was just here a few years ago. Congrats!
OHIO STATE IS LINEBACKER U.
It was a joke, and I made that clear with my "I kid, I kid," comment. I'm sure I didn't need to read your résumé.
I wanted to keep this positive, but OSUGreg04's favorite NFL team is the Pittsburgh Steelers. Precisely no one will be shocked to read that.
I have that problem with my kids too sometimes. I always remind my kids of something they like that looks weird. "You like chocolate bars, and chocolate bars look like turds. This may not look good, but it looks better than eating a turd." I also go logical on them. "There was a first time you ate everything you like now. You have to try new things, or you'll never know what you like!" Also, "You don't like cooked carrots? But you've never tried THESE cooked carrots. Give them a try. Some cooked carrots are better than others." I also never make them eat something I believe they've given a fair chance, and that means at least one full bite, chewed thoroughly, tasted, and swallowed. Doing those things seems to work most of the time.