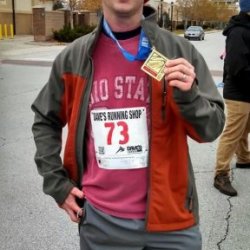 KB3RG
Perrysburg, OH
MEMBER SINCE January 25, 2014
Favorites
COLLEGE FOOTBALL PLAYER: Eddie George, Joey Bosa
NFL TEAM: Detroit Lions
MLB TEAM: Detroit Tigers
SOCCER TEAM: Liverpool and Columbus Crew
Recent Activity
ESPN is reporting their "sources" as saying Fields to enroll at OSU next week
not an almuni but this is not looking good. I have to wait until Friday for a chance to get tickets. My wife and I are pretty busy this year and the only game we can make it to is the Rutgers game. Was checking out stub hub and for the seats we normally get are going over 175 each.
I have not but I have heard its good if you like MMO type games. In essence you will grind for gear that can lead to repetitive game play.
I am looking forward to Overwatch and the new Hearthstone Expansion.
Taylor Deckers 1st run:5.21
agree. I was trying to find a comparison
Last year Ereck Flowers, 6'6 329. he benched 37 times but he was listed as the most reps last year as well.
Decker was listed at 6'7 320 LBS
I do not understand the hype on DeForest Buckner. There is a clear leverage issue and get him at the next level and that can be exploited even more.
Yes he has long limbs and could be a pass disruptor but I just don't see him being #3 overall.
They are sure helping out ESPN as well...
funny thing you mention about poker players...there are three pro poker players that play hearthstone that I know of. 1 of which is very popular among the hearthstone community Adrian Koy (former German pro player known as Lifecoach)
Daniel Negreanu and Bertrand "ElkY" Grosspellier played a match during Blizzcon vs each other as well.
I really only follow hearhstone but coming across a gaming website I follow, I stumbled across this League of Legends championship page.
The cool thing about eSports is you don't have to be blessed with genetics. Just need to take the time to devote for these type of games. I personally don't like LoL
http://www.ign.com/articles/2016/02/17/league-of-legends-2016-world-championship-is-in-north-america?abthid=56c45dbfc096e9454200000f
The tournament is broken into four individual stages—group, from September 29 to October 2 and October 6 to October 9 in San Francisco; quarterfinals, from October 13 to October 16 in Chicago; semifinals from October 21 to October 22 in New York City; and finals, on October 29 in Los Angeles. There, a new World Champion will be crowned.
Riot Games will bring the World Championship to "iconic stadiums" throughout the country, including Madison Square Garden and the Staples Center, both of which hold over 18,000 people.
Last year's World Championship traveled throughout Europe—beginning its journey in Paris, and ending in Berlin. SK Telecom T1 ultimately took home the prize, earning its place as the first-ever two-time winner of the Summoner's Cup.
http://twitch.com/
Current top streamers that are live right now and game with number of people viewing them play
League of Legends: Imaqtpie 22,078
Counterstrike: ESL_CSGO 36,824
DOTA 2: DreadzTV 21,959
Hearhstone: AmazHS 22,745
most of these people will gets people to subscribe to them each month for a set dollar amount. People even will donate to them on a daily basis for song requests to be played on the stream etc. These people will play video games for many hours a day and get paid in doing so
here is gameplay from the most recent championship game for hearthstone. 1st place winner won 100,000. 2nd place 50,000. 3rd and 4th 15,000
I enjoy it. I play hearthstone a lot. I watch other people play the game on Twitch. There are lots of tournaments that players can win 25,000K or more for LoL, Counterstrike, etc.
When you were a kid playing video games and go over to a friends and you would sometimes sit and watch them play until it was your turn. Similar type of thing
thats not true. He is ranked as the 44th player in the nation. His father is former Denver Bronco Ed McCaffrey. There is another brother who is a senior WR at Duke.
And there is one last McCaffrey kid who is a freshmen in high school.
Look at the states with low tax rates and that would make a difference in some choices
Career rankings in 9 years
#43 in receptions with 731
#27 in receiving yards with 11,619
#2 in receiving yards per game with 86.1
Single Season rankings
Receptions 122 ranks #7th
Receiving yards 1964 rank #1
Reception TD 16 rank #14
Metal Gear Solid
Fallout 4
Star Wars Battlefront
Come spring of 2016: Overwatch
Makes sense to me
Thank you! amazing find and thank you guys for getting me Urbans autograph!
Hill appears more set on playing defense in college. That being said, Hill if he went to OSU was going to be a slot and thats what OSU is recruiting Bruce as
from the website:
The 2015 Ohio State Four-Miler will begin at 10 a.m. Former Ohio State greats such as Scoonie Penn, Raymont Harris, Bobby Carpenter, Anthony Schlegel, Ryan Miller, William White, Justin Zwick, J.J. Sullinger and Dimitrious Stanley; Brutus Buckeye; Ohio State cheerleaders and others are expected to participate.
Do recruits get to borrow cold weather gear? If not thats a pretty big thing that all those kids werw pumping out money for the game to fit in