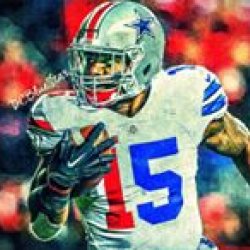 kareemabduljacobb
---
MEMBER SINCE February 21, 2012
Favorites
NFL TEAM: Cowboys
NBA TEAM: Cavs (LBJ fan)
MLB TEAM: Giants
Recent Activity
Johnny Football scored a 32. https://wonderlictestsample.com/nfl-wonderlic-scores/
Agreed but knowing this fanbase or at least some, let's not heap all these expectations on him right away. He's nasty but has barely been with the program, there will be some growing pains and I don't think some will understand that.
Ps I knew it was a bad omen when I saw an article awhile back about Baldwin not being afraid of competition. Seemed oddly familiar with Tate. But either way I'm not upset, he's gotta do what's best for him and his interests. Mind you he did flip is commitment from Colorado St so it's big boy football now, just hopefully Fields will remain healthy.
Not sure why anyone is blaming Fields. He came here because of Day, the offense and how well it'll prep him for the next level. This is Day's first year coaching the Bucks, with high expectations with championships or busts mentality, he's not gonna risk his job security playing a kid who didn't earn it. Fields is learning on the fly, like I mentioned above we can't expect him to be Haskins and Braxton Miller right away. But by the end of the year and next season, he's going to be nasty. Hell he might just be right out of the gate.
No. Fields is far superior to both. You go get his type of talent anytime you can.
Fields is a beast and a far superior talent. Just gonna need him to remain healthy is all. With Miller coming in, Baldwin likely would've never seen the field except in scrub time/if an injury happens. At least Day has a different philosophy when it comes to QBs than Meyer. I'd be more worried then if we were looking to run him 15+ times a game. I expect growing pains this year with him under center as he's learning on the fly but by the following season... look out.
Understandable as he'd at least be 2 years away from starting and then would have to compete with Miller who would have a full season in the program. Only thing that worries me is depth now esp with Fields running style. He's looking to punish the defenders, so he'll have to change that approach and protect himself more.
I had high hopes for him, just cause of his size. Felt like he could've at least brought some physicality downlow and above the rim finishing. Also had the same hope for LeDee. I feel like these 2 are basically the same, with LeDee having better range. Not sure he'll be an impact player but will be nice to have that size and another experienced big to throw in.
Someone will probably trade up for him. Unfortunately the two teams I see always being linked to him are the Giants & Redskins. Someone outside of the NFC East please draft this man.
Zach Smith announces his intent to podcast and things start happening... #LightenUpFrancis https://t.co/kffO9rankN

— FootballScoop Staff (@FootballScoop) March 28, 2019
Ha I don't think they're related but Zach is out there ready to attack. Already taking on ole DJ Byrnes.
Sorry for the dupe thread, should have figured someone was in the midst of posting this news as I was making one.
Another Ohio State hoops note: Freshman center Jaedon LeDee has entered his name in the transfer portal

— Bill Landis (@BillLandis25) March 28, 2019
I had a feeling. That tall and not one of them freaks on the football field just a good athlete.. and unwilling to move to TE.. I never expected him to make a huge impact. Best of luck kid. Fresh starts can be beneficial. Wonder if he'll try basketball?
And my favorite moment was when Christie hit Fox with that uppercut. I absolutely hated Rick Fox.
Yeah, both the Kings and Blazers got robbed during LAs 3-peat. I hate them too sucks I gotta root for them because of LBJ.
Kings were my favorite team for years. I know as a Buckeye I shouldn't say this but CWeb was my favorite player. Love those Kings of the late 90s and early 2000s. Only fitting my man Brons first game was against them. A passing of the torch for when he got injured & left.
I always root for ISU so at least if we're one and done it won't bother me as much as usual.
Sheeet.. of course our path would include playing 2 of my sleeper teams right away in ISU & Houston.
Last I saw they have Haskins going to the Bengals now (who trade up). Been hearing the Giants may either target Rosen in a trade or ride 1 more year with Eli, drafting some sort of pass rusher with their 1st pick and then QB Jones out of Duke with their other 1st rounder via the Browns. Hope this all holds true. Do not want him in the NFC East unless the Cowboys were in the running to get him.
Good news is the first 2 times we played them we had nice leads at half only to get smashed in the 2nd. Hopefully that reverses in the Bucks favor
Would you guys consider this a successful year if we lose this, make the tourney and are 1-and-done finishing with a 19-15 record? Thads worst year and only season finishing with less than 20 wins was his last when we went 17-15 (with no KBD).
We need to go into half-time losing.
I wouldn't be surprised if the NCAA didn't take bribes themselves.