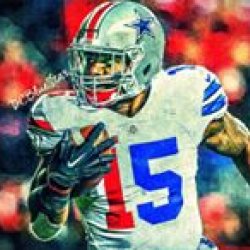 kareemabduljacobb
---
MEMBER SINCE February 21, 2012
Favorites
NFL TEAM: Cowboys
NBA TEAM: Cavs (LBJ fan)
MLB TEAM: Giants
Recent Activity
Whoops, 2-4 weeks.
I know it sucks. He's turning into a stud and Daks favorite target. At least it's just a knee scope and not a torn ACL or anything. Cooper and Cobb + Smith should be an alright combo still.
Devin Smith gonna have bigger role for my 'Boys now that Gallup is out 4-6 weeks.
How can you not like Gus?! I'm always excited when I see it's him & Klatt calling our games.
Well at least watching the Iowa vs ISU game they showed the Buckeyes highlights like 10x cause of that rain delay. Only waited around and watched that game cause I had $$$ on Iowa. Was painful to root for them.
Cincy now up 35-13 Maryland up 15-13 PSU/Pitt noted up at 10 Illini down 23-17 to Eastern Mich
Lol ok Damon
A good time for Z Harrison to get his first sack.
Against MSU in 2017 was the last time.
Master a monster! Only 8 yards away from cracking 100 himself. Get the Ds worn down with Dobbins then bring a fresh Teague in to pound it. Dude is a bowling ball out there. Stud.
Jesus. Awareness boys. Left us plenty of time to score.
GET OFF ME
Maryland averaging 70+ ppg about to go into half with only 2 against temple
Harrison playing like a beast this year.
Fields: 8/13 132 yds 2 TDs (3 total) Dobbins: 14 for 121 yds Looking good fellas.
Nice concept, throw and catch.
There we go Dobbins. Looking like his freshman form this year
Olave !!
Time for the Predator to unleash
Olave and Wilson can be game breaking type WRs. Hill, Victor and Mack good possession, move the chain guys who can break on every now and then.
There we go baby. Olave is our best WR. I feel bad for KJ, his style fit perfectly with Haskins, still gonna be a threat though.
Damn you gotta catch that at least we got the offsides
The one good thing is it will keep the D more fresh rather than scoring in 2 mins a lot of the time. But yeah it would be nice to have that game breaking ability. I'm hoping Jameson Williams comes on at some point this year. He's a threat to house it from anywhere.
PI aside that would've been a pick 6 with Hooker
I'm not sure about this OL yet.