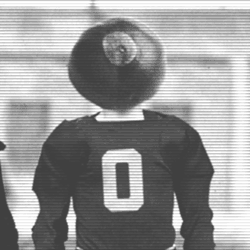 KansasBuckNut
---
MEMBER SINCE May 01, 2017
Recent Activity
It would appear this is the best/only offer, so yes, as long as we get shipping worked out, I would take 25$.
The links are merely to show the product I am selling.
This absolutely works! Check it out and let me know.
Lol, I went and doubled checked, and it took me to the hoodie! I wouldn't put it past me to mess it up though.
Zack,
I apologize for any duplicates, but what are you hearing about Justin Flowe. He is probably considered a LONG shot now as he has barely mentioned anything about the Buckeyes, but I read on the rivals page yesterday that he was interested in using one his visits to travel to Columbus. And today Birm had an article on LTR. Was a little surprised to see nothing written about him here. Is that because its a pipe dream?? I am sure he has been mentioned somewhere in some space of the comments in the last 48 hours but I haven't been able to catch it!
Late to this like always. Born in 1990 and grew up with a lot of older siblings and parents from the 60s.
So early on when the kids at school were into backstreat or nsync I was listening to Bob Dylan, The Beatles, Jackson Browne, Simon and Garfunkel, James Taylor at home because that is what mom had on.
In the high school days I loved the 90s grunge scene and because of sports and the weight lifting that came with it I had my share of rock/heavy rock: We would blare Mudvayne, Slipknot, Pantera, ACDC, Rage Against the Machine..anything loud to get us pumped. Today, I can't even hear most of that on the radio without changing stations immediately (ok I still love RAGE).
College I was all over the place but when back to the classic rock: Zep, The Doors, Jimi, The Who, Pink Floyd, CCR, Cream...
The last 10 years or so I have still been stuck in the past, but diving deeper. Really got stuck on the BLUES and the "guitar gods". I tend to listen to a band and go in a stretch where I just play them too much and then move on to the next.. Van Morrison, The Band, Michael Bloomfield (love his stuff w/dylan, Paul Butterfield Blues Band and Super Sess), DUANE ALLMAN-(probably spent a year on Duane and his stuff with the Allman bros, and all of his session work.) Probably listened to Derek and Dom Layla album 100+ times.. Roy Buchanon (Wow..is all i have to say), Stevie Ray Vaughan!!!!!! RORY GALLAGHER- is where I am currently. He is just amazing. Hard not to fall in love with this dude.
If anyone wants to listen to about an hour of complete grooviness please check out:
https://www.youtube.com/watch?v=MZcTP3-ARFQ
This band is tight!!!!!!
Colin: With such a loaded, young roster upcoming, are you worried at all about possibility of transfers (too many options, not enough space)? Seems like the norm in todays basketball. I really hope not, but I could see Ledee thinking about it if he gets passed over by the two fresh for PT.
I agree! Who in the music industry is original without ANY influence from others?
Did Jack ever have to defend himself from Willie McTell or any other founding blues artist??
While listening to it on youtube there were tons of comments regarding Jack White from White Stripes, Raconteurs, and Dead Weather. I had no clue there was some animosity b/ween the two bands. But after further quick reading from Wiki - Jack was on record of saying they rip of his sound? And later, they hashed it out (they meaning Jack and Patrick)?? Can anyone else fill me in on this?
I just read an article on rivals about Jaheim Thomas and his interest in Purdue, and others. The main take-away, for me, was that early playing time is going to be a MAJOR factor in his decision. Lets hope not too major, because I don't see him coming in playing year right away and I don't want to see this kid at Kentucky or any other poacher.
Man, after reading all of the comments, I thought some interesting convos were brought up. And its hard not to try to defend yourself on each persons comments. But reading yours made my day! I go check out barstool sports and their comment section will make you sick.
Man, I do love me some Mike Weber. So tough, so well spoken. He handles himself nicely.
I was wondering if people wouldn't join just because it was on the ESPN's site.. But then again, for a chance at free Buckeye gear, one will do almost anything.