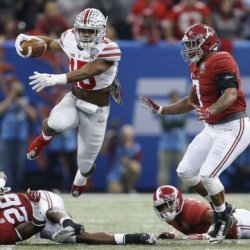 KansasBuckeye
---
Wichita, KS (via Kettering, OH)
MEMBER SINCE May 29, 2014
Favorites
SPORTS MOMENT: Anything from the 2014 Title Run. Amazing!
COLLEGE FOOTBALL PLAYER: Garrett Wilson, Chase Young
COLLEGE BASKETBALL PLAYER: Ron Baker, Fred VanVleet
NFL TEAM: Cincinnati Bengals
NHL TEAM: CBJ
NBA TEAM: Indiana Pacers
MLB TEAM: Cincinnati Reds
SOCCER TEAM: Sporting Kansas City, PSG
Recent Activity
The biggest of booms! What a two-day ride after the darkness!
Buckeyes keep rolling, 41-6 over Sparty.
Touchdowns: Fields rushing (x2), Dobbins rushing, Ruckert receiving, Hill receiving, Haubeil adds 11 points of his own
Defense gets three takeaways, Chase gets two sacks
Bucks in a nail biter, 56-17. Book it.
I definitely agree that I think he just got it backwards. I generally like Palmer as well and my question is, why is anyone up in arms about this comment?
He's stating on national television that this will be the best defense we've faced this year (inaccurately, as we know) and loads of people will hear this information and run with it as truth without fact checking. Then, when we inevitably score a ton of points on Saturday, the narrative in many people's minds will be that Ohio State is for real because they finally beat a quality team and were able to drop 50-60 on a good defense. I don't see this as a negative for the Buckeyes in any way. Maybe I'm missing something..
A creature? I believe you meant to say "the Predator", Scott.
Bucks win 52-13. Fields, Dobbins, Teague, Mack, Ruckert, Olave, and Victor all find the end zone. Shaun Wade and Jordan Fuller with interceptions, Tyreke Smith with a strip sack. Garrett Wilson catches his first non-touchdown.
I don't remember ever being given 30 minutes in the morning (unless you wake yourself up early before lights on). And we had 52 guys in our platoon. Other than that you're dead on. We had a couple dirty birds that were afraid to shower in front of anyone, but most people adapted pretty dang quick. Changes perspective on a few comforts, that's for sure.
The only point of contention I have is that I don't know that I agree with Michigan being the better team on paper. Justin Fields is just that at this point: one of the best in the country on paper. I think our recent recruiting wins and talent level would point in our favor, especially given your defensive departures to the league. But how that all comes together under Coach Day has yet to be seen.
I think you may be right on the money with your win loss prediction though, but at PSU will be a tough one in a white out and Notre Dame always presents a challenge for y'all. Wisconsin's quarterback situation will likely be the deciding factor in that one. If they stick with the veteran, I like your chances. But if the freshman (Mertz) is as advertised then this game could be his coming out party.
Curious- what's your "rational UM fan" prediction for the Buckeyes this year?
I pitched against Justin Masterson in high school when he played for Beavercreek High School and had a terrible three pitch at-bat against Keith Weiser when he played for the Hamilton Heat in the summer before he headed to Miami (OH) and became a second (or maybe third) round pick by the Colorado Rockies.
They have anybody committed in this class that we might revisit if something big does come down that causes recruits to look around at other options?
Didn't Bobby Carpenter already do that?
Oh, and the cell phone video of Tommy Togiai committing to Urban and LJ in his family's living room and the genuine emotion and excitement that went with it was really cool, too.
I think the 12-Star Martin Luther King, Jr. Day in 2016 was my favorite day. Adding Haskins, Keandre Jones, and Bin Victor on the same day was so huge! I was so bummed when we accepted Tristan Wallace's commitment at QB and was starting to think Victor was going to stay south - so that day was very refreshing!
Vonn Bell is my favorite individual commitment because I really didn't know what to expect. Darnay Holmes was <this close> to joining that list.
With Hilliard/Cornell, NPF, and Zach Harrison I actually just felt very confident going into their announcements (although I admittedly wasn't confident throughout the duration of those recruitments).
Birm was also pretty convinced we were getting Christian Kirk a few years back - which would've been nice, by the way.
I feel like he has one of those every year where he is perhaps a bit over confident.
Tcm isn't talking about who they play on their schedule, but the timing of when they play certain perceived weaker teams. Not saying I agree with the statement that the NFL wants the Browns in the playoffs, but with those four very winnable games coming at the end it certainly sets them up for a solid finish.
How about Cameron Brown with the first team defense over guys like Johnson, Riep, and Banks? Excited for this next crop of stud defenders for sure!
I assume Washington is not a take at this point - would that be correct?
And who is more likely to be the 2021 QB - McCord or McCarthy?
WTF? Indeed. I would like to hear about his progress during year two.
You could even say he'll be a Lejond.
Lord Voldemort worked on the staff? I guess that's why he couldn't kill Harry. He was too busy recruiting high schoolers!
In fairness, that's the forum about the 2019 recruiting class. Definitely not the place I would turn to for coaching change rumors.
A truer statement has never been typed in these forums, except you can take that all the way back to this past Friday. I'm probably going to be unemployed if Corey Raymond doesn't make a decision by the end of today.
Name checks out.
Ya know, realists and pessimists are often really hard to differentiate. Are you sure you aren't actually BuckeyePessimist13?