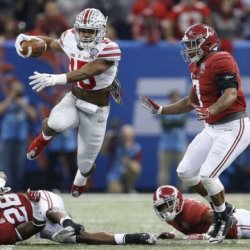 KansasBuckeye
---
Wichita, KS (via Kettering, OH)
Member since 29 May 2014 | Blog
Favorites
SPORTS MOMENT: Anything from the 2014 Title Run. Amazing!
COLLEGE FOOTBALL PLAYER: Ezekiel Elliott
COLLEGE BASKETBALL PLAYER: Ron Baker
NFL TEAM: Cincinnati Bengals
NHL TEAM: Detroit Red Wings
NBA TEAM: Indiana Pacers
MLB TEAM: Cincinnati Reds
SOCCER TEAM: Sporting Kansas City
Recent Activity
But does anybody know his doctor? He might still grow..
Is there any shot Brennan Eagles winds up the Buckeyes come the first week in February? Very impressed with this kid, but haven't seen any buzz around him and Ohio State lately.
Well this is certainly a pleasant Tuesday surprise!!!!! Much better than the egg being mysteriously absent from my Egg McMuffin this morning..
I thought of the exact same thing. I remember hearing a lot of backlash after "some guy from Buffalo" beat Decker all day long. He wasn't cut out to start, he's terrible, etc., etc.. And that rhetoric continued all throughout his first year on the o-line. I have hope for Prince. Like many have said, he wouldn't be starting if he weren't the best available.
I'm still crossing my fingers for Zamir White! Kid is a stud and has been to Ohio State twice - once for the Nebraska game and once back in June - on his own dime. I know we've already got Snead and a strong shot at Gill, but having to pick between Lingard or White as a final running back addition would be tough.
I'm also curious about this.
Sad to hear, but if he's confident in his decision then it is the right one for him. He was definitely one of the more talented corners to play in Evanston in recent years (ever?).
We've heard a lot about the high-level of play by the Nits' receivers this week, do you think their O-line can actually protect against the Rushmen long enough for them to be a factor in this game?
Excellent point, Siva. I wonder about this as well. Is it the culture at Ohio State that makes the kids grow up quickly, or is it the staff only selecting the best character guys to bring into the mix? I imagine it's a combination of both, but I wonder if the culture at Ohio State is really strong enough that a guy like Bruce would avoid trouble if he came to Columbus.
Am I the only one that finds it crazy that there are 26 wide receivers in the 2017 class ranked higher than Jaylen Harris??
My favorite comment of the day. Well done!
I'm still waiting for your qualifications in football scouting that you think your opinion matters over Urban.
I was thinking that you had let a solid pun opportunity slip away, then I realized that his name is Kangaroo, not Koala.
You know, since you're talking about qualifications? Koala-fications? No? Nobody else?
I would also like to chime in and say that our experience (my wife and I) was just like that of the op and the many others below. With the exception of a couple drunk frat guys we passed, nobody said a single disparaging word to either of us. Everybody in the section around us was kind and the guys next to us talked depth charts and recruiting (both of them felt it was a bad deal that Okudah was visiting for our game). Overall, great first experience on the road! Hopefully we can return the favor when some of them visit Columbus!
Will there be a 11w tailgate party before the game?
Under (59-13)
True (Urban gets him a crack at it so he has in-game experience prior to OU next week)
True (They account for exactly 6 TDs, the other two come courtesy of Mike Weber)
What if they're playing each other?
A million. I think I'm too late to this game. Every number I attempt I then find the next time I scroll through the hundreds of prior guesses.. So I'm gonna stand firm with a million.
This is awesome! Although it was some pretty shoddy camera work..
So has Urban made it his mission to get all of the Xaviers? This would explain the recent offer to Xavier McKinney that had everyone worried about Shaun Wade/Jeffrey Okudah..