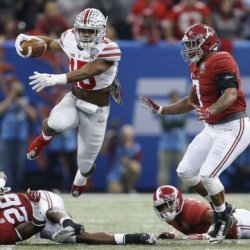 KansasBuckeye
---
Wichita, KS (via Kettering, OH)
MEMBER SINCE May 29, 2014
Favorites
SPORTS MOMENT: Anything from the 2014 Title Run. Amazing!
COLLEGE FOOTBALL PLAYER: Ezekiel Elliott
COLLEGE BASKETBALL PLAYER: Ron Baker
NFL TEAM: Cincinnati Bengals
NHL TEAM: Detroit Red Wings
NBA TEAM: Indiana Pacers
MLB TEAM: Cincinnati Reds
SOCCER TEAM: Sporting Kansas City
Recent Activity
Didn't Bobby Carpenter already do that?
Oh, and the cell phone video of Tommy Togiai committing to Urban and LJ in his family's living room and the genuine emotion and excitement that went with it was really cool, too.
I think the 12-Star Martin Luther King, Jr. Day in 2016 was my favorite day. Adding Haskins, Keandre Jones, and Bin Victor on the same day was so huge! I was so bummed when we accepted Tristan Wallace's commitment at QB and was starting to think Victor was going to stay south - so that day was very refreshing!
Vonn Bell is my favorite individual commitment because I really didn't know what to expect. Darnay Holmes was <this close> to joining that list.
With Hilliard/Cornell, NPF, and Zach Harrison I actually just felt very confident going into their announcements (although I admittedly wasn't confident throughout the duration of those recruitments).
Birm was also pretty convinced we were getting Christian Kirk a few years back - which would've been nice, by the way.
I feel like he has one of those every year where he is perhaps a bit over confident.
Tcm isn't talking about who they play on their schedule, but the timing of when they play certain perceived weaker teams. Not saying I agree with the statement that the NFL wants the Browns in the playoffs, but with those four very winnable games coming at the end it certainly sets them up for a solid finish.
How about Cameron Brown with the first team defense over guys like Johnson, Riep, and Banks? Excited for this next crop of stud defenders for sure!
I assume Washington is not a take at this point - would that be correct?
And who is more likely to be the 2021 QB - McCord or McCarthy?
WTF? Indeed. I would like to hear about his progress during year two.
You could even say he'll be a Lejond.
Lord Voldemort worked on the staff? I guess that's why he couldn't kill Harry. He was too busy recruiting high schoolers!
In fairness, that's the forum about the 2019 recruiting class. Definitely not the place I would turn to for coaching change rumors.
A truer statement has never been typed in these forums, except you can take that all the way back to this past Friday. I'm probably going to be unemployed if Corey Raymond doesn't make a decision by the end of today.
Name checks out.
Ya know, realists and pessimists are often really hard to differentiate. Are you sure you aren't actually BuckeyePessimist13?
Don't you put that evil on me
But I thought he was a good man?
At this point I just hope Alabama wins so this series doesn't have to go the full five games. Alabama wins and takes it 3-1. Then we finally get to move on to literally anything else.
Thats how this works, right?
When I was a kid I had a babysitter who would watch cartoons with me and whenever something impractical would happen (see also: entire show, because it was a cartoon and make believe) she would make comments like, "Oh yeah, right, like that could ever happen" or "That is not realistic at all!". Even at the time, six or seven year old me would sit there and think, "No f*cking kidding, Vada, this is a fictional television show for kids that was drawn by somebody who had an imagination."
I felt this was a relevant follow-up comment here.
Didn't Kelly Bryant go to Missouri? Or am I mis-remembering?
Well this comment didn't age well.
Sounds borderline masochistic. The pain of losing to the Buckeyes once every year isn't enough, so he would go lose to the NFL version of the Buckeyes twice each year? Makes sense.
That sounds painful..
But to actually add to the conversation, I was wondering the same. Were the rumors true that he told the Ohio State staff that they were out and not to come for the visit because it was down to Alabama or Oklahoma? If so, I doubt he changes it up a week later and signs with Ohio State. If that was false and the rumblings that Alabama is being shady with wanting Battle to wait to sign until Dax is in are true, then we may have a a puncher's chance!
Honestly, keeping the current class together (Nester and Battle included) and adding Harrison would be quite the win for Day and company. Fields would be the icing!
I only had 85 coins, but i also got nothing. They only had 150 or so tickets initially available for the Rose Bowl, though. So I wasn't surprised.
Got tickets to the Cotton Bowl last year through VetTix and the Oregon State game this year, so no complaints from me. Good luck on snagging a couple later on today!
Did the ship sail on adding an additional receiver? I thought that Elijah Higgins or David Bell might have been fairly interested down the stretch. And we had heard many times that Kyle Ford may be one to keep an eye on. Is the game plan to stand pat with just two (exceptional receivers) for this class?