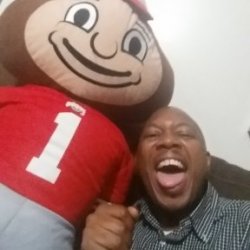 JW BUCKEYE
---
MEMBER SINCE April 17, 2012
I'm a displaced Buckeye fan living here in Dothan, Alabama, originally from Cleveland. Surrounded by the colglomerate called the SEC seemingly owned by Paul Finebaum.
Favorites
COLLEGE FOOTBALL PLAYER: Micheal Thomas (recent); Eddie George or Mike Doss (all time)
COLLEGE BASKETBALL PLAYER: Larry Johnson
NFL TEAM: The Browns (I can't help it)
NBA TEAM: Cavs (last year it was the San Antonio Cavaliers)
MLB TEAM: Indians (not a huge fan of baseball though)
Recent Activity
An "accident" you say? Hmm
I am cautiously optimistic that they will live up to this billing. If they do, this team will be insane!
At Ohio State Diebler was a 3-point assassin but also a subpar Defender. It appears that he brought the latter attribute with him to the tournament. It seems that in the fourth quarter, House of Paign's game plan was give the ball to whoever Diebler is guarding.
With assassins like DT and Deibler on the squad, Craft should have NO problem going out as a winner!
Don't know why, but for some reason I thought he had committed to Clemson months ago. Maybe it was said that he was a heavy lean to Clemson or something and I took that as being committed already. Anyhow, best wishes for him, and for whoever we pick up in his place!
I do not have any doubt that there will be college football this season despite covid19. Where I think the problem will come in is if one of the players test positive for it. What will take place if this occurs, which is certainly not far-fetched. That's the main worry that I have concerning this.
I watch the highlight video posted above. I forgot how good he was at Ohio State. Sad that we haven't had a decent , consistent return game since he left Ohio State.
I'm in Dothan so I know what you mean. We didnt get ANY respect from Bama fans until we whooped them in the playoffs a few years ago. I had to keep my mouth shut from the time LSU beat us in 07 until Jan 2015. That game lifted a weight off my shoulders!
Indeed, jamarr Chase and Justin Jefferson we're outrageous this season. Alabama had FOUR Superstar receivers that can kill you at any time! They got two that are going to get picked in the first round tonight, and that doesn't even include the best of the four receivers this year in Devonta Smith! Got to give credit where credit is due even though I bleed scarlet and gray.
Alabama had, in my opinion by far, the best receiving Corps in college football this past year. With these additions and what we have coming back, as well as three of Alabama's top receivers leaving for the draft, we should have the best receiving core the next two to three years at least.
RJ Young has a spectacular YouTube channel. He is Oklahoma all the way but I believe has broadened his objectivity in order to cater to the masses. he has good commentary and doesn't put a lot of personal opinions into things. I don't really hear much bias when talking about different teams . Seems to speak the truth about everything . One of the better college football channels that I have seen on YouTube. He is bigger than you might think , saw him on CBS Sports One Day . I definitely subscribe to him.
On paper, the 2021 class is shaping up to be as good, if not better, then the 2013 class.If the 2021 class doesn't at least win one championship and contend for two or three more, every coach on that staff needs to be fired.
Crickets........
How exactly did he violate Ebay policy? Was that ever explained or am I overlooking it?
I miss Chris Carter being on my television set every morning. First things first is absolute trash without him on it. Nick Wright was a great compliment for him , but by no means should he be carrying the show.
3rd highest paid coach in the Big Ten......... seems to me like we're getting a bargain!
Dobbins by 78
Well, I guess better late than never........
Obviously, being a Buckeyes fan I want him to win it all. However, it's going to be hard to beat out Joe Brady from LSU. The remarkable job he has done doing a 180 for that offense is astounding!
Ouch!
This. Is. Sick.
Makes a lot of sense.
Hartline is the greatest recruiter ON EARTH!
Keep the best Ohio players at home. Keep that fence up around the state.
WHERE. DO. I. GET. THAT????!!!!!