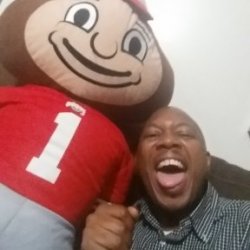 JW BUCKEYE
---
MEMBER SINCE April 17, 2012
I'm a displaced Buckeye fan living here in Dothan, Alabama, originally from Cleveland. Surrounded by the colglomerate called the SEC seemingly owned by Paul Finebaum.
Favorites
COLLEGE FOOTBALL PLAYER: Micheal Thomas (recent); Eddie George or Mike Doss (all time)
COLLEGE BASKETBALL PLAYER: Larry Johnson
NFL TEAM: The Browns (I can't help it)
NBA TEAM: Cavs (last year it was the San Antonio Cavaliers)
MLB TEAM: Indians (not a huge fan of baseball though)
Recent Activity
Dobbins by 78
Well, I guess better late than never........
Obviously, being a Buckeyes fan I want him to win it all. However, it's going to be hard to beat out Joe Brady from LSU. The remarkable job he has done doing a 180 for that offense is astounding!
Ouch!
This. Is. Sick.
Makes a lot of sense.
Hartline is the greatest recruiter ON EARTH!
Keep the best Ohio players at home. Keep that fence up around the state.
WHERE. DO. I. GET. THAT????!!!!!
Yes last night's game was indeed an advertisement for Buckeye football. However, Eli apple is absolute trash as a defensive back! It's crazy how far backwards he's gone since his days in Columbus. Unlike Michael Thomas, he should be named "can't guard anybody". You couldn't help but feel sorry for him the way they picked on him all night long.
I agree that McSorley should have won big ten offensive player. I guess your team had the win in order to be considered though. I disagree with the comment above though that Ohio State won in spite of Haskins ala Peyton Manning winning the Superbowl with the Broncos. Haskins was definitely more nervous this game then the previous four. However saying that, he was still putting the ball right in his receivers hands the first half. The drops are what made Haskins look bad, not Haskins himself. If all these drops were made in the first half, I believe the dynamic of the game would have been night and day to what we saw.
302
I honestly thought they would start hurts. Not because he was better, but because he had been there longer and because of all of the wins under his belt, the respect Factor. Was thoroughly surprised when Tua came out first series. Hurts did himself absolutely no favors by playing the way he did.
I wish I could up vote this 5 million times!
I would love to watch the 2018 BTN preview of my beloved Buckeyes, especially since living down here in Southern Alabama you only hear that OSU is on pace to becoming Joe Pa's Penn State. However, I don't get BTN anymore with Comcast :(
First time here at the Shoe. Having a glorious time! Me and my friends went to Main bar yesterday afternoon. Shout out to Kristen, the best bartender I've ever seen! We went to The Varsity afterwards, had a good time there as well. We plan on getting down to the stadium in time for game day and go to the skull session as well. One of the best times I ever had. Wish I had done this sooner! Looking forward to a Buckeye win to cap it off!
Thanks my man. Been on the site for several years but never posted a forum. Thought it would be something interesting to throw around.
I for one was one of those who felt like ANY of our backups had to be better then Barrett last year and coming into this year. I honestly say though that thought never crossed my mind last night. Even when the offense was struggling in the first half, Barrett was doing EVERYTHING right. anyone that was blaming JT for the struggles obviously was not watching the game. The secondary looked suspect. Hopefully what everyone is saying is correct, that this was an exceptional wide receiver / quarterback group and they would have made any set of DBs look silly. I do not believe Oklahoma will have the same success next weekend. Also as these young DBs get game experience throughout the year, they will only get better.
which was a good pick. One of the greatest teams ever assembled.
"Get off my lawn!" LOL!
No worries Big Homie. Better late than never.
I agree with Andrew from the HURRY Up last night, the Aeneas Hawkins commitment video was probably the best I've ever seen. Also, I know it was preseason and against 2nd and 3rd stringers, but Deshawn Kizer looked and played like he will definitely be the positive future of Cleveland Browns football.
Jayden Harris
Tough crowd. Here's and up vote for you.