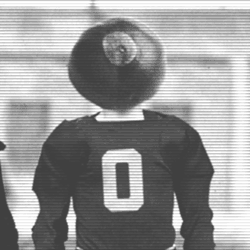 juniorbuck
---
Columbus
Member since 04 June 2014 | Blog
Recent Activity
Agreed, Id like to think Id be able to lay off the Reefer with the National Championship on the line
If he was going for girls he should transfer to Bama. Those ladies I saw walking around NOLA were incredible
Warriner does a hell of a job
Maty Mauk was the best high school player I have ever seen, the most prolific quarterback in America's history, to say that Joe Burrow is Maty mauk on steroids is preposterous to me. He did look good against TCC however.
I feel like way too much work was put into this. Just let it play out
Kenton is the real asshole of Ohio
I'm more lost now than I was reading the nick bosa posts haha
I have now realized how sad it is to be a cav's fan, getting more excited for the draft than the actual season.
I used to think the same thing and then I watched the Finals. Ray Allen is their only reliable outside shooter, especially when chalmers is off. While I would love for Aaron to get picked up by the heat, he'd never be able to space the floor for them like you really need on offense. Hopefully he gets picked up by a team with shooters all over the floor so his weaknesses won't be so glaring and on the national stage like they would be in Miami.
Congrats George! Hopefully he'll take a leadership role in the class and we can keep all of these great '16 prospects from Ohio in Ohio
I love Waller. I would really like to see a quarterback in our offense that can spread the ball to all of the weapons we'll have on the perimeter. Whether it be Barrett, Collier, Burrow, Waller, etc, I just can't believe how much much success Urban has had with QB's that struggle throwing. Give me any of those guys over a run-first QB.