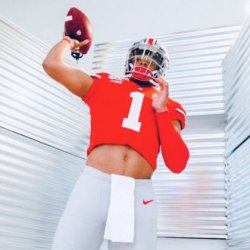 JTstan16
---
MEMBER SINCE November 13, 2017
Recent Activity
Mods delete this! We don't need this type of negativity in our lives.
It was REALLY ugly early on, but we persevered and that should count for something. It's really tough beating the same team twice. Hopefully the committee does the right thing & we play OU in Atlanta.
Getting a stop here is the game. Can't go down 21 playing the way we are...
Football gods hate OSU. That's my only explanation.
We look like shit. The team let all the hype get to them smh.
Al Washington starting to look suspect
We better score before the half or it's gonna get ugly...
We aren't making the playoffs if we get blown out by Wisconsin. They better wake up.
WTF has this team been doing all week?
We really letting Coan do us like this....
Everything is going wrong for the first time all year.
Fields worst quarter as a Buckeye. It can only go up from here.
Inching closer to the #2 ranking by the minute smh
No QB sneak cause of Fields knee? Ugh.
Hopefully Fields can just PLAY and not even think about his knee. He moved well last drive.
We need a nice long TD drive here man
Receivers aren't getting open?
Better not have a 3 and out.
LBs outside of Malik are not good....
Oh god, Kickoff won't be until 10pm at this rate...
Baylor is so dumb. They deserve to lose.
Hopefully we don't put Werner on Lamb....