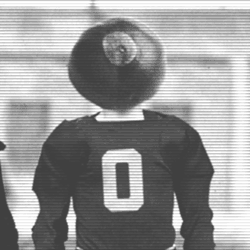 JTownBuckeye
---
from Johnstown OH
MEMBER SINCE April 23, 2012
I'm a 1996 graduate of The Ohio State University. I am also a 4th generation alumnus and hope my kids carry on the tradition someday. I was in the North stands when Eddie George fumbled twice on the 1 yard line against Illinois and was a senior when he had redemption with his Heisman year.
Favorites
SPORTS MOMENT: Watching my son, age 8, make a running shoe-string catch at third base to seal a win and the entire rest of the infield jumping in the air to celebrate the catch.
COLLEGE FOOTBALL PLAYER: Eddie George
COLLEGE BASKETBALL PLAYER: Jimmy Jackson
NFL TEAM: Bengals - I love lost causes.
MLB TEAM: Reds
SOCCER TEAM: Any team my son plays on.
Recent Activity
That joke was unbearable.
I totally understand why this is a valid topic to write about, but it's not much fun to see this timeline of past suspensions. Let us hope the list ends with Young for quite some time. I also suppose it's better that this is happening in Rutgers week versus Michigan week.
My 1st cousins, an Illini and a Northwestern grad, both texted me very humbled messages before the game. They knew what was coming. I simply replied at the end of the half with the grinning Grinch gif.
He also had a gate pass and would drive everywhere with stereo boasting.
Those who cannot remember the past are condemned to repeat it. The past keeps me humble in the present. I remember tons of UM fans openly mocking OSU and saying the rivalry was over in the 90s. They're pretty quiet now and I'll never be like they were back then. I just enjoy the success of the present.
Because I'm still dealing with the scars from the Cooper years, I can't overtly delight in their misery. But I'm sitting here watching these videos and reading tweets and I'm like Jon Lovitz in the wedding singer. They're losing their minds! And we reap all the benefits!
I don't follow women's basketball recruiting, but I'm just floored that there can be that much talent already on board and be only the 3rd ranked class.
The Wal Mart return link, I once was behind someone in line who returned a carpet cleaner that absolutely reeked of cat pee and they told the associate that they were returning it because it wasn't needed. And Wal Mart accepted the return.
My nephew is in the Big Red Band and they rock. Regarding the new addition, no Johnstown original calls it what it is actually named. It's been the New Addition forever even though it's probably 70-80 years old now. My great-grandfather Belt's farm was sold off to create most of the original plots.
I believe Gary Brown is still cutting hair maybe 1 day a week.
Suburbs? Do you mean the New Addition?
Shout out to a fellow Johnnie! I went to Cowboy Dr Joe Urdock growing up but most of my family went to Dr Paine.
Tater, just curious but is your given name Tathan? Two Tathans in one week would be amazing.
Highest non Meachy post I've ever seen. Mr Knox had some very high upvotes when he used to post.
I can think of one loss in my lifetime to pretty much most of the teams in the B1G that at the time caused pain. I'm willing to forget those losses to at least not root against them with the exception of UM. F those guys forever and may they lose every game.
Seeing the graphics of Harrison for PSU and UM make me want to throw up. So glad they didn't become reality.
Did you watch our games against UM in the 1990s? If not then you can't understand why some people can never root for them to succeed.
I usually want to see a good game but see them lose. And then when they start to lose, I want to see them get completely embarrassed. I can't help it.
They should accept it publicly and anything with displeasure should be kept private and used as motivation. And Washington should feel pain, lots of it.
Aside from her passion for her alma mater, She's my cousin and close family. Deleting from my life is not something I'd ever entertain.
$971 a quarter for 15 hours when I started.
9 is my number 1. I remember that day vividly and my cousin who was at Northwestern calling me and gloating about the OSU loss. She went to the Rose Bowl. Now on facebook, every Saturday I get stupid ass updates like "Cats with a first down" & "Field goal Cats". So, when we freaking destroy them, I'm going to enjoy it immensely.
I had the same thoughts when I saw the Heights name in the article. I went to Johnstown and they're in the state final this weekend and playing much different football than when I was in school. Apparently Heights is different as well. That area is very developed now and has had an influx of talent.
Glad we won but no way should we have won. Our D is horrible.
Art's name needs erased from the record book.