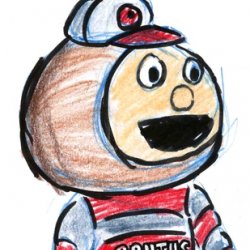 jtlightner
---
Member since 08 March 2013 | Blog
Recent Activity
Take your +1 HS, you grown and sexy beast.
We rebooted our Dynasty league to a Keeper league this year... I grabbed Zeke #6 overall, and got Thomas in the 11th round... ended up #3 overall this year in the league... give me more Buckeyes to draft!!
What can we do to get rid of Tim Beck?
Would love for him to stay - but also I love it when our guys can go on as first rounders after they work so hard to make The Ohio State an elite program. Go get your money man!
HOLD THE LINE!!!! (in my best Russell Crow Gladiator voice...)
<1%? Actually 1/15 of 100 is 6.67%.... their math is wrong.
Some Buckeye fan in the Air Force got Uncle Sam to pay for them to have front row seats on the 50 at all Ohio State Football games with unlimited access to Ohio State facilities and able to hob-knob with the players and coaches? Fucking genius.
As a displaced Buckeye living in Indiana... I appreciate this! Great work as always!
I think he could be pretty decent... now if we can only replace Beck....
I watched it... sadly... it left a horrible sinking feeling in my stomach.... don't watch it.
Relish in the fact that we shall take it to their turf and show revenge for hearing about that loss all season.
I can't help but think that this whole Braxton moving to WR, and Urban saying he jumped the gun on announcing it... and how easily everyone else believes that Braxton just gave it up isn't some big ruse and Braxton will be under center at Va Tech...
Umm... how much you want to bet Nike created a bunch with 7 buckeye leaves and had them in the warehouse and just threw them back on the stitching machine to add another leaf? Otherwise you had a bunch of clearance and discount jerseys.
Also, when we see the players uniforms this year - if they are stitched the same way we know it was intended... and if all in a row we will know that my above scenario is probably the correct one.
Very nice job pulling the numbers - thanks.
Let us do an analysis of Herman @ Iowa State vs. Ohio State as OC. I am sure you will find the same three statements can be applied to the Iowa State versus Ohio State numbers.
In Urban we trust.
They realize this is Oregon, and not Oregon State playing in the National Championship right?
I am all in for Sparty. GO GREEN... GO WHITE!!!!
Are only eleven allowed in at a time?
I live in the Hoosier state - what am I missing?
-Displaced Buckeye

lol I know... it's killing me.
Crappy thing is... my wife and I have tickets to Cirque Du Soleil @ 7:30PM.
Wonder how much Slingbox I can get away with before I get in trouble, especially since I am sitting front row... lol
I'm ready. Bring the #JUICE!