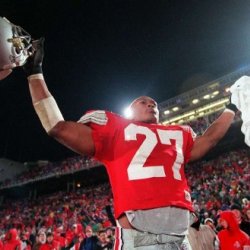 jthiel09
Northwest, OH (via Upper Sandusky, OH)
MEMBER SINCE March 02, 2012
Eleven warriors, Brave and Bold, whose fame will ever stand.
Favorites
SPORTS MOMENT: 2002 National Championship
COLLEGE FOOTBALL PLAYER: Eddie George
COLLEGE BASKETBALL PLAYER: Lawrence Funderburke
NFL TEAM: Miami Dolphins
NHL TEAM: Columbus Bluejackets
NBA TEAM: Cleveland Caveliers
MLB TEAM: Cleveland Indians
Recent Activity
Faith in the team and the staff, too early to start being negative.
O H
This isn't the first time Urban has dealt with an injured player, and it won't be the last while he is at OSU. I have faith in the team, the staff and the players. Just hope for Braxton's sake he can recover from this whether it is this year or next, godspeed young man.
Let's also not forget, JT isn't exactly a walk-on ... he was a 4 star recruit so it's time to see what he and Herman can do.
Today, Rich Rod just triumphed over the fussy coaches and also made me a fan of his. Bravo coach.
I'm angry / sad at the same time, and you article just made me realize exactly why. You never disappoint Ramzy.
I know there are people that will have a problem with this, and those are the type of people that probably resemble Paul Finebaum.
Thank God these monstrosities won't be worn by our young men for the foreseeable future.
I'm all choked up ... It's so glorious.
Great article Ramzy ... you never disappoint.
I not only have another great game day poster from the master himself, but also have a reason to go back and watch a great action flick!
Congrats and good luck! Be sure to enjoy your time here and also your time at the greatest University to ever grace this fine planet we call earth ... The Ohio State University!
Somewhere, Mike Leach is laughing.
I see what you did there ....
Buckeyes kickoff is less than 3 days away, until then I'll have football to watch on Thursday and Friday night to pass the time ...
I'd love to see anyone at ESPN write anything that moving ... amazing Ramzy ... amazing.
Oh yeah!
Great article Kyle, nice to see the woman behind the scenes who helps control Urban's crazy life and also the woman who is proud to be Shelley Meyer, not just Urban Meyers wife!
Truer words have never been spoken.
Best of luck overseas and also enjoy the ride, beautiful country and a once in a lifetime opportunity!
Say what you want about him when it comes to football and the rivalry, but as a man that was one helluva move on his part.
Now excuse me, typing that out took a lot out of me and I need a nap to recover.
I was sad when this ended, satire at it's best.
Great article, about a great man.
Thanks Ramzy.
Thank you both ... that made my day.
If I could continue to up-vote this for the rest of the afternoon I would ... bravo.