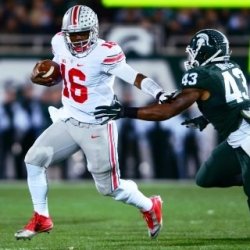 JT4Heisman
---
MEMBER SINCE November 09, 2014
Recent Activity
I'm disappointed we couldn't keep up the momentum from the second quarter. We could have scored over 120 points if we did. That's A LOT of points to let slip through their hands. Let's hope they get it together before next week.
I was positive we were going to beat Oklahoma in 2017. I also thought it would be a close game against Clemson at the end of that season... or we would at least be competitive. Never would have thought it was possible to lay an egg.
I remember the days when young QBs knew they could be sitting on the bench until their redshirt JR or SR year. What ever happened to that? Why do so many QBs now seem to expect to be given the starting position as a freshman or sophomore?
Maybe it's because he chose to stay and compete for the position instead of immediately bolting when Fields arrived like Tathan did. They might have argued that showed he was okay with the new program and he only transferred because he didn't win the starting job. Not saying I agree that just that it might have been their argument?
I'm pretty sure they just flip coins and roll dice at this point. They definitely don't use any of that newfangled stuff like logic, precedence or consistency. That stuff is for nerds.
Good luck stopping a D-line that has Joey Bosa on one side and Nick Bosa on the other... any QB would be having nightmares leading up to the game and then PTSD afterwards.
We could still get 1st in 2020 class rankings if we run the table on the "legitimate chance" guys and then flip Ricks and Breese. That would reduce both LSU and Clemson's overall points while boosting ours. Kind of a long shot but it could happen.
I'm surprised he hasn't already. He's already hit his ceiling at PSU.
It should be a different color at least. Every time I visited the homepage the past few days I get excited for a few seconds then realize it's a false alarm.....
Didn't UNC already get a bowl ban for this years ago? Does the NCAA even have the stones to give Alabama a bowl ban? ESPN would lose their minds.
Well they gave Tathan a waiver... I think he had even less of an argument than Baldwin does. So he probably gets it. I don't think he should just as I don't think Tathan should have but I don't work for the NCAA.
If he isn't coming here I'd rather him go to Clemson than PSU.
Seems like it would be a win/win for both parties. We have an immediate need for a backup QB. He would be trading up by going from backup QB at UK to backup QB at tOSU. Plus he's from here. So he would coming home. I don't see a downside to this.
This is the social media era. You don't need pesky things like evidence before you make claims. All you have to make allegations and it spreads all over the internet. After you get your clicks and the damage is done you can issue a retraction in small print buried somewhere that nobody will see.
I am going to go with... Bowling Green or maybe Kent State. I would rather play good teams in the playoffs than take the risk in the beginning of the season.
Is being some kind of a woman abuser a requirement to be a QB at FSU now?
I wouldn't flip anything. We wouldn't have gotten into the play offs with one loss to anyone on our schedule. The best you could hope for by swapping Purdue and PSU is being ranked ahead of Georgia but still left out. I'll take my win over PSU, TTUN and the Rose Bowl thanks.
That might make sense with Georgia not challenging the transfer. The deal could have been to keep quiet publicly about whatever else went on to protect Georgia's image. The last thing they need is a big scandal about widespread racism in their athletic department. The media would have a field day.
Just a theory but maybe he is interested in one of graduate programs. Could be more than one reason too.
Is Gene Smith still on it? I heard he isn't allowed to put us in his top 4 due to conflict of interest. Maybe it's just a rumor but if it's true then he should step down. It actually puts us at a big disadvantage to have him there.
Oh crap... here I was thinking Fields was a RS freshman this year but he was actually a true freshman. I feel a lot better now lol.