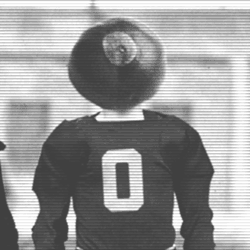 JT
---
MEMBER SINCE September 02, 2010
Favorites
SPORTS MOMENT: Jan 3, 2003
COLLEGE FOOTBALL PLAYER: Michael Doss
NHL TEAM: St. Louis
NBA TEAM: Cavs
MLB TEAM: Tribe
SOCCER TEAM: Huh?
Recent Activity
Wilson will play a lot - he's a spotlight guy
scUM can't count as Top 10 win for us
scUM will not be as blitz-happy as last year. That game will be much harder than yesterday. We should win but can't give the ball away three times AND must press on the gas with the offense
He brings a lot of energy. Would love to see Pope get some time too
scUM will be the most difficult game for us this season until the playoff if we win. We have a few things to address in practice.
I' not sure about "good" job. Made a good play in 1st half but was targeted big time throughout today. Wonder what White or Pope would do in comparison. Borland is the one who needs less time - Browning is just playing so much better as is Hillard.
Easy for us to say from our couches. Guess I just love Tressel....
That will apply to our defense too. I expect a handful of fun wrinkles this week.
Mitchell or Pope as a spy on a play or two could result in a massive hit on Clifford...
Please let Browning, Pope or Gant play over Borland.
Yes but JH forced to the sideline and Wade finished. Unlike the Borland miss, JH's play did not result in a TD
I also think we may use our TEs against penn st.... flex out Jeremy or send one on a skinny post
+1. Tuf has played better this year but Browning AND Mitchell bring a different element. And Pope seemed to play well yesterday but then again, we don't get paid paid millions to evaluate and make personnel decisions... hope we play as a team and kick some tail!!!
Loved watching Pope and Gant too.
Oh the irony of implying you have intellectual superiority while simultaneously being grammatically incorrect. I'd recommend you learn the difference between its and it's....
You just can't fix stupid.
The guy does not have even a good rep from his time as an assistant at Army
Stay classy guys. Who cares about a hack employee at espin.
Werner and Borland are liabilities. Need more rotation of Jones, Mitchell, pope and esp Browning if healthy.
Also can't tackle consistently
That was subtle.
I have to agree with overall theme of your response, but hope some changes to assistants are made in the offseason.
Werner and Borland just don't play well. Why can't We try some other guys - so frustrating to watch
And you'd get paid $500k+ not to mention a 401-k bump, car and free gear.
Our LBs can't fill a hole, period and then safeties are not doing well.
THIS IS A JOKE and Urban better make changes in the offseason - Davis has to go. Taver and others may have to as well.
Totally diff level - both ALA and LSU lbs are quick and can tackle. They SHOOT gaps - impressive