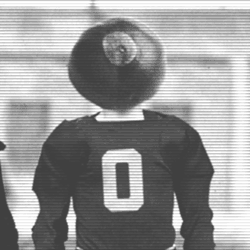 Jsstull
---
Tipp City
Member since 08 June 2014 | Blog
Buckeye fan since 2002 when dating a girl that went to OSU. Attended my first game that year and have been hooked since.
Recent Activity
Good news! Hopefully he's back for the playoffs. (Reds fan)
I need a personal trainer.
Damn those white walkers!
Just getting some tutelage from the best wide receiver ever. No big deal. (How cool)!
I hope I'm not killed as well and I'm a white dude.
Burn it with fire; lots of it.
Stay in school, your rhymes aren't cool. :)
They basically paid him to go away. Rebuilding is tough for fans to deal with but the Reds' minor league system is stacked now if you believe the rankings. Look at how horrible the Cubs were a few years ago. Hopefully this season will get the young guys some needed playing experience and in two years we're over .500 and ready to compete again. For some reason I think we'll be better than last year.
I believe he's the best NFL QB ever. To be playing this well at the age of 39 is remarkable!
This skull session was off the chain.
Doesn't matter how much they pay their coaches. OSU will continue to dominate them!
Can't remember a year when OSU had so many impact rookies in the league. Bosa, Zeke, Thomas.....
I love Russilo and Kannell.
For the pay it may be worth it.
Wasn't expecting this. Kid looked like a game changer. (When healthy).
I didn't watch because the only team I care about lost to Clemson last week. Same reason I don't read other teams' equivalent of 11W, etc. When my teams last game is over, I literally stop paying attention.
I'm with you too! Give me a proven winner any day of the week!
What a year! Good luck at the next level.
Goodnight fellow Buckeyes. Good year overall! We'll be much better next year; and that's scary.
Miami and West Virginia are playing in a bowl? I'll have to set my DVR.
I currently live in Tipp and work at WPAFB. (Door to door it takes me 25 minutes to get to work). The schools are great and it's a very nice, small town in Ohio. Troy is also nice if you're looking up north. Beavercreek is probably the nicest town near base. I believe Oakwood has the best schools in the area if you check the rankings. South of town; Centerville, Miamisburg, Springboro, Bellbrook are also nice. Like others have said, avoid Dayton, Trotwood, West Carrollton for living.
Happy house hunting and welcome back to Ohio!