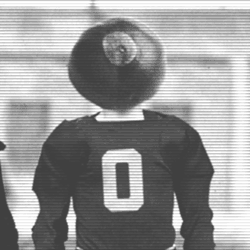 JSH0717
---
Vero Beach, FL (via Painesville)
MEMBER SINCE September 11, 2016
Favorites
NFL TEAM: Browns
NBA TEAM: Cavs
MLB TEAM: Indians
SOCCER TEAM: Crew
Recent Activity
Please no Devonshire, kid looks soft on defense.

Same with watching his son play baseball. He missed out on the daughters playing college sports, doubt he misses it now.
Can we stop with this? Every year I see the same thing, ppl freaking out about being at 85 during signing day. It's 85 at camp, and over signing has become the norm. You are figuring out something the coaches don't already know. Okay, sorry Poco Loco, rant over. I have just seen this thing, one too many times.
Holy smokes that would be HUUUGGEEEE, dude has consistently pumped out talent and is one of the BEST recruiters I ever came across. Talk about Coombs 2.0 (maybe less red bull)
Two offenses in PSU and OU last year that that had the number 1 and number 2 overall picks that will most likely finish as the NFL ROY and NFL Offensive Rookie of the year 1 and 2.
He won't be a grad transfer yet, he would compete in the spring and most likely serve as the backup again but transfer out with two to play. ONLY, if he loses the job, and he very well may win the job. Martell that is.
What's the new Loy and Marich CB for Harrison?
You haven't done a Desk Pop yet?
They lost both OC and Barkley after last season.
He's also a dominant recruiter and can provide that Coaches Coach need for the Head Coach. Having Urban and Schiano to rely on during the year is a huuuugggeee advantage (if Urban stays in the building).
Great article! As a fan I also cry foul because two seasons ago we all had Jabrill Freaking Peppers shoved down our throats as an amazing Heisman worthy candidate, he was not. Yet the young man who broke long standing records gets just under 5 minutes of the segment and was largely ignored? For what? It's infuriating, ESPN in general has been infuriating for over a decade now.

Not upset about it, just pointing out that the equivalency of your Ohio divisions is way off.
Yeah you may need to get caught up on Florida HS football, those lower divisions are actually the toughest with Miami Central, Miami Northwestern, Booker T when Ice was there, Cocoa, list goes on. 7 and 8 A had more parity.
How about Bosa still had more sacks this season hahaha
Play well these last few games and go get that money in a weak QB class.
I appreciate you focusing on that portion because you are right, however Urban has been alllll about character and personal development. Don't let one story from the summer cloud your judgement in that regard.
#4 times 1,000 percent. Also he Gil, and Metallus were all shipped up that whore of a town after their HS Head Coach who is Bush's Dad was offered an analyst job. That loophole Harbaugh did still irritates the heck out of me.
First off do I want Urban to go? No! Do I want him to fire Davis, Stud, and Tavor? Yes. However, if Urban is to go, what about bringing in Dantonio? He needs a fresh start, and give him dollars to grab to the best assistants in the country.
That is interesting, the only ones that would be able to see that are second and third level guys. Most third level guys don't have eyes on QB though. The only thing I could think of for years is I don't know why on PAP Play Action Passes we have QB set the protection. Usually protection calls are easy tells. I understand in empty, but I don't see him ID'ing runs or making run calls. If you watch Brady he does and so did Manning, it is a safety net for the center making original call since QB in the gun sees more than the center bending down.
Agreed! And agree that this season started off on the wrong foot, maybe it led to more panic then was needed.
I second this and don't care if it looks bad or the amount of down votes.
I agree, felt that and it not being a packed house hurt. But to swing it that quickly?
I just want to know what the heck happened during the weekend? It was a good sign getting him on campus but man when did the fortunes turn here? Feels like ever since August it's just been a drain.
I would also piggy back that with DreMont Jones goes to DEnd on early downs and move inside on third downs. Haskell Garret looked great, bring Cooper in a pass rusher on third down and let him use his athleticism. Also Keandre Jones right now instead of Werner.