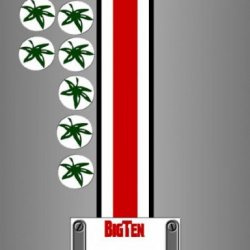 JS3308
---
Youngstown, OH
Member since 03 August 2012 | Blog
Favorites
NFL TEAM: Cleveland Browns
NBA TEAM: Cleveland Cavaliers
Recent Activity
Agreed... I also like that LeBron went back at him. Nothing wrong with that.
Remember when he (Victor) got behind the Clemson defense only to have the throw ruin the play? That sucked.
Let Haskins and Burrow and Martell compete for it. Please. If JT is as much of a leader as we hear, he would want the best guy in there too and would be helpful to a younger, more talented quarterback.
Today is a good Day for Ohio State football.
He's not the head coach here. And most of his players loved him.
It's just for title purposes. One is more in charge than the other, for sure.
Welcome aboard. Cannot be any worse than the garbage we saw against any decent defense the past two seasons. Literally cannot be worse.
Alabama USC Texas Florida State
One of the worst coaching jobs of all time, that season. 11-1 despite the coaching staff.
I've heard mistreatment of players. Admittedly I haven't read up on all of that fully... I assume he wouldn't be able to do such things as an assistant, but again I'm not fully aware of the things that were alleged to have happened there.
He has completely dumptrucked several defenders this season, including one Saturday night. He's a good power runner and will only get better/stronger.
When you're down three scores you need to pass to score quickly. Once the margin got out of hand the run game had to be abandoned regardless.
The run game was abandoned before the game. They thought the best course of action would be to go empty and let JT throw it all over the field. YIKES. That's a huge red flag.
I would be more than happy with Kevin Wilson. Safe hire as an OC working under Urban.
It was a hell of a lot closer to a terrible game than a good game.
Wat
I think he can for sure. He and D Lee were killing the OCs on twitter tonight. Also Philly Brown I saw.
As always I just feel bad for the players with that rough loss. Urban said it isnt going to happen again and I believe him. Changes to the staff will definitely be made and I am very much looking forward to them. I hope all the fuckboys that killed Cardale last season and talked shit about him now know that it wasnt a quarterback problem. The 2 seasons since Tom Herman left have been a horrific waste of talent and it's very sad.
If JT never got injured Urban still would have zero titles. That's a rough thought.
Best list ever
Fuckin kill em Bama!
Exactly. We didnt even try our regular power shit.
Only 24 31 or 38 bruh
What
I defended Cardale against the ho ass fans who faulted him for everything, and i will do the same with JT. Its the fucking offensive coaching staff and playcallers. Period.