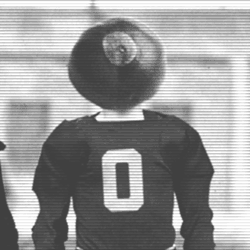 js2378
---
MEMBER SINCE February 14, 2013
Recent Activity
Someone tell him to shut up. Innocent or not, accused people do not post public information.
Parents and kid knows that the offer isn't commitable and the only way to make it commitable is to foot the bill for an unofficial visit. If the parent wants the kid to go to OSU, they foot the bill.
It's the same as a kid visiting colleges to figure out where he/she wants to apply. Once they apply and get in, they usually get invited to an "admitted students day" that is paid for by the school. Seems pretty similar to me.
I think it's more getting him focused to do all of the right things Sunday-Friday so that he develops faster. It's hard to stay motivated when you know you aren't going to play. And I've never played sports at the college level but I have to imagine any live game reps are better than practice reps, even if just for confidence.
I doubt teams throw at Okudah enough for him to win the award. I actually can't remember his name being called since the Nebraska game as teams are neither throwing or running to his side of the field.
Is there a way to tag Kyle Jones? Would be curious to get his thoughts on this because it looks like RPO to me. Even if not an RPO, I see no reason why it can't be designed as an RPO. Harbaugh's SF teams had the TE reading a player and then changing blocking assignments depending on the read, so why not an O-linemen?
I'd like a leather helmet against Michigan, so when we win, we can say we're beating them again in the leather helmet days.
Glad to see Proctor is ok. We don't have enough depth behind Fuller.
Man, Dobbins houses that run in the first example if he cuts it up field. Myers destroyed his assignment.
Thanks I hate it. I want to downvote so badly.
He hasn't used his redshirt and played in 4 games this year. I'm guessing there's an agreement between Day and Pryor that Pryor would play in 4 games. If Pryor was happy, he'd continue to play and would stay at OSU. If not, he would transfer, Day won't play him anymore, and he can use this year as his redshirt year so he'll have more eligibility at the next school. Not sure if having your name in the portal makes you ineligible to play, but it does hold Day accountable if he does play.
Good luck to Pryor. I don't think he would have succeeded in the deep safety position but if he started his career at bullet, I think he would have been good.
That Miami play looks pretty nifty to me. I wonder if we have that in our playbook.
On the other hand, if the competition gets better, he'll play more. He might have 14 already if he played the full games.
I love when recruits say "I love OSU, they've produced so many great players in their history" and then proceed to name someone who played 4 years ago. Instead of Michael Thomas and Parris Campbell, why not Terry Glenn or Cris Carter?
Imagine what he can do when he doesn't drop the snap!
To add to it, he has a wife and, I believe, 3 grade-school aged children. I'm sure he'll want to stay at OSU if possible so the kids can have a stable environment to grow up in. You probably won't get that in the NFL.
Just now seeing this. Last time I post on my phone :-P
I've read a lot of what other people have posted but not everything so sorry if someone already mentioned this.
A good way to think of paying back a loan is that making a loan payment is the equivalent of buying a bond with a fixed rate of return equal to the interest rate on the loan. In other words, if you pay $100 on a 6% loan, it's the financial equivalent of buying a $100 fixed bond with a 6% return on investment.
Something to keep in mind then (and helps explain a lot of the advice people are giving re: paying off high interest loans first) is that there is an opportunity cost to paying down your loan. Instead of paying down the loan, you could have taken that money and invested it or placed it in a savings account.
If the interest on the loan that you are paying down is higher than your return on investment on what else you could do with the money (invest or save), then pay down the loan. If not, then consider investing or saving since you could, in theory, use the return on investment to pay off the interest that is accruing on the loan that you're not paying off, with extra left over.
BOOM! Great addition to the class!
What a great play design on the TD to Rickert. He starts on the outside and cuts back under the other TE. If it's man, there's a natural rub. If it's zone, then two linebackers need to switch guys in the middle of the play, something linebackers probably aren't used to doing. You can see one guys switches but the other doesn't, so Rickert is wife open. This coach Day is alright.
Am I the only one getting adds before the plays play? It's certainly new for me on these articles.
I mean, how is EJ Smith's situation any different than those thousands of kids who get into a school off of the waitlist? It may not be ideal but I can't imagine it's an automatic deal breaker.
WTF is this doing in a cartoon?
Did anyone take the credit monitoring like I did?
Looks like Urban will be giving the pregame speech before The Game this year. Should be fun.
So Gee's high school WR coach is as good as Brian Hartline and knows those NFL secrets to route running? Maybe we can hire the guy as a GA!