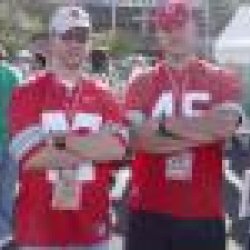 Jrod214
---
Beavercreek, OH (via Columbus)
MEMBER SINCE June 03, 2011
Favorites
COLLEGE FOOTBALL PLAYER: Spielman
NFL TEAM: Browns
NHL TEAM: Blue Jackets
NBA TEAM: Cavs
MLB TEAM: Indians
Recent Activity
And another legendary Ohio State coach that never won a B1G Coach of the Year award!
I'm thankful that it's over. I'm thankful we still have the best coach in the nation. But I'm also thankful that the site didn't crash, and that I'm able to comment again!
No matter which way it goes, good to see her there supporting her husband.
Bottom line, wherever it came from, the players have seemed to embrace "Zone 6." If they want to keep it, or come up with something on their own, that should be their decision.
By waiting to announce the findings until Wednesday, they assure that he's been suspended for three weeks exactly. A nice number to call time served. Hopefully!
As long as we're starting out in the top ten, the games will speak for themselves.
The other posters are all recognizable as Marvel cover styles from the past. Ours? Not so much...
I can't believe I'm typing this, but I'm really looking forward to seeing how Ruckert blocks. By all accounts, he's a great receiving TE, but we all know he won't sniff the field unless he has the blocking assignments down. Hopefully he can bridge that gap quicker than some of the other highly-touted TE's we've had come through the program in the last couple of years.
Is it too early to put in for a reservation for two at Zeke's?
Great write up! Can we just skip the V Tech game now?
Nice to hear Nick Saban joined in to thank the group. Shows that what they are doing is having a positive impact on all of college football, not just Ohio State.
If you're going for humiliation, I can't think of anything more fitting than the Josh Groban classic, "You (RichRod) Raise Me Up."
"Look upon my works, ye mighty, and tremble!" LOLWUT, how ya like me now, ESPiN?