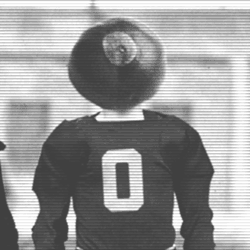 jrock
---
MEMBER SINCE June 06, 2015
Recent Activity
It doesn't "resolve". It's a life adjustment to mitigate flare-ups. Just wanted to clarify that it doesn't go away...you can only hope to keep it at bay.
I'm in same boat from a brain injury. Solidarity my friend; I've accepted a new pace of life. Keep on trucking.
This article would be a cool place to drop in all 6 of his TD throws....
I think that's exactly the point. More pressure means get ball out sooner and therefore shorter, quicker throws (hence, lower air yards vs penn state). Versus TCU, their schemes were more complex and threw him off, but still had time in pocket to launch it. In general, the receivers didn't run much after catches against PSU because they were so out of rhythm and couldn't do much...i'd assume most of the YACs were from the screens and bubble screens. btw, i wasn't the one that DV you
no bias here! i'd go:
1. Bama
2. OSU
3. Georgia
4. OU/Clemson/LSU/Wisky/Auburn
9 (and just out of an 8-team playoff). ND
...this puts 2 BIg10 in top 8 but also 4 SEC in top8. oh well, it might be true this year.
doesn't matter. and we don't know the what if. they won. period.
i agree. i don't get the love fest for clemson. they're 4 at best...7th at worst based on 2-0
yet Texas AM who almost beat clemson (and might have if fumble didn't get called out of end zone) isn't even in the top 25. voters make no sense.
I think the comment is saying media piles on (about him de committing) to keep the fall out story going, not that media frenzy really influenced him to make the decision
Eddie George would like to have a word with you
Doesn't favor Haskins as in they give better calls to JB? Or doesn't favor Haskins because they are pushing him harder to test him to elevate?
Great season. But terrible refs this game. Some bad calls went our way too but there was a series in the 2nd that blew my mind. Dude was throwing his off arm out into someone's chest and scored, no call. Next time down he does it again on a rebound, but they call the foul on us. Lot of weak calls that affected the play of game. Go Xavier and Go Houston!
Are we not doing phrasing!?!
Did you mean great bench effort? They hustled and played decent D, but didn't play great...offense stats were bad
Yeah I was pumped for him after those back to back steal/strips....and then he just threw the ball out of bounds on a pass. He can be real up and down sometimes but glad he bounced back
Nah the wheels have fallen off WSU
Yeah it's rough. Want Bama to get pounded, but that means Clemson rolls on... not rooting for Dabo who has crushed urban twice now, and that powerhouse he is building down there. and OK embarrassed us and he planted the flag and every time he's talked about for he is an they mention his game against OSU. So maybe Georgia? Just to spite Mark Richt?
I disagree, but even if we go with your theory that we play buffalo rather than OU, that Iowa loss would still be issue. Plus they did play FSU, so they would have had that big win to "offset" Wisconsin win. It's a mess, but I'm not mad about playing USC
Oklahoma was an early anomaly, Wisconsin is Wisconsin and we barely made it to OT and then barely beat them, and scum was a dog fight. So while technically wins over good teams, none were great teams and we sputtered throughout (except that one game explosion by Noah brown). Agree that eye test said we weren't an elite offense. Still didn't see a goose egg coming against clemson
Having been through knee surgery and a few concussions, one of them bad, I would much rather have the knee wrecked. Knee is straight forward plan and heal. Concussion issues are complex and awful and long lasting. A player however could more easily fake their health trough post-concussion easier than a knee....so it depends on what you value for yourself
it's laughable to downvote for having a "political" comment that is directly related to the article posted. the faceless pitchforks win again.
i disagree. i think you have the conversation anywhere you can because it's important. if people don't want to have it, then don't read the article and don't bother reading, and especially commenting in, the comment section.
my point is: ... [MOD Edit: 11W isn't the site for these discussions. End of story. We all live in different "bubbles". Most people are not afraid to speak their mind. However, that is usually the problem. The internet is a pretty horrible place to have discussions like you are recommending. People just start bickering and it goes nowhere. It is not positive and it is not constructive.]