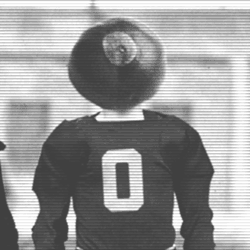 jrich612
Member since 20 April 2012 | Blog
Favorites
SPORTS MOMENT: Ken Dorsey's last pass in the 2003 Fiesta Bowl.
COLLEGE FOOTBALL PLAYER: Kurt Coleman
COLLEGE BASKETBALL PLAYER: Aaron Craft
NFL TEAM: Browns
NHL TEAM: none
NBA TEAM: Cavs
MLB TEAM: Indians
SOCCER TEAM: lol
Recent Activity
It's a commenting policy, not a publishing policy.
And the award for best final touchdown of a career goes to...
He made Sam Bradford good in Philly. That should comfort you.
Joe Haden used to plaster his social media with him at the club. Nobody said a word.
Braxton Miller has signed a 4 year 38 million dollar contract with the Cleveland Cavaliers. When asked about the move, owner Dan Gilbert simply chuckled and then mumbled "can't take it with me" as he lit his checkbook on fire.
Rashod Berry will haunt my dreams now. Any chance we see him doing a little bit of a Sam Hubbard with the staff trying to figure out where to put him for a year?
I was on campus last night after the game and the cops gassed the oval. That was way out of line. All that was happening was a bunch of kids were in a big group in a wide open space singing Ohio State songs. I can't speak for high street or anywhere else though.
Do we hate Gene Smith or do we like him? I can't keep up with the hive mind
There are billions of women in this world. The inaugural college football playoff only happens once. I know how odds work.
I'll be honest here: I would have been more upset that my GF went to the sugar bowl without me than if she had a side dude.
I would say with near certainty that JT will be fully recovered before Braxton. Braxton isn't allowed to throw until late summer.
Michigan DBs did the same thing yesterday and barely got called. Mike Thomas had two catches in particular where he was halfway to the ground as he made the catch because the corner just tackled him.
35A checking in. I'll bring the noise
There were player errors on on three of Moore's TD catches. On the first one, Bell got beat and almost recovered to tip the ball away. Apple got scorched on the second. On the third, both safties bit on the pump fake to the bubble screen and left the middle of the field wide open.
Thank you based bourbon god Ramzy for reminding me of the dubgate on twitter.
This is the German MO though. They dominate the group stage and a game or two in the knockout rounds and then they just...lose.
.008 though? That's what like a quarter of a bud light isn't it?
I'm very interested to see how he can get arrested for a DUI when he was 1/10th of the legal limit. I feel like using listerine in the morning could make you blow a .008
Wait wait wait...everyone is going to jump down his throat for a .008? How can you even be charged for that if it is 1/10th of the legal limit in Ohio?
Walder Frey? The north will never forget.
I don't see Phil Ivey losing that lawsuit.
Is "slidden" a word? Also, what coaches are ahead of Urban to put him outside of the top 5 right now?
Thumbs so far up. I'm glad someone pointed me towards this show while I was wallowing in my post Breaking Bad self-pity.
In fairness, there are some great comedy shows on tv that aren't hard to find. Modern family is great if you haven't checked it out.