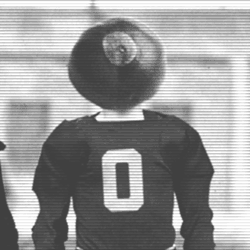 jrcarmody
---
Boston, MA (via Rochester, NY)
MEMBER SINCE March 09, 2012
Western New York native born to two Buckeye grads (they saw every one of Archie's home games). Bleeding scarlet since birth!
Favorites
SPORTS MOMENT: 2OT Natty at the Fiesta Bowl, of course!
COLLEGE FOOTBALL PLAYER: Eddie George
NFL TEAM: Buffalo Bills
NHL TEAM: Detroit Red Wings
Recent Activity
not the sexiest moment but I just love that we get to take for granted the fact that athletes like Chris Olave are downing punts for our special teams unit ...
Nice year by Campbell - and holy $hit those #s for Glenn and Boston are just nuts!
Looking forward to 2019 and the dawn of a new Day (sorry)
361
First and foremost, what an amazing win by Urban and the gang. But if I can pick nits, how on Earth was the head shot v a sliding Haskins in the first half not a targeting ejection??? Felt like the most egregious of several terrible calls ...
The Dwayne Train appears to be having mechanical issues, and receiver drops reappeared to the delight of nobody. Glad to see Tate get some looks and the punting was great! Was at the game - just starting to feel my toes again ...
Play calling stinks. WR group stinks. Linebacker play stinks. Safety play stinks. Officiating stinks. Fun!
Logged in to voice appreciation for the Lebowski quote. +1 The Dude
Plenty to work on (LB crew and secondary was gross, Mack's drops) but lots to like too. Dwayne seems legit and the D line is beastly. Went on the road, got punched in the face, and came out on top. I'll take it!
Ballard climbing the ladder on 3rd/13 in the Rose Bowl is an all time favorite.
apologies in advance:
(1) I actively cheer for all B1G teams in the post-season (including Michigan)
(2) I don't get many (most?) of the DVs I see on this site. "I don't agree with you" doesn't equal DV in my book
(3) I think both that: (i) JT is the most accomplished QB in school history and was a great leader and teammate, and also (ii) JT was not a complete QB and did not have what it takes to consistently win on the biggest stage against the toughest teams. I believe both of these things even though they are in many ways directly contradictory of one another. I am OK with this.
"Not so fast" Lee Corso ...
Offense sucked, defensive front four was otherworldly. 12-2, beat ttun, win the B1G and spanked the Trojans. Good year. Happy New Year fellow Buckeye nerds!
belligerent Buckeyes bludgeon Badgers :-)
bad Bama bumping Buckeyes blows :-(
Language
Conundrums
Today
I would never admit this in a public forum, even if she didn't know my user name. You're a brave man NorCal ...
Tweet from The Vest was perfect.
Dilly dilly
It's 06:51 and Xichigan still sucks.
Thanks for posting the link, and thanks to Whitney for the work she does. My oldest is on the autism spectrum and benefits greatly from the speech therapy he gets at school.
This was, as always, informative and entertaining. Thanks!
I like the optimism. UV to counter the DV!
(a) hot dog is not a sandwich
(b) was hoping for a 7th floor crew reference. Inappropriate content notwithstanding, it is actually a pretty good song
(c) because hypothetical prognostication and pointless debates are fun - Buckeyes are not for sure out of the playoff picture. Consider:
IF Buckeyes win out in convincing fashion to win the B1G and
IF Miami beats Clemson and
IF Alabama beats Auburn AND Georgia
THEN there is a raft of 2-loss teams competing for that 4th playoff spot - and Ohio State / USC the only conference champs
odds are against all of those things happening precisely that way, but not crazy. My view is if you lose 2 games you don't get to complain if you're left out - but there is for sure a path where they could get in.